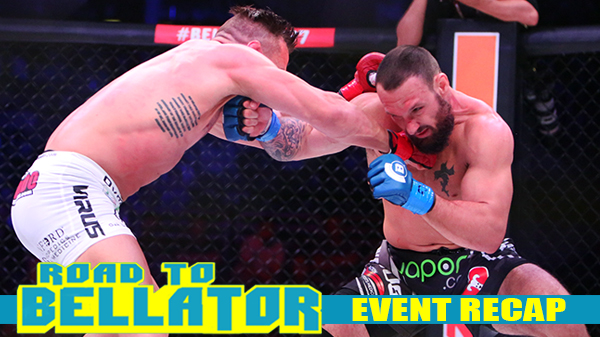 Road To Bellator - Event Recap
Michael Chandler never fails to impress.

On a night that destined to trumpet his return as the king of the lightweight division, Chandler instead made Bellator MMA history.

Chandler (18-4) set new promotional marks for wins (15), finishes (11) and appearances (19) with his first-round win over Brandon Girtz on Friday. Girtz (15-8) was a fill-in for injured Bellator lightweight champion Brett Primus, who had pulled out of the contest due to injury. Primus had taken the belt from Chandler in the summer of 2017 due to a fluke ankle/foot injury and Friday's home crowd for the High Ridge native, and University of Missouri grad was to be the perfect setting to win the belt for the third time.

After three previous stops at the Scottrade Center, Bellator MMA set up shop at the Family Arena in St. Charles with the main card aired live on the Paramount Network.

In the much-anticipated co-main event, A.J. McKee showed why many feel he is the real deal. McKee faced Pacific native Justin Lawrence in the co-main event and was victorious with an emphatic 30-27 unanimous decision to remain unbeaten at 11-0.

The 23-year-old McKee used his reach and was highly accurate in stifling Lawrence (11-5). In the early goings, Lawrence did an excellent job of controlling the cage but McKee, the son of fighter Antonio McKee, needed little room to work and maintained a veteran's poise throughout. McKee kept Lawrence at range throughout, and the fight took place entirely on the feet.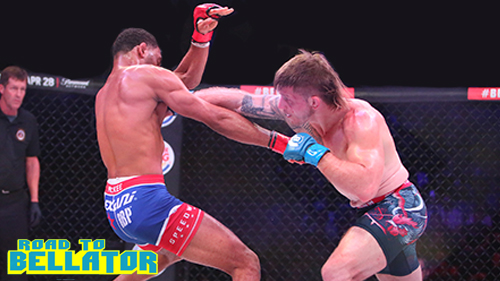 Another much talked about young prospect in Bellator, Logan Storley, didn't pick up many new fans as boos reigned down as his unanimous decision win over Joaquin Buckley was read. Storley, a four-time All-American wrestler at the University of Minnesota, improved to 8-0 thanks to takedowns and top pressure that neutered Buckley for 15 minutes. The loss dropped Buckley to 8-2.

Storley was on Buckley like a second layer of skin as he was able to score and suck up valuable fight time while working for the takedown and then staying heavy on top. Storley mixed in just the right amount of punches and elbows to keep the fight from being stood up.

Kicking off the main card, Kevin "Baby Slice" Ferguson defeated with a first-round submission win over Devon Brock

The MMA Junkie-streamed undercard showcased plenty of local talent.

After a low out-put first round with neither finding their range, AJ Siscoe improved to 3-2 with a second-round submission of 30-fight vet Justin Robbins.

Jordan Dowdy did precisely what he needed to do.

Dowdy picked up win number six with a first-round submission of Jeff Crotty. Dowdy (6-4) clipped Crotty (1-2) with a left hook and immediately swarmed. Determined on getting the choke, Dowdy got the tap at the 29-second mark in the round.

"It feels great," Dowdy said. "Jeff is tough, and you never know what he's going to bring. I knew he was going to come out hard, so I waited it out with a couple of kicks. I feinted a body shot from southpaw, my cross came up with a hook, and it stunned him. He immediately starting shooting. From there I just wrapped him up, got the tap quick. I couldn't have scripted it any better."

The win was Dowdy's second of 2018 and was the fastest submission victory in Bellator welterweight history.

"Three out of the last four and the one I lost I, I had a staph infection," Dowdy said. "It's all about how you look at it, the last few fights I lost I was winning. Sometimes you just lose moments. You're 6-4, could easily be 7-3. Sometimes shit just happens, you know."

Julianna Velasquez improved to 7-0 with a TKO of Rebecca Ruth. Velasquez caught Ruth flush to the midsection and then finished with a grazing hook to get the finish seconds into the third round.

The flyweight pair put on quite a show up to that point. In an action-packed second round, Velasquez started to open up early, but Ruth (7-2) would counter as she sent Velasquez immediately to the floor. Velasquez got quickly back to her feet and fired back and ended the round in Ruth's guard. Velasquez'a ability to connect while backing up benefited her greatly in the round. In the first, Velasquez pressed the action against the fence and Ruth got a spurt of offense when she caught a kick and landed a trip. Ruth continued to chase throughout the remainder of the round, eating shots along the way.

California's Derek Anderson (15-3) won a 30-27 unanimous decision over Zack Bucia. Bucia (18-10), who has wins over Bobby Voelker, Aaron Highfill, and Adam Meredith, continues to impress even in defeat.

Shaking nearly three-years worth of dust off, Josh Sampo showed few signs of rust despite losing a 30-27 unanimous decision to the highly-touted Dominic Mazzotta.

The pair put on a grappling display with both bantamweights going for submissions, plenty of scrambles, and clever transitions. Sampo dropped to 11-6 while Mazzotta improves to 14-2. Mazzotta's only two losses have come to McKee and former UFC bantamweight champion Cody Garbrandt.

Eric Ellington improved to 5-0 with a split decision win over Jordan Howard. Ellington's takedowns were key in his path to victory.

"Anytime I want to play that card, it'll beat any card that's in front of me," Ellington said. "I wrestled in college, and I feel like people couldn't stop it then, and that's the difference now."

As an amateur, Ellington spent many a night under the lights at the Family Arena.

"To come back here and fight brought back good memories," he said. "I felt comfortable even though this was a bigger promotion. I felt ready. I just really enjoyed myself tonight."

Adam Cella earned the ninth win of his career (and his third straight) with a first-round finish of DeWayne Diggs. Diggs (2-2) found his way on top early in the round, but after a long stretch of inactivity, the fight was stood up. Cella (9-8) then gained top position and fired off multiple strikes thrown in ground and pound, got the TKO in the first round.

Cort Wahle jumped a guillotine seconds into the first round and got the tap of Joe Roye. Wahle improved to 3-3.