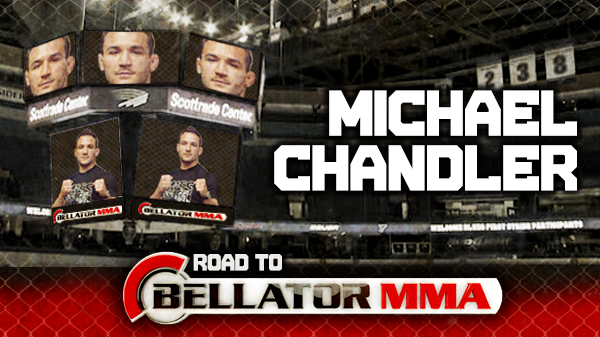 Road To Bellator: Michael Chandler
The story of Michael Chandler reads as if written for the screen.

Like a 155-pound super man, he made a meteoric rise to the top, earning champion gold within his first two years of first stepping into the cage..

In November of 2011, after winning the Bellator contender tournament and a check for $100,000, Chandler faced then-champ Eddie Alvarez and defeated him by rear naked choke in the fourth round to became the new Bellator lightweight champion.

He would go on to win his first 12 fights, finishing 10, seven of those in the first round. From the first time he put on his gloves to two-and-a-half years later he was a champion and ranked top-five in the World.

But, as they say, what goes up, must come down.

After defending the title against Akhirio Gono, Rick Hawn, and David Rickels, Chandled again faced Alvarez almost two years to the date of winning the title. But on that night it would be Alvarez who would be victorious.

It was the first loss of Chandler's career and the beginning of a three-fight losing streak.

"I had that very quick rise," Chandler said. "Then ran into a couple of stumbling blocks but at the end of the day the true measure of a man, of a champion, isn't how you are when you win but how you bounce back from a loss. People do want to see that. I stand for hard work and doing the right thing. I do work hard, and I wake up every morning trying to do the right thing."

Consecutive losses to Will Brooks has now forced Chandler to tinker with the product.

"I come from a wrestling background," Chandler said. "When the coach says 'jump' you say 'how high?' I got into a situation where I was training how other people wanted me to train. I was tailoring my style towards how others wanted me to train rather than just sticking to my roots. My roots are wrestling, right here in Missouri that's where it started. Crisp boxing and wrestling, that's what you're going to see out of me. I'm going to be better than I've ever been."

Part of the change in training has him reuniting with Gil Martinez, his first boxing coach, and returning to Las Vegas where he spent the formative years of his MMA career.

On June 19th as part of Bellator MMA: Unfinished Business, Chandler returns home to circle the wagons and jump start his journey back to the top.

"I'm excited the fans want to get behind me," Chandler said. "The fans here in Missouri, in St. Louis especially. It's going to be a good night June 19th, and we're going to get the ball rolling, and I'm going to be world champion again."

Chandler grew up in nearby High Ridge attending Northwest High School. A wrestling stand out he would go on to wrestle for the University of Missouri as a walk-on garnering a record of 100-44. Chandler shared the mats with another future Bellator Champion and Olympian, Ben Askren as well as top-five UFC welterweight Tyron Woodley.

"We just saw each other a couple weeks ago at the NCAA's," Chandler said. "Whenever I'm around Ben, whenever I'm around Tyron, I get that old feeling of this is where it all started. I was an 18-year-old freshman walking onto the team. Tyron took me under his wing, and Ben took me under his wing. Those guys are very near and dear to my heart. Those guys have had success because of Missouri wrestling because of the competitor, because of the men that program has made of them."

After college Chandler moved to Las Vegas and trained as a member of Randy Couture's Xtreme Couture. He stayed until August of 2012 opting to the sunny beaches of Southern California and Alliance MMA home of former UFC bantamweight champ Dominick Cruz.

Chandler's Missouri roots run deep. Two of Chandler's first three professional fights were in St. Louis, his friends are here, his family are here, and most importantly the bulk of his fans are here.

"At the end of the day, everyone from St. Louis who's coming to this fight wants to see me win." Chandler said. "There's really no pressure. For me it's constantly out performing my previous self. Last time I stepped into the cage, I want to be better this time than I was the last time."

Recently it was announced that a teammate of Chandler's at Alliance and another local product Justin Lawrence has been added to the card.

"We both moved out to San Diego about the same time." Chandler said. "We knew of each other, but we didn't really know each other and now we've become great friends. I kind of like to think I influenced him with signing with Bellator a little bit. He's a good guy and I hope Bellator takes good care of him. "

Lawrence recently defended his RFA featherweight title in April before signing a contract to fight for Bellator bring a 7-2 record to the promotion.

"His Bellator rise starts June 19th," Chandler said. "He will be fighting for the featherweight title very soon. That kid is going to make some noise."

Chandler's opponent on June 19th is Derek Campos a six-year veteran of the sport with an impressive 4-1 record in Bellator (15-4 overall).

"We're going to have a good game plan coming into this fight." Chandler said. "Derek Campos is by no means an easy opponent. He's a tough guy, a seasoned veteran of this sport. He knows how to go out there and win fights."

A confident Chandler is ready for the challenge and believes getting the belt back is just a matter of time.

"I just think I'm destined to be the champion again," Chandler said. "To be the number one fighter in the world again. When you see yourself like that you can't look at a fight and see how you can lose. I'm going to go out there and get my hands on him. I'm going to out-strike him. If it goes to the ground I'm going to beat him up and submit or finish it on the ground. That's just the goal."

You can guarantee a large crowd will be cheering him on in the cage. A 300-seat section at the Scottrade Center reserved specifically for Chandler's family and friends sold out in a single day.

"I'm excited to do it." Chandler said. "I'm excited for the training. I'm excited for the grind, and I'm excited to see the improvements in my game and getting better every single time. It's going to be a loud crowd, a very pro-Chandler crowd and I'm looking forward to it."

The date has been set, the match has been booked, and this will be the first time in five years that Chandler will fight in his hometown.


"I was out in Vegas for a while," Chandler said. "I was in California. I've fought in Canada, and all over the world, but fighting in St. Louis is a way for me to give back to the fans who have supported me. My gift to them is going to be a finish."

With the fans on his side, the hometown hero will look to rise once again.

Photo courtesy of Jimmy Range Photography. The "Road to Bellator" is part of a 5-week series highlighting the local fighters fighting on Bellator 138 at Scottrade Center.