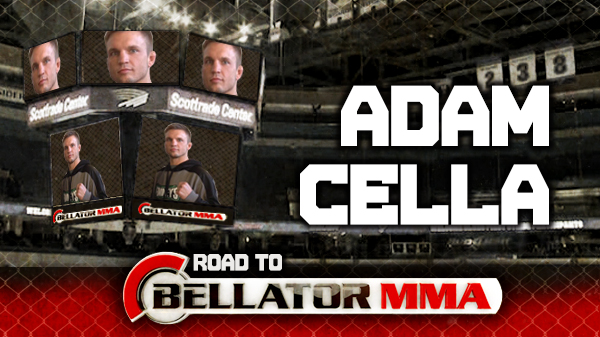 Road to Bellator: Adam Cella
For someone who didn't scream potential when he first walked into the gym, Adam Cella has chipped and carved, hustled and sacrificed his way to a nice little run in the unforgiving waters of combat sports.

As he enters double digits when it comes to pro MMA fights, he stands at 6-3 and has a gym bags' worth of memories and stories.

Cella has dipped his toe into many different waters.

He first got a taste of competition in Chuck Norris' long-gone World Combat League, a professional kickboxing league that was aired on the VS channel.

As a pro in MMA he ran out to a 4-0 record with four first round finishes. That start combined with a made-for-television mug and personality landed him on Season 17 of The Ultimate Fighter: Jones vs. Sonnen. Though he made national headlines for being on the wrong end of a Uriah Hall spinning hook kick, Cella did parlay the opportunity for all its worth; soaking in the training and networking relationships before he fought in Sweden under the UFC banner where he lost to cast mate Tor Troeng via submission.

Not always the easiest to match-up for on the regional circuit, Cella has gone 2-2 in his last four outings. One loss came to Lucas Gwaltney in March of 2014, a three-round donnybrook that some consider the greatest fight in St. Louis MMA lore. Cella went to Vegas in January and made his World Series of Fighting debut against a surging Danny Davis Jr., losing by unanimous decision.

A fixture at Finney's MMA and for Shamrock FC, 'El Natural' is 29 and fights for his third major MMA promotion at Bellator 138: Unfinished Business at the Scottrade Center on June 19. Cella will take on a surging prospect in Kyle Kurtz. Kurtz turned pro in January and has fought three times already in 2015, winning each in the first round.

Here's Cella's Road to Bellator, in his own words:

I grew up on the mean streets of Imperial.

I didn't necessarily have a rough life. My dad was always working, my mom was working. My dad worked his ass off so we had a decent life but we weren't rolling around in Mercedes' or nothing like that but we went on vacations every year and had an average childhood.

About 35 years ago my dad started a heating and cooling company in South City and we're still there. I worked there today. We're still trying to make it bigger and better so 35 years from now, if I have some kids, they can say my dad took over this business that his dad started. That's kind of the plan.

The World Combat League was my first professional experience. I remember hanging out with Kevin Engle a lot because I was in the same weight class as him and he was like my mentor. I thought it was cool but it faded out real fast. We got to travel, see some cool places and do some cool things but when I first started out my goal was, I wanted to get on TV and the World Combat League got me on TV. So that opened the door for my next goal, which was, man, I want to make $10,000 in a fight. Why not? So I set out on that goal.

We tried getting Luke Gwaltney again but he said he wouldn't fight me unless it was at 155 and I can't make 155 unless you cut legs off. I'm a big 170.

Kyle Kurtz is a young and up and coming kid. He hits hard but I don't think he's going to be ready for, I just want to say, everything. He's never been on a big show. He's never fought someone with my experience. He's never fought anybody who's done the things that I've done. He's going to come straight forward and do whatever he's going to do and I'm going to know what he's going to do. I've already seen it. It's not a big deal

(The Ultimate Fighter 17) definitely seems like awhile ago. Most of our guys who were on the show are still in the UFC. I think our season was the best season because I'm a little biased but we didn't have any of those weirdos and the fights were good. Just probably a week or two ago I went back and watched the bonus features and I had a good laugh with all of that.

If this wasn't fun I wouldn't do it. I'm not getting a million dollar pay day so it's not like it's make or break. It's just fun and it's turned into a lifestyle.

Take care of your body. When you're a young kid and say you take three days in a row worth of leg kicks, and you're like, I'll just shake it off. Now I know how to condition myself a little bit better. That's the one thing. Take care of the little nagging injuries.

I've been doing it the right way the last four or five years. I wish for the first half of my career I would have taken care of my body a little bit better so I can do it for an extra 10 years.

Awhile ago (Finney's MMA) kind of faded out of it but we've faded back into being friends. I just went to Kansas City for Ryan Sutton's and Rob Washington's fight and they would do that for me. There's some guys who wouldn't. It's not that it's more friendly because we still beat the shit out of each other it's just there's more camaraderie than there was a few years back.

The not-so fun parts is the cutting weight. I hate that. But to make that a little more enjoyable I do it the right way. I have goals I want to hit and I hit them every week.

Anyone will tell you there is nothing worse than stepping on a scale at the day before weigh-ins and it says you have 15-pounds to go. You're just like ... shit.

I do everything better. I do this a lot smarter.

I could sit and talk about my fight only and that would be fair. I think my fight's going to be entertaining. It's two guys who are going to stand up and everybody likes that and that's cool but I can't tell you how excited I am about Steve Mann. He's an unreal talent. A freak of nature. You have Enrique (Watson) and Kain (Royer), I'm friends with both of those guys and I think that is going to be a fun one and I'm excited to have Justin (Lawrence) back.

I grew up doing this with Justin. He was this little 13-year-old kid kicking my ass but it was still cool. I just know at 16 he was beating up men and that was not good.

Ken and Kimbo. That's going to go from MMA fight to a straight-up street fight.

I'm going to stay here in St. Louis. It's a good place. We've had some bad publicity lately but it's a good city

I'm getting a pretty good resume of things I never thought I would do.


The "Road to Bellator" is part of a 5-week series highlighting the local fighters fighting on Bellator 138 at Scottrade Center.