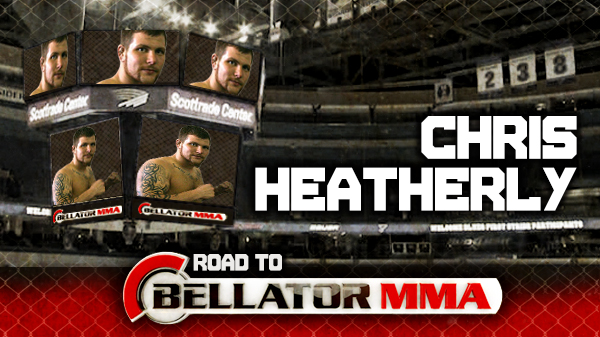 Road to Bellator: Chris Heatherly
When Chris Heatherly steps into the cage on June 19, it will be the first time in a year and a half since he's fought in front of the friendly confines of his local fanbase.

Heatherly has had one heck of a road trip.He's traveled to Mexico City to fight on the UFC 180 main card, a quick trip across the state line to Tulsa, Oklahoma to fight Ben Saunders at UFC Fight Night. Visited the high elevations of Denver, Colorado for RFA 16, and over to Lincoln, Nebraska for RFA 13.

Along the way he's carried the weight of all the doubters who said he didn't have the size, heart, or skills to compete amongst the best.

He proved them all wrong.

Sure there were road bumps, but at 8-3, his record only has been blemished by some of the best fighters out there like Saunders, Alex Garcia, and Augusto Montano (all currently in the UFC.)

He's faced the bright lights and pressures of fighting inside the Octagon, now a little smaller, and a whole lot wiser, "Stump" begins that ascent once again, as a lightweight.

The first stop on this tour back to the top is at Bellator 138: Unfinished Business against a fighter very similar to himself in Garrett Gross. Both fighters are from Illinois and posted an incredible amateur records. Both have a ferocious style that can overwhelm opponents quickly. Gross now trains with American Top Team in Coconut Creek, FL while Stump has opted to stay close to home.

Knuckle Junkies: How good does it feel to be back in front of the home fans?

Chris Heatherly: It feels good man. It's awesome to be back. It takes a lot of the pressure off as I feel I fight best in front of my friends and family. I'm excited to be back and fighting on such a big show. It's going to be a good time.

KJ: When you fight at Scott Trade Center, you will have competed in just about every venue in town.

CH: It's exciting because the Cheifitz fight was such a movement point in my career. I got a win over a tough guy. That catapulted me to the next level. Here is another opportunity to get a win over a good, tough guy and move me back up the ranks and back to a big venue.

KJ: You made a good run, but your time in the UFC didn't play out like you would have liked.

CH: I put in so much time and training previously before I got the UFC call. I think once I got to the UFC I got comfortable in where I was and really once you get to that level you need to be that much more hungry to stay there. Once I got cut I realized I need to get back to those ways. Back to grinding, two-a-days. I'm back to that, training with really good people. I'm excited to get back at it and prove myself at a new weight class.

KJ: What did you learn from your time in the UFC.

CH: Once I got there. It was a kind of thing where, all the hard work had paid off, and I thought since I got there, the talent and skill I had was enough to keep me there. At that level, everyone is training just has hard as you are if not harder. You got to do what you got to do to stay there. I got comfortable, got put into a couple of short notice fights and turned out on the wrong side of things. Once I got back I was excited to get back to training and do what I got to do to get back and stay there.

KJ: What prompted the decision to switch weight classes?

CH: I've always kind of had a chip on my shoulder. Everyone said I was too small to make it to the top level at 170. Now that I've made it there, I've accomplished a self goal. I'm ready to drop down to the weight class I should have been fighting at the whole time and prove myself. I think this is a great opportunity for me, and a great opportunity here in St. Louis on a huge show and a good opponent.

KJ: What are your thoughts on your opponent, and how do you see the match going?

CH: Garrett is a tough guy. He's one of those guys if you don't put away, come second or third round you're in a war. He's got a lot of heart. He's found the right way, on the grind and has got the momentum. I've seen him fight Sal a couple times and Sal Woods is a tough guy, and always goes out and puts Sal through hell. As far as fight as getting to fight a tough guy and put on a great show, I know Garrett is coming to fight and I think it's going to be a great show.

KJ: What's different about your training for this fight?

CH: I'm mixing up training a little bit. I think the main reason I dropped those two fights was cardio. Being undersized and the cardio. Now that I'm cross training at a couple different places. Maryville Boxing is helping me out with my stand-up and my cardio. Rios Thai Boxing has been with me a while, of course here at Fit or Fight. I'm also working my jiu-jitsu at Machado's in Texas. All the aspects are there for me to go out and win the fight. Garrett obviously has places he wants to keep the fight, and I feel like there are places where I am better than him. Whoever is able to expose those will win the fight.

KJ: What can the fans expect on June 19th?

CH: They can expect an action packed fight with two guys that are both explosive. I have a lot to prove dropping from 170. He's on a four or five fight streak and he's looking to get to the next level. You have two guys who are hungry and are ready to go out and put on a show. Both of us are fighting in front of both of their hometown fans, he's close, I'm close. It's going to be loud, action packed, and a hell of a night.

Photo courtesy of Jimmy Range Photography. The "Road to Bellator" is part of a 5-week series highlighting the local fighters fighting on Bellator 138 at Scottrade Center.