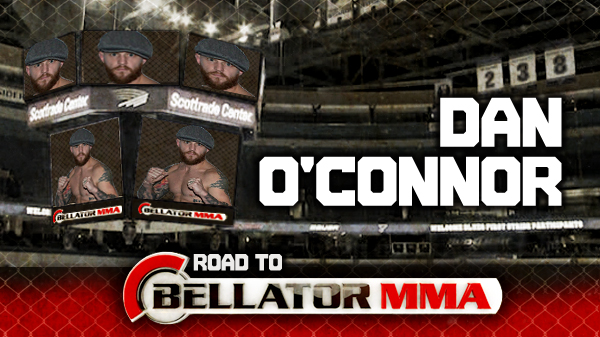 Road to Bellator: Dan O'Connor
A person learns a lot about themselves when faced with adversity.

On the eve of the biggest fight of his career, in the largest venue in the city, Dan O'Connor has lost two in a row, and needs a rally.

After cruising to at 5-1 start to his career, the flyweight from St. Charles MMA hit some bumpy waters. A decision loss to the talented grappler Pedro Nobre at Titan FC and two straight submission losses to Joey Diehl and Demario Cade has O'Connor only winning one of his last four.

Now 6-4, he looks to get back to his old methods, and turn the ship around against a young and hungry Miles McDonald.

Knuckle Junkies: Rewind a bit if you will, how did you get to this point with arguably the biggest fight of your career?

Dan O'Connor: I always trained and liked fighting. I started doing jiu-jitsu at JW Wright's place. Long story short, my mom killed herself and I had a lot of anger, getting into a lot of fights. I was way too old for the shit I was doing and I knew it. I wanted to focus all that anger and aggression towards something positive and I wanted to do an MMA fight.

Did my first one in 2009, main event and up a weight class against a guy who had way, way more experience, ended up losing a decision.

Fell in love with MMA, switched over to Berger's gym, a more MMA oriented gym, trained for years and years there, picked up a lot of great things, my ground became what it is now there. Had a few kids in the mean time. We ended up moving and I needed a gym more guys my size so I ended up coming to Rogers' gym, training with the Vaghi guys and all the awesome people at Art of 8.

KJ: You've hit a bit of a rough patch in your career.

DO: With the weight cuts for the last two fights I've never felt right. Cutting to 115, I was cutting wrong. I never had to cut weight my entire career because I walked around at 125. I was doing a hard water, salt bath cut, and it was zapping everything out of me. Falling asleep in the bathroom.

On fight day I didn't show up, ever. I was screwing around in the fight, playing games because I was tired. I wasn't aggressive, wanting to rip someone's head off. I was tired, and having fun, and especially in that last one, I had something but wanted to go for a highlight reel sub, ended up getting caught and learned a lesson from it.

KJ: Working downtown and driving past the Scottrade Center, did you ever think you'd have a chance to fight there?

DO: Only big shows come there, and we haven't had a big show come to St. Louis in what? Four or five years? Since Strikeforce came to town. I was still an amateur then. I never expected anything like that to come to town, because we knew the UFC wasn't coming and Strikeforce was long gone. Bellator primarily did shows in Chicago and Kansas City so we didn't expect them to come. Having them come to St. Louis is huge and awesome. We hope they keep coming back. If you're an amateur fighting now you might be fighting there one day, so you better get your friends together and get some tickets.

KJ: You and McDonald are at different places in your careers. This is his second pro fight and your 12th.

DO: He's coming off a tough win and I'm coming off a loss and people maybe think I'm in a slump.He had a very extensive amateur career that I wasn't able to have.I couldn't find fights at my weight class and couldn't find people willing to fight me. So I did a lot of boxing. My amateur record was like five fights and that was over a three or four year period. There was a year in there I didn't have a fight at all. With all his amateur fights, he's got a lot of experience too. Being pro and him being amateur, I've fought tougher guys maybe, but he's never fought anyone like me as an amateur.

KJ: How do you see the match-up going with McDonald?

DO: Miles is not very fast, not the strongest, not the most technical. He's very unorthodox and he has heart and balls, so you have to respect him for that. He's never fought anyone like me, that's for sure. At some point in the fight, I'm going to be elbowing him in the face, he's going to have blood running in his eyes. He's going to have to decide whether or not he wants to stay pretty or be a fighter, and he's going to find out what he's made of.

I'm going to break him at some point when I start busting him up. Soon as he realizes he's not going to be so pretty he's going to give up. He's tough though so we'll see happens. I might have to submit him or knock him clean out, because he may not give up. I don't think he's ever been hit by anyone like me.

KJ: Talk a little bit about your new boss, Jesse Finney.

DO: Fighters are emotional, if you lose they cry, if they win you've never seen someone so happy. But when you get older, you get wiser. The situation with me and Finney, we didn't have a great relationship for a long, long time. Now, it's really weird because we're perfect together. Now we get a long great. I do my job, he does his job perfectly.

I never thought in a million years I'd be signed to Shamrock and fighting on Bellator. It happened and I'm very happy with the decision to do it. Very happy they made the decision to call me, because I wouldn't have reached out. They were willing to bury the hatchet, and so was I. Now it's a match made in heaven: Shamrock and O'Connor, how do you beat that?

KJ: What can the fans expect on June 19th?

DO: They're going to see the old me. I was much too complacent. Too happy with everything going on in my life. I wasn't on top of the weight cuts, I wasn't angry. I lost what made me me. I went from Mike Tyson to George Foreman of now. I wasn't angry and didn't want to hurt anybody. Now I'm back to the old me.

I found out I lost something and I didn't realize what I had lost. Now I'm angry and I'm coming to hurt people. You're going to see it on June 19th. Him laying on the ground and me with my hand raised.

Photo courtesy of Jimmy Range Photography. The "Road to Bellator" is part of a 5-week series highlighting the local fighters fighting on Bellator 138 at Scottrade Center.