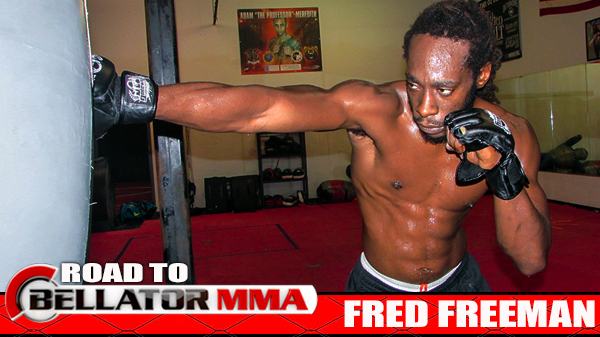 Road to Bellator: Fred Freeman
From Compton, California to St. Louis, to Dublin, Ireland.

For Fred Freeman, reaching a main card fight for Bellator has been much more than a hop, skip, and a jump.

Freeman will take on Kevin Ferguson Jr. (1-1) at a 165-pound catch-weight in the co-main event at Bellator 187, which takes place Friday at the 3Arena in Ireland and airs live on SPIKE TV. "Baby Slice" is the 25-year-old son of the late street-fighter turned MMA superstar "Kimbo Slice". Kevin Ferguson Jr. has split both of his pro fights, both of which were for Bellator.

Freeman made his pro debut earlier this year with a second-round finish of Jason Powell due to doctor's stoppage and in just his second professional go-around finds himself eons away from his days in California.

Was this a short-notice fight for you?

It was like a month. And it's at a catchweight too, but it's an opportunity that I couldn't say no to.

Was it tough to accept, because you're barely a 55'er?

It's mentally tough, I guess, He's going to be bigger and heavier and if I let that play into my mind. But other than that, it's a fight. I've fought bigger guys before. I've bodied people 200-pounds before Right now I'm focused I'm not trying to get too carried away with myself. Not one bit.

Did you ever think you'd be fighting in Ireland?

It was just out of nowhere. Straight to Bellator, straight to Ireland, straight to TV. It most definitely hit me, but at the same time, this is what we wanted. This is what we prayed for. No matter who the opponent is, you have to take it, and I wanted someone bigger, stronger, and younger than me. I want that on my record. I've been going through waves. Emotional waves. One day I'm like a kid and then one day I'm f*ckin' frantic.

Your new teammate, Zach Freeman, was brought in for a similar situation when he fought Aaron Pico for Bellator and you know the promotion wants your opponent to win, to face "their guy." Are you using that as a motivator? As a chip on your shoulder?

It adds fuel to the fire, if anything because it's as if they look down on us, in a way. It's kind of disrespectful. It's like they're not giving us a shot. They're just bringing us in to lose. And that's fine. We'll take that. There are not too many people around who will take that.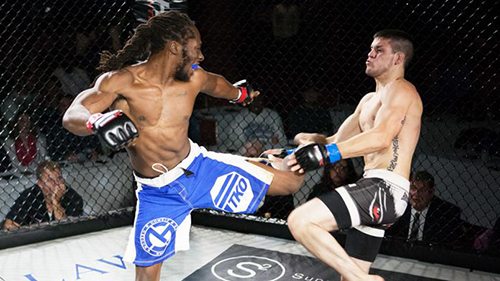 Family is a big reason why Freeman has the stones to take this fight. The 30-year-old has two children, ages six and nine, who he credits for helping to straighten his life out. Also fitting into the family equation are 13 brothers and sisters, 36 nieces and nephews, and "a whole lot of adopted brothers." But there was no influence like Fred Freeman Sr., a lifelong sports and fight fan, Freeman Sr. and Jr. fused a bond over combat sports, many weekend nights, side-by-side watching the latest big fight of the moment. Not surprisingly, senior cried the first time he saw Fred fight.

Their relationship changed when Fred Freeman Sr. was diagnosed with Parkinson's disease and has been hospitalized for four years.

Originally from Compton, CA, Fred was sent packing to St. Louis at 14 by his dad to hopefully quell the trouble that he was getting into, it didn't. But it did enroll him at Cardinal Ritter High School, where Freeman was a member of the wrestling team.

How did you make your way to MMA?

I grew up wrestling and doing karate with my dad, so wrestling came naturally to me. My dad used to show us wrist locks and all sorts of little techniques. We grew up watching boxing. My dad is a super fight fan, period. So we used to always watch the UFC. My brother and I would go to the basement with socks wrapped over our hands and go at it. Fighting was always a part of us. I'm pretty sure he'd be excited (about the Ferguson fight). For me and my younger brother, who also fights, all of our kicking, our discipline, it all started with him.

I'm sorry to hear about your dad. I can't imagine what that's been like for you.

It's hell, really. But you have to accept it. It's hard to see him like that, stuck in bed. There were times where he wouldn't acknowledge me for a long time. I would go in the room, and he wouldn't even speak to me. But the last couple of times I have been by he has. It's hard to see him like that knowing how hard of a man he was. But it has made and my immediate siblings closer. It's been a problem, but that is what MMA is for, to take you away from your troubles.

You had your first MMA fight at 25 so from 18-to-25, what were you up to?

When I turned 21, I turned my life around, and it's all thanks to Tex Trismegistus . Me and him used to run around all the time being mischievous and then one day he said, 'I don't want to do this shit anymore. I want to box.' I was like, go ahead. Go box. I'm gonna keep doing it. Then I had my son and stopped doing what I was doing, and Tex and I reunited, and the first thing we did was head to the gym.

Were you one of these guys who trained out of his basement or garage?

I really didn't know too much about it. I started out with Pride & Pain, and after it disbanded most of them went to St. Charles and I couldn't afford it at the time. So I just trained by myself staying in shape. But I didn't know anything. But at the time, I didn't know that I didn't know anything, I just wanted to do it. I lost my first fight and that let me know that I wanted to do it because I wasn't mad I was actually excited.

I started out as a fan. I didn't think I could do it at first until I started training with people. I grew up watching it and so I always thought to be a fighter you have to be either really, really crazy person. I didn't think you could be intelligent and do this. But then I trained and realized that you do have to be smart. Even if it's not book smart, you have to be smart at this.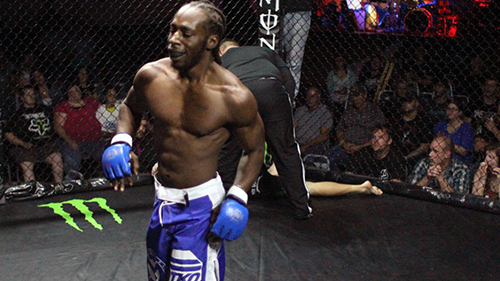 To get better Freeman knew he needed a team. He, Scott Futrell, Kendrick Latchman, and Steve Barbee would get in sporadic training sessions. Ken Porter was another. But he needed more. He looked up for possible gyms in the city and found Modern Combat Systems headed up by Jared Daniels Block. The team grew in depth and from 2012-2016, the gym consistently placed amateurs and pros on cards throughout the region.

In 2014, Freeman packed in seven fights, taking on some of the area's toughest in the division. He fought for four different promotions including three of the main ones in the region, Shamrock FC, Cage Championships and Fight Hard MMA. He added another four fights the next year.

During the MCS days you were fighting a lot as an amateur, and the whole team, in general, was fighting on a lot of promotions.

I can't speak for everybody, but I was doing it for the fun and the experience. We all had plans at going pro and being good as a pro so any opportunity we got we were taking it. We were confident in what we had and what we could do. I'm one that believes that if you're scared of something, go towards it.

Did you guys have an outsiders mentality?

Always an outsiders mentality. No matter where we went, we just got the feel from everybody. No matter what type of show we put on it was still like, 'them guys.' And we rocked it. And that's why we're still so close. Because of getting into all of that pressure together.

It sounds like that when you're 80 and looking back on your career those MCS days are going to be the days you remember the best.

Most definitely. That's why I call them my brothers. We had some great times. We had some great road trips. We learned and experienced a lot of things together. We always said that if we make it, these are the times we're going to talk about. These bad days stuck out in the middle of Joplin or wherever, the multiple losses, we knew it was going to make us stronger.

We'll end it on this, what hobby or craft would you like to be doing that's completely outside the world of fighting?

Carpentry. I can't help it, man. I started doing it, and I don't know why I just loved it for some reason. It's hard as hell, and I think that's why I think I love it. It's like fighting in a way in that it's hard work and you have to be smart at the same time. If I had to do anything else, that's what I would pick. Most definitely.

Additional photos courtesy of Jimmy Range Photography