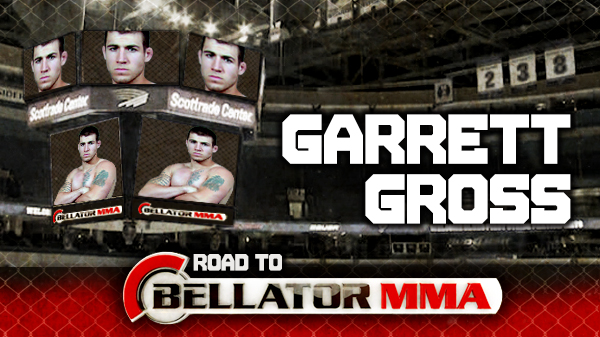 Road to Bellator: Garrett Gross
In his 26-years on the planet, Garrett Gross has jammed that time with hairpin turns on the Autobahn.

A star high school athlete at football-crazed Du Quoin, Illinois, Gross' life went the way of an episode of Behind the Music.

Drugs, alcohol, the wrong crew led to a stew of bad choices and dumb decisions and before the start of any jock's all-too-precious senior year, Gross found himself in rehab not at two-a-days.

Things only got worse. Despite finding MMA to replace the competition fix he kept tripping over his you-know-what and in the summer of 2010 he began serving what would be six months of a three-year sentence at the Illinois Department of Corrections.

During that stretch, reality and a renewed faith in God and family, washed over Gross like a tidal wave.

Out of prison, he turned pro on Sept. 9, 2011 and stood an even 2-2 by the end of 2012. St. Louis native and MMA star Tyron Woodley took him under his wing and Gross began training at Woodley's ATT Evolution. His first round submission of Nick Anderson was his first fight for Shamrock FC and the win pushed his record to 4-2. Through Woodley's connections with the vaunted American Top Team in Coconut Beach, Fla, Gross was able to work in some training sessions there and immediately fell in the love with it. He and his wife and family moved full-time to Florida.

After losing a unanimous decision to Belal Muhammad, Gross spread out his fights. He beat St. Louis stalwart Sal Woods with a dramatic TKO in 2014 and he started of this year with a third-round TKO of Colton Creason at SFC: Force in January.

Now he's taking a step up.

Gross will meet Chris Heatherly at Bellator 138: Unfinished Business on June 19 at the Scottrade Center.

Heatherly has had quite the regional impact at 170 pounds. After taking on all-comers regionally, Heatherly made en roads to two RFA appearance and two fights in the UFC. Of Heatherly's three losses, they have come at the hands of Augusto Montano, Ben Saunders, and Alex Garcia. But the showdown with Gross will be at a new landscape for Heatherly, 155-pounds.

Gross is familiar with adversity. He snuggled up to it for six months.

He is 6-3 with all six wins coming via finish and two of the losses have been by arm bar early in his career. He know uses the wrongs of yesterday to help the tomorrow's of others, doing motivational speeches at churches, schools, prisons and rehabs

Here is Gross' Road to Bellator, in his own words:

I started getting in trouble in the fifth grade. That was the first time I tried alcohol. Weed in the seventh grade and at 16, I tried cocaine and things got gradually worse from there.

It got to where it was every weekend in high school. But I was always good at sports and took care of my grades and that made it easy to cover it up.

My senior year I went to rehab but I did that not because I wanted to stop but because in a small town everyone knows your business and I thought, I'll go and do this and get people off my back. I completed the program, finished football, but not too much longer started hanging with the same people.

My first day in prison my dad sent me Corinthians 13:4-8: " Love is patient, love is kind. It does not envy, it does not boast, it is not proud. 5 It does not dishonor others, it is not self-seeking, it is not easily angered, it keeps no record of wrongs. Love does not delight in evil but rejoices with the truth. It always protects, always trusts, always hopes, always perseveres. Love never fails. But where there are prophecies, they will cease; where there are tongues, they will be stilled; where there is knowledge, it will pass away."

Something about it, it just touched my heart and I started reading the Bible.

I got accepted into the Impact Incarceration Program and after six months, did house arrest for 90 days.

I went to prison went I was 22. I got out and had two more amateur fights and turned pro in 2011. When I was an amateur, I used to fight all of the time. I would fight on Thursday then again on Saturday. I had 22 fights and went 20-2, pretty much all within a year-and-a-half. So I was busy.

I used to live at the (Matt Hughes-era) Hit Squad dorm but I was in and out of trouble. I was a 50-percenter.

(Heatherly) has been where I want to be. I have respect for him. He's just fought some tough dudes. Those are tough loses. He's got to be hungry. I think it will be one of the best fights on the card.

I heard about (Heatherly) after I turned pro. I knew of him through mutual friends. When he moved to 170 there had been some talks of us fighting but nothing ever came of it. My wrestling has improved so much. I'm glad we didn't fight long ago. He just would have taken me down.

He's still going to want the takedown, like the majority of guys I've fought. The last two I've fought have been wrestlers but his level is a bit better. We knew that and have designed a camp to do what we need to do.

His best chance is in the first round. If it goes in deep waters, I feel comfortable going there.

I've been hesitant in the past and going at my opponents pace. You're going to see a different style. Explosive, more movement.

When I started surrounding myself with good people, put God first, drastic changes started happening. I'm going to marry my fiance in July, Bellator this summer, and I fight for the best team there is.

Things are starting to feel like the career I want it to be. It's something you dream about. I wish it was this weekend.

Everything in my life is a story. I'm going to write a book.

Photo courtesy of Jimmy Range Photography. The "Road to Bellator" is part of a 5-week series highlighting the local fighters fighting on Bellator 138 at Scottrade Center.