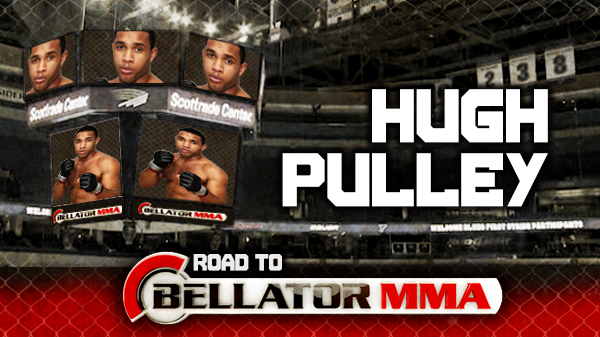 Road to Bellator: Hugh Pulley
Six fights into his professional mixed martial arts career Hugh Pulley finds himself at a crossroads.

After racing out to a 4-0 start, all with first round finishes, Pulley was considered the hot prospect in St. Louis. He had an amateur career that went 9-2, including wins over names like Jason Slattery, Adam Meredith, and Kyle Walker and two of those four pro wins came over notable fighters Malcolm Smith and Chad Williams.

But then reality set in.

Pulley dropped two straight over a four-month span and suddenly the Wolverine looked a lot more mortal.

Smart, athletic, and marketable, Pulley, out of Modern Combat Systems, is now at the doorstep of his toughest challenge on the biggest stage yet.

Come June 19 Pulley will meet fellow lightweight Eric Irvin on the undercard of Bellator: Unfinished Business.

Irvin is as tough as they come. A true veteran of the sport, Irvin (9-3) has won six-of-his-last-seven and was voted the St. Louis Regional Pro of the Year for 2014.

But the 26-year-old Pulley (4-2) is up for the challenge. This is his Road to Bellator, in his own words:

I was born in Nuremberg, Germany. My dad was in the Army and we moved from there to Florida and then to here. That's where my parents split up and I stayed here with my mom. I've been here for about 17 years now.

I always wanted to be a WWE wrestler. First it was all about The Rock and then it was Randy Orton, and then after that it was Kane. When I found out wrestling was a high school sport I joined it immediately and then I started wrestling and I was like, no slams? Then I started slamming people when I wrestled just to get that feeling.

I was clumsy, a little bit of a nerd and the class clown. It all mixed together. I would have bad grades at the beginning of the school year but when it got to wrestling season the Fs went up to Bs and Cs.

I tried football but I wasn't really a team-sports guy. I was more independent.

I got started in boxing and learning the sweet science. My current coach, Jared Daniels-Block, has been sharpening the steel.

I was 21 when I had my first MMA fight. I was thinking, be as much like Anderson Silva as I can. It ended in the first round with a triangle. I put him to sleep.

My brother (C-Jay Hunter) got real competitive in jiu-jitsu while I was wrestling. When he would get home it was like a free jiu-jitsu lesson.

I went to college for about two-and-a-half years and I realized I didn't want to do college any more. I didn't like sitting down in class. So I went to Finney's and saw they were doing the MMA thing. So I went in there and got my butt kicked. I got caught in so many submissions and got hit so many times. After that I did my own training for awhile and what I thought was good for MMA and what was good for me.

The first (loss), I learned not to take anyone too lightly. I'll admit it. I was lackadaisical. I was like, I've fought people like him. I'm not even going to train. I was immature and doing things I wasn't supposed to do like not going to practice and stuff like that. I was like, my stand up is going to beat him.

The first loss was devastating to me because it was a close loss but the second loss, I wasn't even prepared for. I took the fight the last minute because I thought I could beat the guy and it cost me my record.

I trailed off from my path.

I don't like losing so my wins kind of scare me in a way because I know what kind of person I am and I take (the win) to my head and I have to constantly say humble yourself. I always have to remind myself that. My sister will call me and say stay humble. My mom will be like, have you been going to practices? Even though she doesn't like me fighting.

It got me straightened out and focused when they said the Bellator card was coming to St. Louis. I was like, St. Louis fighters are going to get noticed.

I wouldn't say that I'm at the top (in St. Louis) but I would say that I'm at least top five of who would be next.

I like figuring out how people work so I can take advantage of it.

The fear of (Irvin) beating me is why I drive the extra miles to different gyms, why I do the extra push-ups. I do as many push-ups as I can within a time period and then I do a little more. I just go hard the whole time, just doing as much as I can.

I thought (Irvin) was an OK fight to start off with Bellator. I feel like this is the biggest test that I've had so far. So, I'm not even thinking. Just training.

I don't want the loss with it being in Bellator plus my city and my family is going to be watching. I can't let that happen.

I've probably seen him fight one time. Everybody is telling me that he has power and that he beats people up. I accepted the fight because of the name and because of the fighter that he is.

I thought there's no way they would call me for Bellator. I can't wait for the fight. It's a blessing.

Photo courtesy of Jimmy Range Photography. The "Road to Bellator" is part of a 5-week series highlighting the local fighters fighting on Bellator 138 at Scottrade Center.