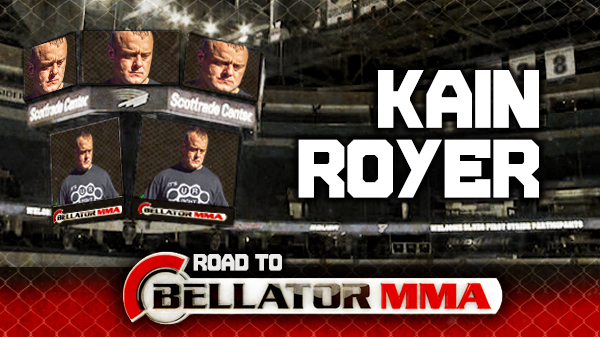 Road to Bellator: Kain Royer
When Kain Royer steps into the cage at Scottrade Center on June 19th it will have been over a year since he last competed.

He doesn't fight as often as he once did and not because of lack of desire. The man is just too darn busy.

You see, Royer wears a lot of hats: coach, matchmaker, and when the opportunity presents itself: fighter.

As matchmaker for not one but two local amateur promotions, he spends a lot of time building and organizing fight cards. Royer is the man behind the curtain for the Midwest's largest amateur fight promotion: Fight Hard MMA. He works with coaches and managers bringing in talent from all across the Midwest. Balancing the stress of fighters not making weight, getting cold feet, and a host of other issues, he can almost be considered a professional babysitter. When the crowd of 8-9000 fans pack the Family Arena for Fight Hard, the pressure is on him to deliver exciting and competitive match-ups.

Recently he took on duties as the matchmaker for Prime FS, the little sister to Fight Hard. When 2015 comes to an end, he'll have put together roughly 10 different amateur shows this calendar year.

Royer also runs a gym in O'Fallon, Mo., the Academy of Courage. It's a breeding ground for young, up and coming fighters. Royer along with his assistant coach and fiance, Michelle Pearce, can be seen almost every weekend in the corner shouting instructions to the fighters he has coached both inside the gym and out.

Somewhere in between all of this, he finds time to train. As one of 16 local fighters on the preliminary card for Bellator: Unfinished Business, he has one of the biggest fights of his career ahead of him. Taking on another experienced fighter in Enrique Watson, he better be ready.


Knuckle Junkies: How did this fight come about, and what were your thoughts when you got the call?

Kain Royer: I was actually training another fighter in a one-on-one and I got a text from Jesse (Finney) and he asked what I thought about being on the card. I told him I'd be honored. I really had no thoughts at all fighting in the near future but I was working out. Really I was just honored that he even asked me, it was a great opportunity and I couldn't pass it up.

KJ: As most people know, Shamrock FC is building the under card for this event and you have a bit of a history with them. Can you elaborate on that?

KR: I've been fighting for Shamrock for seven years now. They're probably my favorite organization to fight for. They've always been straight forward with me and given me great match-ups. I've always had fun on their cards. I do like this match-up. Enrique is really good, and I think it will be a good one for the fans.

KJ: You're very busy with your roles as coach and matchmaker. What kind of personal sacrifices have you made with your own fighting career?

KR: I find it very difficult to be good at both coaching and in fighting. To find the time to train yourself to fight at a very high level or to find time to train others to fight at a very high level, it's very difficult. It takes more hours than there are in a day. So I took the time to focus on coaching and match-making and training took a back seat. I didn't really think about it or make a decision, it was just what I wanted to do at the time.

KJ: Do you get more nervous for your fights or the fights you're coaching?

KR: I get so nervous I get sick sometimes for some of my fighters. One of my fighters (Pearce) is my fiance. I've actually puked before one of her fights. I don't get nervous at all really for my fights but for anyone else that's fighting, I get very nervous.

KJ: You haven't seen action in over a year. Any concern of ring rust?

KR: I've been training all the time. Training with pros all the time. There might of been a little bit of ring rust. The guys I've been training with definitely shook that shit off pretty good. I have some of the best training partners in the world. Some of the guys I cross train with are really, really good. Really active young guys that push me and keep me going.

KJ: Who's getting you ready for this fight?

KR: I have a good core group of guys I work out with. I work with the guys from CMMA, Jordan Dowdy and Sal Woods. Those guys are freaking awesome. I work out with Stephen Mann. Kevin Engel every now and then. Also going out to JW's (Wright) and doing some rolling out there. Getting a great mix of lots of different things. It's not that I don't have enough people at my gym, but when I'm at my gym it's hard to take a step back and be a student. I really have to focus on coaching while I'm there. I take time out of my normal day to go elsewhere and do my training.

KJ: You have a couple shows that you're working on before your fight.

KR: Yeah, I have June 6th then June 13th, then of course my fight on June 19th. It's going to add a lot of stress that other people aren't going to have to deal with. It's going to be a test for sure.

KJ: You're 35, how long do you see yourself fighting?

KR: I've been fighting for about ten years now. I play everything by ear. It's kind of cliche, but I take it one fight at a time, because you have to see what happens there to see what's next. I see mixed martial arts as a ladder. You're climbing a ladder, you take it one rung at a time. Whatever happens that decides which way you go.

KJ: What can the fans expect to see on June 19th?

KR: I'm going to leave it all out there. To me, honestly, there's no pressure. So I'm just going to go out there and have fun with my fight. It's going to be a fun fight to watch. It's not going to be one that anyone will want to miss. It's a very well matched fight. I'm coming out there to have fun and I'm coming out to win.

Photo courtesy of Jimmy Range Photography. The "Road to Bellator" is part of a 5-week series highlighting the local fighters fighting on Bellator 138 at Scottrade Center.

Tickets can be purchased from Ticketmaster.