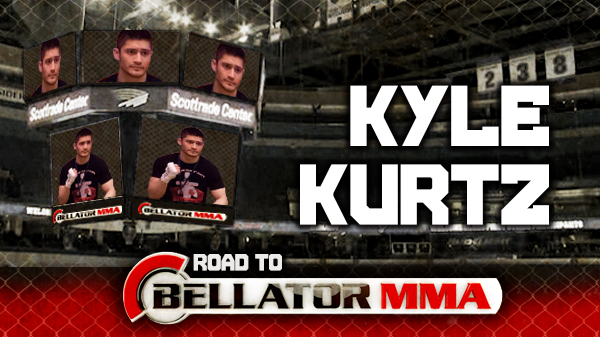 Road to Bellator: Kyle Kurtz
The underdog. Kyle Kurtz has definitely been one on more than one occasion. Armed with with a steely resolve and a new found confidence, he's about to take on the biggest challenge of his life.

On June 19th, Kurtz will face Adam Cella on the undercard of Bellator 138. Kurtz has been counted out by many and labeled as an opponent tailor-made for the veteran Cella but as the saying goes, anything can happen in a fight.

While he had a rocky road to the pros, Kurtz has turned it around with an impressive 3-0 start to his pro career. Winning five of his last six fights, the work he's put in with Steve Berger and his room full of monsters is starting to pay dividends.

Kurtz lives outside of Cape Girardeau. Three to four times a week he makes the two-hour drive to train in at Berger's MMA in Fenton, a kind of perseverance that most fighters just don't have the time for.

Despite the fact that his road to Bellator may be longer than most, a confident Kurtz seems ready for the drive.

Knuckle Junkies: First reaction when you heard you're fighting Adam Cella?
Kyle Kurtz: When I heard I was fighting Cella, I thought it was absolutely awesome. Nothing better than to fight a big name. A name that is well known around the St. Louis area, and pretty much around the world because he fought on TUF. This is really big for me. If I take this win, it'd be a big step for me. If I lose this fight, I don't lose anything because I fought a tough fighter. I'm taking a step up in the ranks.

KJ: You're known to take on all challengers, where does that come from?
KK: I'm a fighter. I'm born and bread for this. I don't care who they are. I don't care if they've been known to be best in the world. That's my goal, to fight the best in the world, but obviously I have to work my way up to do that. I'm not scared of nobody. God is the only one I fear. I feel that anyone can lose on any given day.

KJ: You've had some rough patches, but you've turned it around as a pro.
KK: I had things going on pretty good in my career, in the amateurs, but then I got to where I was taking a lot of fights. I knew the amateurs were the time to make my mistakes. I was ready for anything, I didn't care. I had a coach for the beginning of my career and that's when things were working out really well. Our gym kind of split up and started doing just Brazilian jiu-jitsu. At one point we just had teammates training each other.

About two years ago I got hurt really bad at work. A grinder came back and cut my face, and I had over 200 stitches. I was going to go pro right after my last amateur fight in May of 2013 but that didn't work out because of the injury so I had a long layoff. I didn't end up having another fight until of Janurary of 2014. I had a bumpy road in 2014, but I was just trying to get back into the ring to do my thing, win or lose.

I wasn't really ready until I cam to Steve Berger's gym. Ever since I've been with him I've had six fights and only lost one, by decision. I feel like this is a great place to train. Ty Flores, Chris Heatherly, Jesse Gerringer, Eric Irvin and all the other guys that cross train here.

KJ: How's a guy from Southeast Missouri find himself with a fight at the Scottrade Center?
KK: When I started the whole MMA thing, a lot of things didn't seem real. I said 'Oh I'm going to be in the UFC, I'm going to be in Bellator, I'm going to do all these things." I had these goals, but it wasn't in my head that I was going to truly make it. It wasn't until I really started to train, and take it real serious did I see the results start to come in, and I realized I am starting to make something of this. I've been a lot more intelligent with my fights, with my training. Everything is starting to pan out. Scottrade Center is just the beginning of things.

KJ: How familiar are you with your opponent?
KK: I think he's pretty good. Truly I don't think he's as well rounded as I am. Everyone has their off days, but I think he's truly just a stand-up fighter. He's not a submission guy. I'm more of a grappler when it comes to me and him fighting, and I'm good stand-up as well.

KJ: How do you see the match going?
KK: I'm going to test it out on the feet. I don't think he's got power. He's got skill and technique. He's just not very powerful and he's not very quick. I feel i'm going to be more explosive. I'm more athletic than him. If he somehow starts to get the better of me standing up, I'm just going to take him down and pound him out or submit and there's nothing he can really do about it.

KJ: What can the fans expect on June 19th?
KK: The fans can expect a war. When I train I go all out, obviously I have my good days and bad days, where I'm drained. I'm not doing this for nothing. I hope one day I can do this with full time training. They can expect a full out brawl, and hopefully a first round finish. I've had all first round finishes in my pro career.