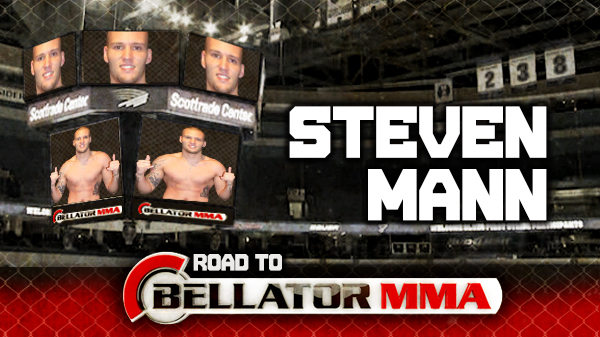 Road to Bellator: Steven Mann
The dark horse. The unknown in the pack.

At 24-years-old, Steven Mann is something of an enigma in the St. Louis MMA circles.

Mann has - somewhat intentionally- flown under the radar and hidden in the shadows.

On paper, there's lots to like.

First, there is the 10-1 record.

Or you could begin and end with that out of his 20 wins in pro and amateur competition, 18 of those he sealed the end in the first round.

Born, raised and still with strong roots in Burlington, Iowa, located in the southeastern part of a state known for combat, Mann has been stringing together kicks and combinations since pre-school

Mann is coming on five years of living in St. Louis and coaching at Finney's MMA but he's fought locally just one time back in 2013

Mann is one of the can't-miss fighters of the June 29 undercard of Bellator:138 Unfinished Business at the Scottrade Center. Mann will face Justin Guthrie (17-8) in a welterweight bout.

This is his Road to Bellator, in his own words:

My dad started me in kickboxing when I was four.

I was good a football. I liked football a lot. I had a few scouts looking at me but going into my senior year my coach gave me an ultimatum that I had to pick between football and fighting. And I wouldn't fight during season but I would still teach and go to practice. He wouldn't start me because he said it comes down to either MMA or football and that next year I didn't go out for football.

My first fight was when I was 17 and my parents had to sign for me. I got beat up a little bit. I was so pumped to be in there. My parents were big against competition at the time so for me to get them to sign the papers and let me fight was huge. In the video it just shows me smiling before the fight.

I learned a lot. At the time I was primarily jiu-jitsu and striking and being beat by a wrestler completely changed my game.

That's all I did was train. This is all I know.

I like fighting at home. There's nothing like that big rush from the home crowd.

At the time, in Iowa, I was our best guy and I wasn't getting pushed in sparring and jiu-jitsu the way I can get pushed here. TJ Moeller, a guy that I had fought for, introduced me to Jesse Finney and I came down just on a visit and I rolled with Ezra Lenon and at the time I hadn't been submitted in six months. It took a lot for guys to just get me into submissions and I came down here and he submitted me five time in five minutes and I was like, oh I have to come here. I hadn't been beat up like that for me to come down and have someone whoop me like that I was like, this is the spot for me.

I have been coaching forever. Probably since I was 10-years-old. From pro fighters to military and police officers. Self defense to hand-to-hand combat; knife, sticks everything. I got away from the knifes and sticks once I got into mixed martial arts because it dominated my life but I still know a few things.

Teaching is how I got my nickname The Professor. This was mostly self defense at the time but we used to have guys come in and train self defense under my dad and I would help teach those classes with him and these guys just thought I was some punk kid who didn't know anything so then we would spare we would do something and I would end up schooling them and getting the better of them. That's how I earned my respect by showing them what I had.

We watched UFC all the time and I trained religiously and at the time it was just for self defense and I was like, Dad I want to test myself, I want to see what I can do. He was way against it.

It's always been self defense and avoiding a fight at all cost. And that was the thing, I always avoided fights and I always defended myself by walking away and doing that for so many years, it kind of itched at me. I was like, what can I really do? I don't even know besides some sparring in the gym. So I wanted to test myself and that is how it came about.

My dad was against MMA at the start but my parents and wife are my biggest supporters and my dad has cornered and trained me for all of my fights.

We've done a good job keeping me a secret. That's what my management wanted to do. I have maybe two fights online that are three years old. You're not really going to know what you're going to get when you face me. You look at my record on Sherdog and that tells you one thing but that doesn't tell you anything about my style. With my videos being online, they will be able to scout you, be able to tell what your tendencies are and so we decided to keep me a sleep that way hopefully when I bust on the big stage here soon I'll show people what I'm all about.

I go on a lot of (motorcycle) rides. A few of my cousins and relatives ride a lot. My cousin likes to stunt, my brother-in-law likes to stunt. I don't stunt because it's too dangerous for me especially when I'm trying to make a career with my body. But I like to ride with those guys and watch them do crazy stuff.

After 26 fights, you kinda get the science down to dropping weight.

Before I came here four years ago I taught myself all the jiu-jitsu that I knew.

This is going to be a good test for me. (Guthrie) is very tough, always in shape and has a lot of heart. He presses very hard. He's got good boxing, good wrestling and is strong.

Expect fireworks. I'm a finisher. I got out to finish and I'm going to do everything that I can to finish this guy.

This opportunity could open a lot of doors for me. There's nothing compared to fighting on a big stage like this. This is what I've worked my whole career for. I'm going to show them.

The "Road to Bellator" is part of a 5-week series highlighting the local fighters fighting on Bellator 138 at Scottrade Center.