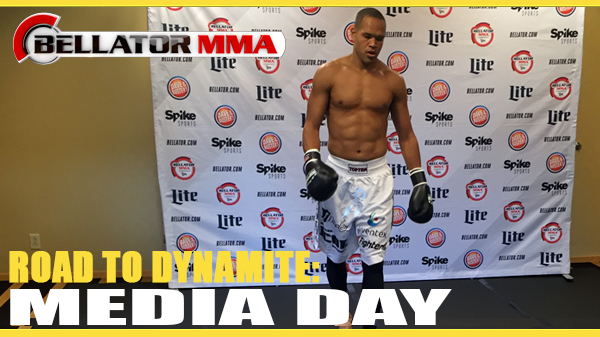 Road to Dynamite : Media Day
Rampage joked and Raymond Daniels wowed Wednesday at the Bellator Dynamite open workouts.

It was all smiles and a fair bit of clowning around for Rampage Jackson as he did a brief workout in front of the media and Bellator handlers.

The 38-year old Jackson did a bit of light grappling before hitting pads held by his coach Tiki Ghson. After the 8-10 minute workout, Jackson fielded questions from the press and kept things light.

"In my opinion, I feel wrestling beats Judo," Jackson said. "Even though I'm not a gold medalist at wrestling, I'm a gold medalist at kicking ass!"

Originally from nearby Memphis, TN, Rampage joked about having to pay a visit to his momma.

"After the fight I'm going to visit my family for a few days, because my momma made me." Jackson said. "She said 'boy you in St. Louis which ain't that far from Memphis, so bring your black ass home.' I'm like 'momma why you talking like that you black too' so I'm going to go home for a few days."

Jackson's main-card co-hort Matt Mitrione held more of a serious tone as he discussed his jump from the UFC to Bellator discussing free agency, and his welcome at the new company.

"The honeymoon period is the same thing," Mitrione said. "Obviously there are a couple more connections here as the MTV Movie Awards and the Guy's Choice Awards. So some different connections as far as the parent company goes but I think everything as far as the work and the appreciation and saying 'go out there and do your damn job' has been relatively the same."

Mitirone (9-5) who is making his promotional debut with Bellator will be facing Carl Seumantuafa (10-6) in a heavyweight bout that could produce a violent finish with 17 KO/TKO's between the two.

"It takes two to tango," Mitrione said. "If Carl comes out and fights like Carl does, it should be a lot of fun. Carl can put some pressure, he has a tremendous amount of power, and he's a very traditional heavyweight. It should be an exciting fight, Carl isn't afraid to go head-to-head."

Dynamite Kickboxers

The main event for the special Bellator Kickboxing event, which will air immediately following the Dynamite 2 main event, features arguably America's best in Joe Schilling.

Schilling will rematch Hisaki Kato in a re-do of their Bellator 139 MMA bout where Schilling was on the business end of Kato's superman punch. The punch starched Schilling and catapulted Kato into national attention among fight fans.

"I keep hearing revenge, revenge, revenge," Schilling said. "HIsaki Kato came that night, it was a big moment for him. He knew it was a big opportunity for him and he capitalized on it. I see this more as redemption than anything. I'm not angry at the guy, I'm happy for him. If it wasn't for that night you wouldn't have ever heard of Hisaki Kato. After tomorrow night he'll be just another guy knocked out by Joe Schilling."

"The last fight, when I fought him, going into the camp it was different," Schilling said. "I was at a difference camp really focused on MMA, my kickboxing career was in question, and I was with a company that was on the verge of going bankrupt every week. Yet again they're still on the verge of going bankrupt. MMA was my only shot, I needed to start building a career in something else."

Schilling promises a different outcome this time around, and is excited to help grow the sport of kickboxing in the US alongside Bellator Kickboxing.

"I don't have any ill will toward him. No regret really. I'm looking forward to putting on a show for the fans," Schilling said. "I think it's a great opportunity to show the Bellator fans what I'm really capable of and help grow this sport in the country."

Joining Schilling on the Bellator Kickboxing special is Raymond "Real Deal" Daniels a 36-year old kickboxer from Sun Valely, CA. If you're not familiar with his work you're in for a real treat as he's one of the most entertaining and athletic kickboxers on the planet. He competed as part of the World Combat League and even defeated UFC welterweight contender Stephen Thompson in a bout that was later ruled a no contest.

Originally scheduled to make his Bellator debut at Dynamite 1 last year, an injury forced a scratch and pushed off his debut to Friday.

Daniels wow'd the media at the open workouts with a series of tornado kicks, one of which can be seen in this video.

"I really wanted to be a part of Dynamite 1, but I caught a cut to the eye," Daniels said. "I wasn't able to do and there were some contractual issues going on. So, I'm really excited. It's an awesome card, some great fighters on the card from the kickboxing side and the MMA side. It's really an honor to be a part of the Dynamite 2 show. I'm looking to go out there and unleashing a brand new tool set."

Always innovating, Daniels promises a special performance in honor of his hero Mohammed Ali.

"I always try and keep it entertaining, keep the fans guessing," Daniels said. "I got something special planned. One of my late, great heroes passed, Mr Ali. I want to dedicate this performance to him, I have something really special and really spectacular planned in his honor. I'm going to hit you with a few different Ali things as long as the opportunity presents itself.

Daniel's echoed Schlling's comments on his desire to help grow the sport of kickboxing.

"You can obviously tell they are very seasoned," Daniels said. "They are seasoned vets when it comes to building a league and building a brand. They're doing a great job, they've gone out and grabbed the type of fighters the audience wants to see and the audience deserves to see. They're creating star power, they're creating a rumble and making kickboxing a house hold name which is where it belongs."

Local Flavor on the Main Card

In a rematch of a Bellator tournament fight, Michael Chandler will take on Patricky Pitbull in battle for the Bellator lightweight championship.

Leading up to the fight, Chandler has placed an emphasis on connecting with his fans through social media taking to SnapChat, Twitter, and Instagram.

"It really is one of the most important things," Chandler said. "Besides the fact I was called to this sport, God sent me to this sport to be great and put on a platform. Besides that calling, interacting with the fans and providing for my family are number two and three. The fact that people want to show up, people bought tickets, people are tuning into Spike TV to watch me fight and pursue my dream is a humbling experience."

Chandler recently posted a video of him discarding his "gallon graveyard" that became very popular on social media.

"Social Media is a part of our culture now," Chandler said. "We are seeing the benefits of it, we're seeing some of the drawbacks of it in certain areas of life, but in my life for what I do to be able to build my audience and reach as many people as I can, influence as many people as I can, I love talking to people. Social media is one of my favorite things."

Originally scheduled to take on Josh Thompson in May, Thompson pulled out of the fight with two weeks to go with an injury. When the fight against Pitbull materialized, Chandler immediately jumped on it and extended his camp by an additional four weeks.

"I'm extremely blessed that I have a well enabled body and I'm a durable guy." Chandler said."I came out of the double camp with no injuries and I feel great. This week has been really light. My energy is where it needs to be, my cardio is where it needs to be. It was tough, we've gone through this a couple of different times. I've had Eddie Alvarez pull out of two different fights, I had Dave Jansen tear his ACL. I've had numerous fights fall out, and it's never me, I'm always ready, I'm always healthy, I'm always ready to go. It's a tough situation, luckily I've been through it."

Chandler's local ties are deep, and he expects a big turnout for the fight on Friday night.

"I love fighting in front of the St. Louis crowd," Chandler said. "I will forever be appreciative of the State of Missouri and the City of St. Louis. There's so many people that will be at the Scottrade on Friday that have followed me and carried me through highschool wrestling, college wrestling. Throughout my time on the west coast, and my time on the east coast they're still following me, still showing me so much love, it's awesome. Fighting for the title on Friday night and I plan on going out there and winning and holding the belt high for St. Louis."

Joining Chandler on the main card is another local, Rebecca Ruth. Ruth made the jump from the regional fight scene to the national stage will the aide of Shamrock FC. She won the Shamrock FC belt and through a partnership with Bellator was given a 3-fight deal.

"Without Shamrock FC it might have been a longer road to get here, who knows," Ruth said. "Jesse Finney and Rob Donaker, they've been fantastic. It's a great organization that they have put together. Most all of my fights have been with Shamrock. They put on tough fights, I haven't had an easy one to get here, I definitely appreciate what they've done for me and to get to this level is a dream come true. I can honestly say I'm living my dreams right now."

Winning her debut fight impressively at Bellator 150, "Ruthless" is back on the main card, in a very familiar place, five of her seven pro fights have been in St. Louis.

"It's been a long road, my age is no secret," Ruth said. "I fought tooth and nail to get where I am and I'm not about to let it go. There are so many people have come up an asked me where my next fight is at, and I tell them the Scottrade Center. It's big, it's exciting to be here with the big name fighters on this card, it's an amazing feeling."

A long time teammate under with another fighter on the card, Justin Lawrence, Ruth and Lawrence have never competed on the same card until now.

"To compete this weekend, on this stage for Bellator, it blows my mind," Ruth said. "Fighting on the same card has him has got me more excited than anyone else on this card."

Both Lawrence and Ruth will be lead to the cage on Friday by their longtime coach at 21st Century Self Defense, Benny Voyles,

"Benny is a phenomenal coach, you can ask anybody," Ruth said. "Justin has fighters out at Alliance, big names like James Vick, Dominc Cruz will call and get some advice. Benny Voyles has been a Godsend, there is no way I would have gotten to where I am at now without that man."

Tickets for Bellator 157: Dynamite 2, which start at just $30, are on sale now on Ticketmaster.com and at the Ford Box Office at Scottrade Center. Doors for the event open at 5:00 p.m. CT local time, and the first contest takes place shortly after.

Bellator 157: Dynamite 2 airs live on Spike at 9 PM ET/8 PM CT, while preliminary bouts will stream on Spike.com at 7 PM ET.