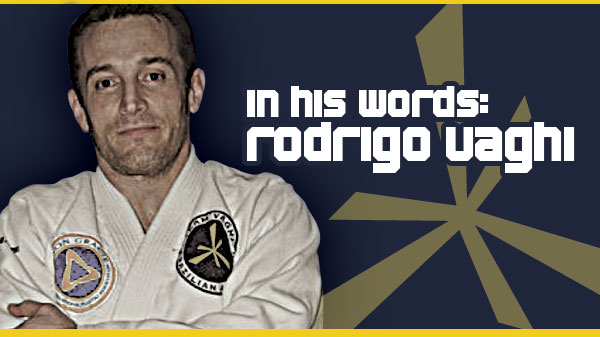 Rodrigo Vaghi, In His Word
You want to talk about old school?

Rodrigo Vaghi started his training in Brazilian Jiu Jitsu in the original Gracie Academy Rio de Janeiro, Brazil. Vaghi's instructors were none other than Grandmaster Helio Gracie (the creator of Brazilian Jiu Jitsu) and his sons: Rickson, Royce, Royler and Rolker. After many years of training with the Gracies and becoming a family friend and a representative of the Gracie family outside of Brazil, Vaghi relocated to the United States. Vaghi is currently a 4th degree black belt under Rickson Gracie, and is the highest ranked black belt representative of Rickson Gracie outside of Brazil. Vaghi, who is a member of the Martial Arts Hall of Fame, has won several prominent Jiu-Jitsu championships, including the 2011 World Championships in Rio de Janeiro. Vaghi not only won the black belt division in his weight class, but the open division as well.

Another testament to his success is the number of feeder schools the 42-year-old Vaghi has. In the St. Louis area alone, there are three Vaghi established affiliates with another on the way along with schools in Nebraska, Minnesota, and Wisconsin. Vaghi and his affiliate schools have, and continue to, produced fighters for UFC, Strikeforce, and Bellator.

Knuckle Junkies stopped by Vaghi's main St. Louis school in Fenton on a quiet Saturday morning to talk about life and jiu-jitsu. Here is Rodrigo Vaghi, in his own words:

My first jiu-jitsu class was when I was 15. I had a great friend of mine introduce me to some moves of jiu-jitsu and my dad was a close friend of Master Helio and Relson Gracie. I was very curious. At the time, the school was underneath Rowing Stadium in Rio. It was to be really an underground kind of school. At the time, Rickson was running the class but Master Helio always supervised.

It had old, old mats and it was kind of dark. It looked like those old, New York boxing schools in that you see in the movies. It was great.

The classes were really, really long. We had pretty much an hour-and-a-half of self defense and then I would guess and hour-and-a-half to two hours of grappling. The idea was to divide the days into technique and sparing. It was really intense.

I came from being very successful in judo. I had been dominating the division and winning state and all of that. I was very secure with myself. Then I went to jiu-jitsu my first time.

I had a good friend of mine put the whoop on me that day. I was very, very upset because I was able to throw him hard but then he started playing this guard on me. Then he flipped me and got the mount and I tried to remove him and he, boom, arm-barred me. I remember that night; I don't think I fell asleep.

The next day, I joined and stayed for life.

This has always been my approach; find the people who are still dominating me or offering me a challenge. I was pretty much a parasite on that guy to roll with me close to every day until I was able to overcome him and then look for someone who was above me again as a challenge.

I came to the U.S. in 1997. I never really planned to teach jiu-jitsu. I taught a little bit for the Gracie's in Rio but I was also working the stock market. I was tempted but hesitant.

Things really worked out. I had a lot of support from guys who were with the police at the time, a couple from the SWAT team. I created a lot of bonds with some amazing students and friends who are really at the core of what I have today at the schools.

In the beginning it was a challenge for me. I'm coming from a big city where the intensity of everything is so different. I remember getting here and walking down the street and people come by and asking me, How are you doing?' and that was really strange to me because if someone is doing that to you in Rio, they're probably trying to set you up or trying to mug you.

Rickson is the true master who can give you so much experience just by talking to him. I consider myself a good instructor but I'm trying to develop one day to get to how wise he is. You sit and you're like, wow' I learned more than if I would have spent two hours with him on the mat. I'vebeen around everybody from so many world champions to so many great people in the (Gracie) family, he has something very special. It's hard to explain.

One of the things I really try to pass to my students, I want to keep the identity of jiu-jitsu the true way that I learned with students really earning their belts and the bond of friendship. I've met some amazing friends.

We have doctors who are 64-years-old to some great fighters. We have the same atmosphere; a respectful, competitive,head spacefor everybody. From those who will never compete and don't want to compete to those who are driven by competition. I try to preserve that family spirit and unity.

I think how the sport has developed is phenomenal. There are so many minds and so many new talents. The outside processisn'teven close to what it is today. The guys are training like professionals. They go to the gym, they run, they do conditioning, the do everything to focus on competing.

I love to learn everything. I love to open my vision to everything that is out there but I never lose focus on what's important and that is to perfect the basics.

It never gets on the boring side.

I like to watch everything. It's important for me to because I have a branch of students who go from 125 to 325 pounds. I need to find the best direction for them. I have to give them the best way to grow.

I really live to be around the guys. It's a way to stay motivated. I work out with my fighters. They're so much younger but the old man can't fall behind. It keeps me going.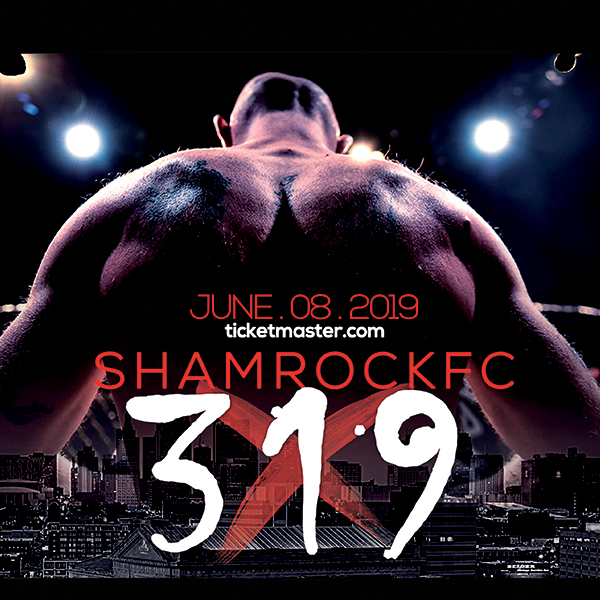 Shamrock FC: 317
| Sat, April 6th
Ameristar Casino, Kasnas City, MO
Nemesis Fighting Alliance
| Sat, April 13th
Casa Loma Ballroom, St. Louis, MO
Shamrock FC 318
| Fri, May 10th
River City Casino, St. Louis, MO
Shamrock FC 319
| Sat, June 8th
Ameristar Casino, Kansas City, MO

Tweets about "KnuckleJunkies OR @knucklejunkies"