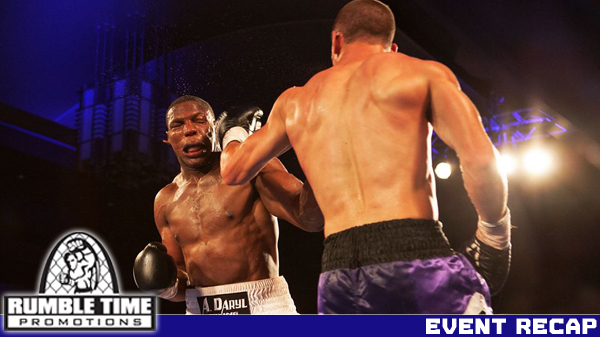 Rumble Time - 10/11 Event Recap
While most of St. Louis was focused on the post season happenings of the Cardinals, fight fans huddled together inside the Ameristar Casino for a night of mixed action.

The second in Rumble Time's "Pick Your Poison" series featured pro boxing, MMA, and amateur K1 and MMA, and the fans in attendance were treated to some exciting contests.

In the main event Dillon Cook literally flew into town on 24-hour notice to take on Lamarr Harris. Cook's corner-man doubled as his pilot and brought the team from southwest Missouri up for the fights. It was well worth the trip as Cook and company will fly hope winners having won three of the four rounds 39-37.

Adam Meredith made his pro boxing debut with a 39-37 victory over Jose Jones, and bantamweight Stephon Young improved his record to 6-0-1 dominating all four rounds of his fight.

Jason Slattery and Caleb McCutchen competed in what was originally billed as Muay Thai, but a last minute change resulted in Slattery improving his MMA record to 2-0 against the debuting McCutchen.

McCutchen came out firing with wild, overhanded punches. Slattery avoided the big shots and got the fight to the ground where he submitted his opponent just shy of the one minute mark in the first.

Two amateur K1 contests made for an interesting contrast in styles. Chris Campbell and Quentin Loper displayed quick, technical skill at bantamweight, and Paris Tipler and Alex Roosevelt were brought power and athleticism to the ring at welterweight.

In the first match Campbell out-dueled Loper, winning a split decision by the narrowest of margins. Loper has bad luck fighting at the Ameristar having lost another razor thin decision back in May.

Tipler edged out Roosevelt, also by split decision. Tipler came out strong but ran out of gas midway through the second. At one point in the third Roosevelt was walking through Tipler's jab to get inside to load up on combinations on the winded Tipler.

Jake Roberts improved to 7-0 against Cody Huff with a blindingly fast submission. Huff fighting out of East Prairie, MO brought an impressive 10-2 record into the contest, but came up empty on the night. Roberts dropped Huff early with a punch before the Vaghi blue belt put his ground skill to use securing the rear naked choke. Roberts got the win in just 34 seconds of the first round.

Vi Nguyen submitted Jake Willyard with a rear naked early in round two. It looked early like the Willyard magic from Fight Hard was following him to Rumble Time with some close, early submissions, but it was not to be.

Brad Diekhaus looked impressive at light heavyweight dispatching Charlie Bond early in the first by TKO. Shane Pearman submitted Michael Dorsey with a nasty armbar in the first. Tony Willyard defeated Steve Berger by decision.

John Graves started the night off with a TKO over Dustin Snow in round two.

Rumble Time returns November 8th with a pro boxing event at Ameristar.