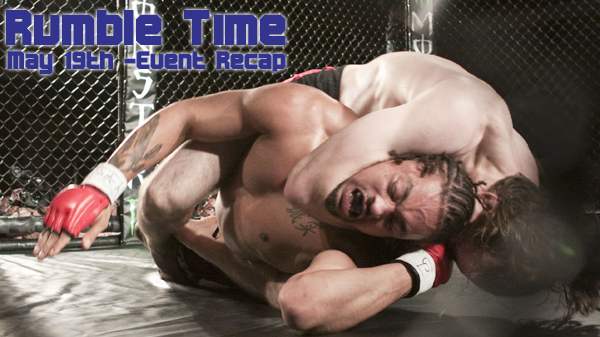 Rumble Time - May 19th Event Recap
Rumble Time Promotions and Sport Fighting League put together arguably the best card St. Louis has seen in some time for Saturday's show at the Ameristar Casino and it failed to disappoint.

In the night's main event, pitting two of the top 40 flyweights in the world, Will Campuzano, out of Dallas, TX, stunned the crowd when he dropped Josh Sampo with a short knee in the third round for the knockout victory.

Sampo, fighting out of St. Charles MMA/Team Vaghi, was dominating the bulk of the fight, which was an excellent example of the brutal artistry of mixed martial arts.

Both fighters exchanged strikes for the better part of the first round before Sampo finally got the edge with two takedowns.

Much of the same could have been said about the second round, with Sampo's takedowns giving him the edge as a visibly fatigued Campuzano gasped for everything he had.

But Campuzano, who hadn't fought in over a year after spending time in both the UFC and WEC, stayed resilient in the third round before his well-timed knee connected with a vicious result when Sampo shot in for a takedown attempt.

"He was a lot tougher than I expected," Campuzano said. "I should have took an easier fight because I haven't fought in a year and I felt it. I was holding my breath a lot and that gassed me."

Campuzano said the winning shot came on a reaction.

"I was fatigued and he knew it," Campuzano said. "I was waiting for him and he wasn't standing at an angle, but straight forward and I knew he was wanting to shoot and I just timed it perfectly. I had him in front of me so it just worked out perfectly for me."

Campuzano walked away from the fight holding Sampo in high regard.

"He is f*cking tough, tough as nails," Campuzano said. "He really is well rounded. I expect him to do great things. He is really heavy handed. He can stand and bang and trade. He is all around good. I could definitely see him doing something in the sport."

Campuzano got the win despite a 12-hour drive to get to the event and a one-man cheering section and corner in The Ultimate Fighter finalist Johnny Bedford.

In the night's co-main event, Zach Freeman was impressive yet again in winning his fifth straight pro fight to remain undefeated.

Freeman simply smothered Charon Spain and was then methodical and patient, going through an array of submission attempts before finally getting Spain, a Strikeforce veteran, to tap in the first round.

Be sure to check back on Monday with an interview with Freeman, a teammate of Sampo's, and other winners from Saturday night.

Destruction MMA's Eric Irvin was as cool as the other side of the pillow in his win over Evian Rodriguez. Irvin's power wrestling and dirty boxing set up a vicious knee that knocked Rodriguez out in the first round.

Damien Jeffro withstood an early slam by Yohance Flager. Jeffro pulled off a reversal midway through the first round and softened Flager up with some strikes before locking in a rear naked choke for the first-round victory.

Chris "Stump" Heatherly put together an electric performance in his pro debut. Heatherly connected with a nice head kick and followed that up with a flurry of strikes from the mount to win by TKO in just 19 seconds.

On the undercard, Adam Osmoe won the Gateway to the Top Lightweight tournament with his explosive right. Forty-one seconds into the first round, Osmoe connected with a big overhand right to knock out Jason Slattery and earned a pro contract in doing so.

In the only fight of the night that went the distance, Adam Meredith's ground game was too much for Jeff Escobar. Meredith earned the decision victory.

Mark "The Mutant" McLean dominated from the get-go in his fight with Elijah Neese. After controlling Neese on the ground for the better part of the first round, McLean ended the opening three minutes with a bevy of strikes. That approach continued in the second round when McLean picked up the TKO victory.

Jake Roberts and Antonio Atkins kick started the night. Atkins had a big slam early in the first round but made the mistake of staying on the ground with Roberts. From there, Roberts had his way with Atkins and secured a guillotine to earn the first-round victory.

Afterwards, promoter Jim Jenkins was pleased with the action that went on in the cage but not so much with the lack of action outside of it.

"It was a fun night," Jenkins said. "It was a fun card and I'm really happy with our association with Rumble Time. But I think our community is a little bit weak on its support and I'm going to call them out on it. We have 200 people in town who claim to be amateur fighters and I didn't see five of them here. If you wanted to be a pro one day you would think that you would come out to watch the pros. Even the pros who aren't in town fighting ought to be supporting other pro shows. We have to support our own community to continue to grow."

Portions of Saturday's card is expected to air on Fox Sports Midwest sometime over the summer.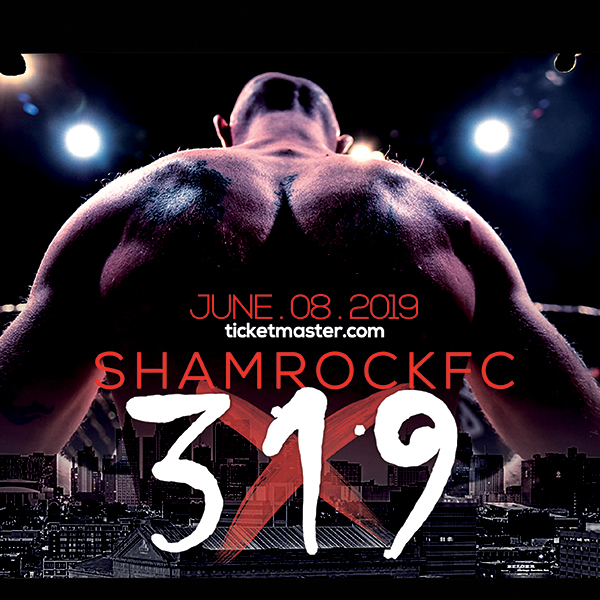 Shamrock FC: 317
| Sat, April 6th
Ameristar Casino, Kasnas City, MO
Nemesis Fighting Alliance
| Sat, April 13th
Casa Loma Ballroom, St. Louis, MO
Shamrock FC 318
| Fri, May 10th
River City Casino, St. Louis, MO
Shamrock FC 319
| Sat, June 8th
Ameristar Casino, Kansas City, MO

Tweets about "KnuckleJunkies OR @knucklejunkies"