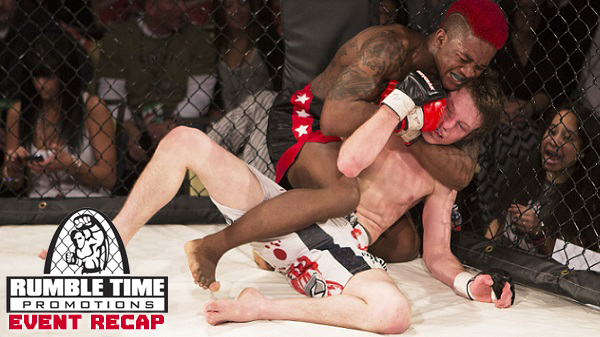 Rumble Time: Destruction - Recap
Dan O'Connor fought like he was ready to get to the after party.

Or maybe he was trying to live up to Rumble Time Promotions' titled "Destruction" Friday night at the Ameristar Casino.

Whatever the motivation, O'Connor ran roughshod over Gary Becker in their flyweight main event. The victory improved "Johnny Irish," to 5-1-1 while Becker dropped to 0-2.

Embracing the St. Patrick's Day holiday and his Irish heritage, O'Connor entered the cage with a live bagpipe player sounding his entrance.

After the first bell, Becker started the fight trying to keep O'Connor at range and eventually got inside and pressed O'Connor against the fence. Soon after, O'Connor got both arms around the svelte Becker and took him to the ground.

Both fighters are skilled at groundwork but Becker could fend O'Connor off for only so long. O'Connor eventually worked his way to full mount and from there punched his way to a TKO first-round victory, the first of his pro career.

Check back for interviews with O'Connor and other main card winners from Friday night, only at knucklejunkies.com.

In the co-main event, bantamweight Jordan Howard won his sixth straight with a nifty first-round submission of CMMA's Nick Dioneda. Dioaneda got Howard to the floor and did some significant damage, including opening a cut on Howard's head. Off a scramble midway through the first, Howard snagged a nice ankle lock and earned the submission victory with 3:30 in the first round.

Making his pro debut, Matt Murphy showed a much-improved attack game and earned an impressive win over Ben Chesser. Murphy muscled Chesser around on the ground, showcasing an improved wrestling game. After a close first round, Murphy came out in the second and showed dominance once getting a takedown. He used is strength advantage to keep Chesser pinned and on the defensive. In the third, Murphy scored another takedown. From there he worked his to Chesser's head, grabbed ahold, and cranked away for the submission win.

In the first fight of the main card, Texas' Jonathan Martinez connected with a perfectly placed flying knee to KO Marshon Ball just 1:23 into the first round.

On the undercard, Yerick White scored a brutal first round TKO over Justin Lankford. Lankford was tended to by medical staff for several minutes following the fight and appeared stable afterward. Early signs indicated a possible shoulder separation.

Kenneth Kinder scored a first round TKO of Aaron Harvey. Jason Pohlman won by decision over Laree Hutchinson. Robert Salamone won off a nice arm bar in the first round over Chris Campbell.

Lucas Clay won with a rear naked choke in the second round over Dylan Dalton. Mario Hudgins won by unanimous decision over Darrell Chamberlin. Micah Sensei scored a TKO victory in the first round over Brett Snow.

Rumble Time returns to Ameristar for pro boxing on April 19th.