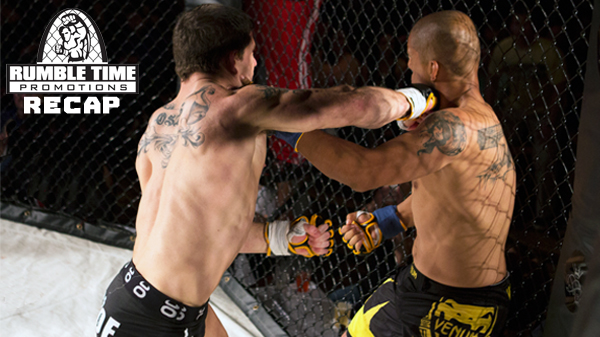 Rumble Time: Epic - Recap
Thirty ticks of the clock.

That's all Adam Osmoe needed to put away Raul Rosas in the main event of Rumble Time Promotions: Epic at the Chase Park Plaza.

The event marked a return of combat sports to the historic venue and saw a very large crowd turn out in support of the local fighters.

Osmoe proved his power at lightweight is something to contend with as he pushed forward and laid multiple hands on Rosas before dropping him and forcing referee Mike England to step in and call it a night.

"Ever since I started MMA it was, he's wrestler, watch his takedowns," Osmoe said. "I'm trying to show I'm a well-rounded fighter and not just night a wrestler. I knew I connected with that first over-hand and hurt him and I wasn't going to let him breathe."

Osmoe improves to 2-0 as a professional.

Jake Roberts is always a welcome site at Rumble Time events, and Saturday night was no different.

The talented lightweight, who learned his craft at St. Charles MMA and cut his teeth in the St. Louis fight scene before leaving for the MMA LAB in Arizona, faced Tyrone Paige in the co-main event.

Paige is known for his heavy hands and he landed a big shot to start the fight that stunned Roberts. Roberts kept his composure and eventually scored a big slam and went to work on his specialty, the ground. Roberts first went after a kimura and then took Paige's back when offered. Roberts landed some elbows and worked shots to the head before latching on a rear naked choke at 2:33 in the first round.

The win pushed Roberts' submission streak to 12, including eight as an amateur and four as a pro.

Ken Porter went through a few opponent changes before Joe Estrada took the bout the week of the fight. Porter landed a quick shot and pounced on Estrada, grabbing a hold of his neck. Estrada transitioned to a takedown before the fight returned to the feet.

Estrada landed a big left that sent Porter to the floor and was doing some significant damage before Porter grabbed an arm and got the tap at 1:58 of the first round.

The most anticipated fight of the night was Ty Flores' pro debut against Chad Williams.

For the first round, the two middleweights felt each other out, exchanging punches and Flores' upped the volume with kicks and took control of the cage. Toward the end of the round, Flores landed a flying knee and pulled guard, tying Williams up

Flores landed a kick early in the second that hurt Williams. Flores bulldogged him to the ground, spun around back and then landed shots. Williams rolled to his back but Flores was there to greet him with more punches. Williams attempted a sweep but Flores was right there again, taking the back and landing punches.

Williams eventually got back to his feet and took Flores down but Flores kept him wrapped up in his guard. Williams was able to spring free from time to time and dropped some big elbows that opened a cut on Flores' nose.

In the third round, Flores pushed the pace and a tired Williams went to the floor and seemed content to try and control the posture of Flores and ride out the round.

In the waning minutes, Williams attempted an arm bar that Flores muscled out of. Fatigue was a factor toward the end as Flores landed a combination before the final bell.

When the judges scorecards came in, it was a unanimous 30-27 decision for Flores

A female straweight bout between Nikki Smith from the War Room and Stephanie Alba was scrapped prior to the first bell when Alba was sent to the hospital with dehydration due to a poor weight cut.

Flyweights Josh Epps and Malshon Ball kicked off the professional main card.

Epps scored a quick takedown at the start of the bell and from there went straight to work. Epps moved to mount, sank in a von flue choke and Ball went to sleep, giving Epps the win at just 43 seconds in the first round.

In the featured bout of the undercard, Cort Wahle continued to show that he is one of the top young talents in the area when he faced Alex Macias.

After a ho-hum first round, Wahle landed a sharp hook that changed the tide of the fight. Once on the ground, Wahle pulled off a nice sweep and took Macias' back. Macias fought hands but it was just a matter of time before Wahle sank in a rear naked choke and got the tap at 1:31 in the second round.

Terry Scott started off strong against Oscar Ahuatzi, dotting the Boxing Gym product and producing a stream of blood. But Ahuatzi proved to have a chin of granite and kept coming. Scott sent Ahuatzi to the canvas but he rebounded to drag Scott to the floor and deliver some ground and pound before the end of the first round.

In the second, Scott again showcased nice hands but the punches were having little affect on Ahuatzi. Scott tired suddenly and Ahuatzi recognized and went for the finish, scoring a TKO in the second round.

AJ Cunningham and Matthew Ramos had some nice back and forth over three rounds. Cunningham threw up a triangle in the first round that Ramos battled out of. After a close second, Cunningham got the tap he was searching for with a triangle at 2:42 of the third round.

Garrett Armfield made quite the impression. The 18-year-old scored a first round TKO victory over Vincent Hutchins to kick off the amateur MMA portion. It was Armfield's MMA debut.

Amateur K1 opened up the evening.

Christian Santana won by unanimous decision over Steve Barbee. Jason Newman won via injury default over Aaron Harvey. Dewayne Diggs scored a first round TKO victory over Brett Snow.

It was announced at the fight that Rumble Time and Cage Championships are teaming up to bring the RFA to the Chase on August 7. Rumble Time returns to the Ameristar Casino on July 11.

Photo courtesy of Jimmy Range Photography.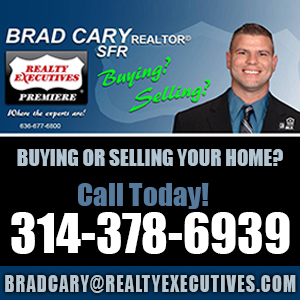 Nemesis Fighting Alliance
| Sat, August 17th
Casa Loma Ballroom, St. Louis, MO
KCFA
| Sat, August 24th
Independence Event Center, Independence, MO
Shamrock FC: 322
| Fri, September 6th
River City Casino, St. Louis, MO
Sub 5
| Sat, September 21st
TBA

Tweets about "KnuckleJunkies OR @knucklejunkies"