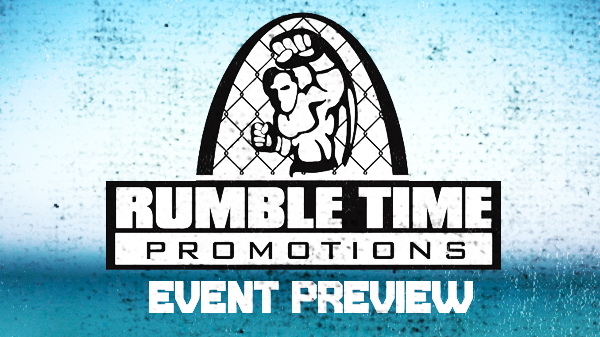 Rumble Time Promotions - August Event Preview
Rumble Time MMA sets up shop at its familiar digs at the Ameristar Casino on Friday as it brings both amateur and pro fights to the region.

KJ has already looked at the stacked co-main event and featured John Davis, who will meet Harlan Feutral in the main event.

Another intriguing match-up on the main card includes two fighters who are coming off wins in their pro debuts. St. Charles MMA standout Kirk Huff will face Paul Schultz in a lightweight showdown.

Schultz was 5-5 as an amateur. The 29-year-old Osage native fights out of TCB Fight Club. He won via first round arm bar in his pro debut in April.

"Now that the first (pro) one is over with, I feel pretty confident," Schultz said.

The 29-year-old Schultz fought a couple of times in the St. Louis area for Jim Jenkins. He got into the sport just over four years ago.

"I'm going to give (Huff) a battle," Schultz said. "I know he's tough but I'm tough myself. I know it's going to be a war."

Schultz joined up with TCB after spending three years with Team Pain.

"They're a great team when it comes to boxing, muay thai, and BJJ," he said. "They're just a good group of guys."

Schultz is admittedly deliberate out of the gate. But once he finds a pace and a range he's comfortable with, his versatility can lead to many problems.

"I'm going to do what I can to finish him," Schultz said. "Submission or KO, it doesn't matter."

Huff made his pro debut under the Rumble Time banner back in February. He faced a tough Dave Callow and came away with a nice submission via triangle.

Huff wasn't even vaguely familiar with Schultz and clips of him were scarce, which isn't a bad thing.

"I think a lot of times when you look at tape you think about what they're good at," Huff said. "You see the things they're good at and maybe think they're better than what they are. I fought in tournaments all over the world against people I didn't know anything about so it doesn't really matter to me."

Huff has some general ideas that he would like to have happen in the fight if his opponent does certain things how he will react to them. But, all of that can go out the window in a moment's notice.

"There are a wide variable of factors that can happen going into a fight," Huff said. "You never know. So many different outcomes can happen from so many different situations. If you develop a game plan and it doesn't exactly go the way you think, then you might mentally be defeated."

Since Huff's pro debut he has kept together his diligent training and teaching schedule. He says he puts the same pressure on himself whether it's tomorrow's pro fight or amateur go-around from back in the day.

"It's just a fight to me," Huff said. "Now there is money involved and you still want to perform well and not lose. Even if it's rock, paper, scissors, you still don't want to lose."
Huff has dedicated a large portion of his life to becoming a complete mixed martial artist. So much so, that the thought of having a "training camp" to prepare for a fight borders on becoming a pet peeve.

"I hate it when people say 'training camp,'" Huff said. "It's training camp when you go somewhere. I'm a martial artist. I train every day regardless if I have a fight. But when people say they're in training camp and they live down the street, that's not training camp. I don't know how that term came about."

Huff isn't one for predication; he knows anything can happen inside the cage.

"I feel everyone has a 50/50 chance," he said. "It's just who reacts better to the situation is who will get their hand raised. Hopefully whatever the outcome is I can learn from the experience."

Here is the rest of Friday's Rumble Time card:
Harlan Feutral vs John Davis - Main Event
Jimmy Kim vs Jimmy Donahue - Co-Main Event
Paul Schultz vs Kirk Huff

Jordan Howard vs Shane Shomidie
Brandon Sisco vs Brandon Karcher
Tommy Sthair vs Adam Adcock
Justin Lankford vs Miguel Lisboa
Jared Bischoff vs Tyler Hubbs
Kendrick Latchman vs Dillon Tolbert
Cody King Vs Josh Augustine

- For tickets for Friday's Rumble Time show call 314-662-2000 or stop by the Ameristar Casino gift shop.