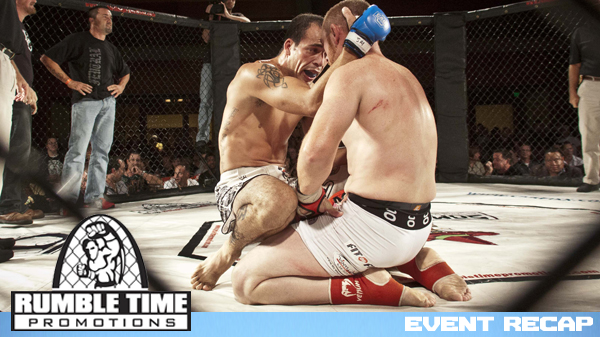 Rumble Time Promotions - August Event Recap
It was an emotional night at the Ameristar Casino when two fighters with a lot of history settled their differences in the cage.

After three very quick pro fights, the crowd settled in for the main event, featuring Jon Davis and Harlan Feutral. The fight lasted two rounds with plenty of action to be had with a submission coming at 3:46 in the second.

Davis came out of the gates with his guns blazing. He was landing landing front kicks and stiff punch combinations. Feutral is not one to back down and hung in the pocket willing to exchange with Davis. Both fighters seemed to be heading the advice of announcer Dave Davis and "let the leather fly." It was obvious that neither fighter was holding back. After hitting a nice takedown, Davis spent some time on top,but was never in a position to submit Feutral.

Even though Feutral wasn't winning the stand-up, he was very patient in the cage just waiting for a mistake by Davis and that came midway through the second. After a quick combination, Davis shot for the double leg and left his neck exposed. Feutral capitalized and locked on aguillotine. Davis fought off the submission for over a minute before having to finally tap.

The fans that had traveled in from Pacific to support Feutral erupted as the former student got the best of his old coach.

Kirk Huff,out of St. Charles MMA, lead off the pro portion of the card and wasted little time defeating opponent Paul Schultz. Huff - who religiously trains all disciplines of fighting - only needed his jiu-jitusu on this night. Without throwing a single punch, Huff took down his opponent and submitted him via rear naked choke just 52 seconds into the first.

Huff's coach Mike Rogers was content with the win.

"I thought Kirk was going to strike with him." Rogers said. "He didn't throw any punches, just took him down and submitted him."

Huff's teammate Jimmy Donnahue also finished his fight quick locking on a tight guillotine as he jumped guard. Much like his fight with Sal Woods, Donnahue rocked his opponent with punches seconds after the opening bell, before landing the submission.

"Jimmy stumbled him at the beginning," Rogers said. "I think he could have finished him striking, but he didn't go for the KO, he just sunk in the guillotine. Jimmy Kim is a very good fighter. It's not easy to submit him."

Jordan Howard from ATA Martial Arts was victorious in his bantamweight battle with Shane Shomidie. Howard had his opponent in trouble early, capturing the mount after just a solid takedown. After eating some stiff punches from the top, Shomidie was forced to turn belly down, it was there Howard sensed victory turning up the heat and forcing referee Mike England to stop the match by way of TKO.

Tommy Sthair from Berger's MMA went tooth and nail with another accomplished grappler in Adam Adcock from Pedigo Submission Fighting in Mount Vernon, IL. As a white belt, Adcock won a world championship in BJJ, and seemed to determined to submit Sthair. The crowd was very vocal throughout the fight, lifting the fighters up whenever they were down.

Adcock was very flash in his performance that was highlighted by a perfect kip-up midway through the first. Adcock worked a variety of submissions and spent a lot of time fighting off his back. Sthair couldn't figure out Adcock's stand-up and was relentless with his takedowns.

After three intense and exciting rounds the fight went to the judges. Two of the three judges saw Adcock the winner, giving the submissions specialist a split decision in the most exciting fight of the night.

Sthair's teammate Justin Lankford seemed to employ a similar strategy hitting several takedowns on his opponent Miguel Lasboa, but it was his tenacious submission defense that helped him stay in the fight. Lasboa, from Pedigo, worked a variety submissions throughout the fight and nearly had a kimura before Lankford gave up the sweep. When the judges returned the scorecards it was Lankford winning the bout.

Anthony Livingston from the Fighter's Gym in Poplar Bluff KO'd Brandon Karcher with a vicious punch that put Karcher out on the mat.

Jake Roberts and Rashard Lovelace traded leather in an exciting kickboxing match. The two had agreed earlier in the night to only throw punches in the match and Roberts won via unanimous decision.

Josh Augustine won via unanimous decision over LC Hamid. The tall, lanky Augustine towered over the shorter Hamid. Augustine was tenacious with his ground offense and worked from the back at several times throughout the fight.

Kendrick Lachmann and Dillon Tolbert battled to a draw.

Tyler Hubbs started off the night against Jared Bischoff. A devastating overhand dropped Bischoff early sending the fight to the ground where Hubbs fought for an armbar for several minutes before getting the submission shortly before the bell.

Rumble Time returns on September 6 for pro Muay Thai, and boxing with a bonus MMA match featuring Andrew Sanchez.