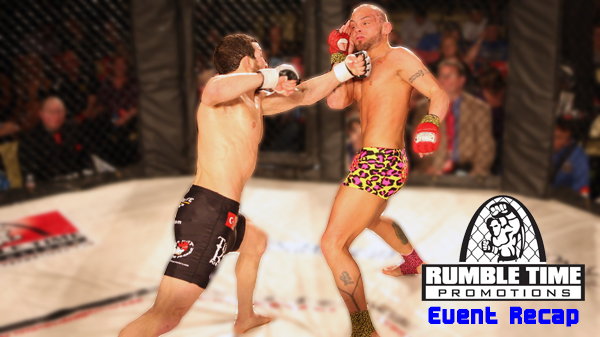 Rumble Time Promotions - Event Recap
Alp Ozkilic's debut at flyweight was both persistent and powerful.

Rumble Time Promotions showcased Rage on the River at the Ameristar Casino on Friday and Ozkilic score big with a second round TKO of Josh Robinson in the main event.

The win improved Ozkilic to 7-1. Ozkilic, out of St. Charles MMA, ended the fight with some strong, heavy elbows followed by big punches that connected while on top of Robinson.

Referee Mike England stepped in to stop the fight and a demonstrative Robinson reacted to the decision and at one point even shoved England.

Robinson popped a jab early in the second round that busted Ozkilic's nose open and caused some profuse bleeding. Ozkilic got the fight to the ground and Robinson did a good job of preventing him posturing up. Ozkilic eventually started peppering Robinson's body and when the time came, rained down the finishing blows.

Ozkilic had a nice trip that led to a takedown to start the first round. Not surprising, Ozkilic was strong while on top and threw punches in bunches to win the round.

Ozkilic, a gifted grappler, showed improved standup in this outing and was willing to exchange with Robinson for the bulk of the fight.

For video interviews with Ozkilic and other winners from the night be sure to comeback on Monday.

Dan O'Conner tallied another slick submission victory. The Berger MMA flyweight tapped out Oklahoma's William Stimmel in the first round in the night's co-main event. The pace of the fight picked up midway through the round when Stimmel was penalized a point for holding onto the cage while dropping punches onto a downed O'Conner. Stimmel would go to land some nice combination while in O'Connor's guard but he soon found out that's a dangerous place to be. O'Connor first looked to have an omoplata but when that didn't take, he transitioned nicely to a triangle and got the tap out with 2:46 left in the first.

Watson MMA's Jake Trtanj put together a suffocating performance in winning a unanimous decision over Jake Buehler.

Trtanj's approach may have been ugly but it was effective. He gave Buehler no room to work for the duration of the fight. The win improved Trtanj to 4-0.

Dave Callow had Kirk Huff in bad shape in the second round, but Huff pulled off a slick triangle to earn the win in his professional debut.

Huff was in charge for the entire first round. He kept Callow pinned against the cage before eventually taking Callow's back and softening him up with strikes to the body. Callow eventually fell into a triangle that Huff looked to have cinched but the Fearless Fighters product fought it off. Huff would score another takedown late to secure the round.

Callow came out blazing to start the second, landing a strong knee to the midsection that sent Huff down. Callow followed with several heavy leg kicks that were doing damage. But again Callow got drug into Huff's guard and the St. Charles MMA fighter made him pay the price, locking in the triangle for the win.

Newman, Roberts showcase ammy undercard

There was buzz aplenty about Damian Newman's performance and the fight itself with AJ Siscoe in the top-billed amateur fight.

Newman once again showed tremendous resolve and patience in putting together a unanimous decision win at bantamweight.

Siscoe earned opportunities in the first round, controlling Newman for the better part but did not delivering debilitating blows despite being in dominate position. Siscoe did work a nice choke but Newman patiently waited it out and in doing so sapped Siscoe of some valuable strength.

Newman started to wear on Siscoe in the second round. Newman scored a takedown and dropped several knees into Siscoe's thigh. The difference in the fight came in the third round. After a Newman takedown led to little action on the ground, the fight was stood up at the one minute mark and the South Side FightClub fighter capitalized. Newman landed a head kick and a body shot that sent Siscoe reeling. Newman landed two more quick kicks to the head and then put the cherry on top with a flurry of strikes that led to a 29-28 unanimous decision win.

Jake Roberts showed controlled dominance in his welterweight bout with Mark Poupard.
Early in the fight Roberts took Poupard down and Poupard did work some submission attempts, but that was when Roberts let loose his barrage of strikes. Poupard eventually got to his feet and Roberts jumped his back and worked a rear naked choke that somehow Poupard worked his way free of. But Roberts, out of St. Charles MMA, was right there. He began an even more vicious assault, raining several shots down while in Poupard's halfguard and eventually took his back and secured the rear naked choke for the win.

SCR's Greg Schneider won in the first round against Brian Klenc.

The second time was the charm for Andrew Decker against Tim Mantle. Decker went for an armbar early in the fight that Mantle slipped through then led to a scramble, which gave Mantle his best opportunity of the fight. But once it got to the grown again, Decker didn't make the same mistake twice, and locked in a tight armbar for the first-round win.

James Diep and Cort Wahle put together an exciting performance. Wahle got the submission victory in the first round. Both displayed fan friendly striking and Wahle showed the ability to take some solid shots and fight through Diep's an effective guard. Wahle's guileteone was tight enough to do the trick with 1:43 left.

Josh Augustine led the night off with a submission victory over Mike Olivent.