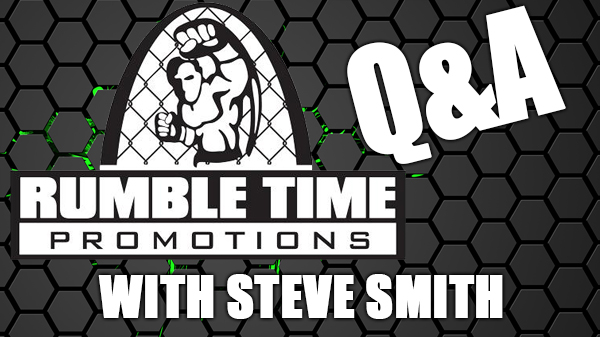 Rumble Time Q&A with Steve Smith
Rumble Time Promotions president Steve Smith is always a whirlwind of action.

On fight week it's even more so.

Friday's Rumble Time: Relentless is one of the year's top MMA cards of the year so for. Several of the area's big names will be featured.

You can read about the whole card HERE.

And read about the main event between Chuka Willis and Travis Draper HERE.

General Admission tickets are still available, all reserved, VIP, sponsor and judges view seats are sold out. Metrotix.com or 314-662-2000.

We were able to catch up with Smith where we talked about Relentless, Branson, our favorite boxer Tex Trismegistus and even more.

Let's get right into it.


KJ: On Friday, you are having one of your strongest MMA cards to date. What are your thoughts on the card and what are some of the fights you are excited about?

Steve Smith: I'm excited about the entire card. The main event puts two very talented undefeated fighters in the cage, both with the hearts of lions, both very skilled and styles that I know will match up for an amazing fan friendly fight.

The co-main between O'Connor and Cade should be a much better fight than most would expect. Both fighters have a very similar style, making this fight an intriguing fight. Cade has a great amateur record only losing one time. I think this fight may be a sleeper. The winner fights another top fighter at the Chase.

LoBosco is coming off his first pro career loss and he is definitely looking to get back on the winning side St. Louis fight fans are looking to see him fight back in his home town and so am I. Epps vs Panyathong should be an exciting fight while it lasts. Both fighters are going to come out banging. Kurtz vs. Livingston, in my opinion, may be the fight of the night. Lots of fight history between these two with Livingston getting the upper hand when they were amateurs. I think both have something to prove and I think they will both leave it all in the cage. The amateur fight card will be exciting as well. Styles make fights and that's what our world class matchmakers Derrick Spicer and Jarred Daniels Block have done.

KJ: Tell us about getting the Altar Boy, Zach Freeman, able to step in with less than a week's notice?

SS: Zach and I have become friends over the years and he's a first class young man that I have a ton of respect for inside and outside of the cage. With Zach and Jimmy Donahue being stable mates at SCMMA the news that Jimmy was injured and couldn't fight didn't take long to reach Zach. Zach messaged (Rumble Time Promotions' matchmaker) Derrick Spicer saying he would like to step in and take the fight so we made it happen. We knew the fight fans would appreciate seeing him back in the Rumble Time Promotions cage. I know I'm looking forward to it. Zach and I met the other night and we plan on having him fight several more times this year (after we get the blessing of SCMMA coach Mike Rogers). We feel very fortunate to have Zach as part of our team.

KJ: Friday also sees the return, hopefully, of Nick LoBosco. What are your thoughts on getting Nick back in St. Louis fighting for the first time since 2012?

SS: It's a pleasure to have him back. Nick and I have known each other for years. He finally was finished with his previous contract and contacted me about fighting on a Rumble Time card. I was completely stoked about putting him on. Nick is a fan friendly fighter attacking like a pit bull on a Chihuahua. I can't wait to see him back in the Cage. I'm a realist and know that my ride with him will be a short one. I'm confident the UFC will be calling him soon.

KJ: Do you feel Nick is a little under the radar? A little under appreciated?

SS: I don't think he gets the credit that is due to him, but I think as soon as he gets his opportunity in the UFC, he'll become a UFC favorite. He can fight and is a very marketable young man.

KJ: Rumble Time recently signed a deal to host shows in Branson. What can you tell us about the deal?

SS: We have been given an amazing opportunity to do fight shows in the city of Branson. We are working with the Branson Convention Center on bringing world class combat sports to the city. We plan on bringing world television to Branson plus the top fighters from the Branson, St. Louis, Kansas City, Springfield and Arkansas area. They have a state of the art venue. Our first show will be in the 22,000 square foot ballroom but we're confident that we'll graduate to their huge auditorium by next year. We have Budweiser and several other large sponsors that are partnering with us on this amazing Fight series. Our first MMA show is May 9, 2015 with fighter details coming soon.

KJ: What was the attraction to that market? And does it have a combat sports fan base?

SS: We were contacted by the Branson Convention Center and really didn't know much about the market. But after looking at the amazing growth of entertainment, restaurants amusement parks and most of all the tremendous fight talent in the area we realized we had a diamond in the rough. Lots of great gyms in Branson plus more great gyms in Springfield. We also have had a lot of fighters from the Kansas City market reach out to us about fighting on the shows. Another plus is that Travis Draper has a lot of family in the Branson area. We knew we could continue growing his career in Branson. We are looking forward to putting on great fight shows and building fighters careers.

KJ: Can we expect St. Louis guys to be fighting there?

SS: Yes. We already have some Branson Sponsorships lined up for some of our local St Louis Fighters. We also hope to develop great relationships with fighters from the Branson region as well. We plan on building fighters careers in Branson as well as wherever we do fights in the same way we currently do with our boxers, opening doors wherever we can for them. We understand that we aren't the UFC but we take great pride in working with quality fighters and helping them develop their careers until they get the call to the UFC. Adding the Branson market gives us another outlet to expose great fighters to the world stage.

KJ: There are always rumors swirling. There's plenty of talk about a return to the Chase Park Plaza

SS: We are back at the Chase the weekend after the Branson show. The Chase is a world class venue with lots of tradition including Frank Sinatra, Dean Martin and Wrestling at the Chase. We have partnered with Miller Lite, Imac and Pharma Medica for Fight Night at The Chase. We plan on delivering four (MMA, boxing and combination) shows per year at this legendary venue. We also will announce our first nationally televised MMA show that will take place in July at the Chase Park Plaza as soon as the contracts are signed and Tim Lueckenhoff has giving us his blessing we will announce it. Hopefully the ink will be dry and we'll have an announcement by this Friday night.

KJ: A couple of weeks ago one of our favorite local boxers, Tex Trismegistus, came out on the wrong end of a decision at ESPN's 2015 Boxcino Tournament. Though things didn't go his way on the scorecards, it seemed Tex won as far as getting respect and his name out in the fight community and fans. What can you tell us about that experience?

SS: Its hard to comment without it sounding like sour grapes. Tex fought a great fight and we felt he won the fight on the scorecards. The video confirms that his opponent fouled Tex the entire fight, pushing, hitting behind the head, low blows and holding and because of that, we have filed a formal protest with the Boxing Commission. Although most protests aren't successful, and those that are successful don't result in an overturned decision, but rather a no contest, we felt we owe it to Tex to fight for correcting what happened. I'm hoping this happens and then we would have to figure out who moved on in the ESPN Boxcino tournament. I'm sure if we let the fans vote Tex would win by a landslide. You should have heard the fans in the venues boo the decision. Tex definitely is now a world heavyweight fan favorite after that amazing show he put on. Tex has a huge future ahead of him and we are honored to be a part of it. Tex fights next on the ESPN undercard Friday April 10, 2015 at the Sands Casino in Bethlehem, PA.

KJ: What is that you like about and/or see in Tex as a fighter?

SS: Tex is not like most of my other signed fighters in that he had no amateur history. What Tex does have is the heart of a world champion. He is heavy handed in both hands and brings the fear to his opponents with his strong 1-2 combination. Tex is getting better and better everyday. He is being trained by local boxing legend Mike "Too Good" Wood and managed by the brilliant Jeff Neumann. Nothing but a great team doing everything we can to make Tex a world champion.

KJ: And finally, where does your Facebook rally cry, "Let's go!!" come from? Is there a story to it?

SS: I originally picked up "Let's Go" in the Exxon Mobil and BP Oil business. I say "Let's GO," to refer to our entire team moving forward together. That's what Rumble Time is about. It obviously has to start with the great fighters, trainers, gyms and managers that supply the fireworks. Next add our families and the loyal, vocal but respectful fans. Then there are our partnerships with media, venues and television networks like HBO, Showtime, ESPN and Fox Sports. Finally, none of this could be possible without the efforts of my team, my Fight Family. From bottom to top, Rumble Time Promotions works tirelessly to bring world class events to the area and we will continue to do that well into the future.

KJ: Thanks for your time.

SS: I want to thank the hard working staff at Knuckle Junkies for all their continued support of not only Rumble Time, but the whole fight scene in the area and we look forward to continuing working with you to provide great combat sports for the fans.