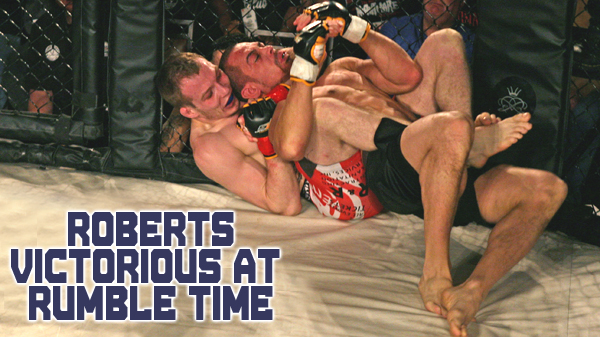 Rumble Time: Rage - Recap
Drawing possibly its largest crowd to date, Rumble Time Promotions hosted an evening of professional and amateur MMA at a packed Ameristar Casino.

This was the first show of the year for the St. Charles-based Rumble Time who hinted at big things to come in 2015 including up to three shows in Branson, MO.

Inside the cage and in the night's main event, Jake Roberts got business taken care of quickly, although he had to survive a bit of adversity early. Wisconsin's Mike Sanchez dropped him with a punch in the opening minute. Although briefly stunned, Roberts recovered quickly and grabbed onto a leg to secured a takedown.

Using a movie he claimed he picked up from Dean Lister on YouTube earlier in the week, Roberts snuck out from under Sanchez with a clever arm escape to take the back and from there it was all Roberts.

Sanchez defended the rear naked choke fiercely before Roberts was able to mount. Roberts landed short, stiff elbows forcing Sanchez to give up his back once again. This time Roberts made sure not to miss the opportunity and secured a submission victory at two minutes and forty-five seconds into the first round.

This was the third victory as a pro for Roberts and his 11th consecutive submission victory inside the cage.

Adam Osmoe made his professional debut in the co-main event, and brought a few friends with him. Osmoe reportedly came with an army of over 200 supporters.

Osmoe, the former wrestler from Rend Lake College, grinded out a victory against Raymond Gray in a gritty tactical battle. Both seemed to have the same game plan: push their opponent into the cage and wear them down.

While the first round could have gone either way, Osmoe now training at Watson Martial Arts, was in control for most of the second and third. Osmoe pushed the taller Gray into the cage and held them there at will, until they were reset by the ref.

Gray looked to be getting the better of Osmoe in the striking. Gray, who's known to have good wrestling, was just out maneuvered by Osmoe who cruised to a 29-28 unanimous decision victory.

After the fight Osmoe suggested this might be the last time we see him at welterweight, as he will be returning to his natural weight of 155.

Roberts' teammate at St. Charles MMA, Travis Draper must have had early dinner reservations because he wasted little time dispatching of Adrian Ortega.

Draper came firing with heavy hands that landed and hurt. As the two circled, a well placed Draper kick seemed to wobble and from there it was all down hill for Ortega. Draper continued to unload and sent Ortega spinning to the cage forcing the fight to be called.

Nick Pohlmann's pro debut didn't go like he planned. Pohlmann was matched against an experienced Derek Bohi, who came to the cage wearing his jiu-jitsu brown belt.

Pohlmann looked close to having the fight stopped midway through the first landing hard punches from top, but a couple of errant punches connected to the back of Bohi's head and referee Mike England reset the fight with a stern warning to Pohlmann.

At one point late it looked like Pohlmann might tap to a nasty kimura from Bohi, but Pohlmann was able to escape by giving up positioning by allowing Bohi to sweep. Bohi landed some stiff punches from top in what was a very competitive first round.

In the second Pohlmann looked again to take the fight to the ground. At one point Pohlmann had a kimura of his own but Bohi escaped and would eventually mount Pohlmann who turtled and stopped defending forcing the stop to the fight.

In the third pro debut of the night Kyle Kurtz defeated Wayne Collier in an exciting fight that was all Kurtz. Kurtz used his tall frame to lock on a body triangle on the back of Collier who had no answer and would eventually succumb to Kurtz's rear naked choke.

After the fight Kurtz made mention of his original opponent Aaron Highfill and his desire to erase his loss from their initial encounter as amateurs.

Ken Porter kicked off the pro portion of the card against a larger Deartie Tucker who reportedly was up to 166 on the day of the fight. The "Sensation" displayed a veteran's heart and poise and quickly discovered Tucker's weakness, the ground.

Once the fight made it to the mat it was all Porter who locked on a text book Steve Berger armbar to take home the victory.

Arlandis Henderson and Derek Clardy dueled in an amateur K1 match-up. Henderson blasted Clardy with punches that looked to have Clardy in serious trouble. Always game, Clardy kept coming back for more and survived Henderson's offense until the fight went to the judges. Henderson got the nod with a unanimous decision.

Dakota Bush racked up his 10th win as an amateur improving to 10-4 while taking out journeyman Zachary Burcham. Bush was a step ahead of his opponent at every turn. Once Bush got mount it was all over as Burcham went belly down and Bush scored a TKO victory midway through the first round.

Danny Boyer and Josh Krejci battled in the evening's only other K1 affair. Boyer came out firing with hard, heavy punches. Krejci was able to weather the storm and take Boyer into the deep waters where he eventually wore down the larger Boyer, and ultimately won a decision.

Erion Zekthi and Kurtis Hoagland kicked off the evening with a grappling match.

Cage-side notes provided by Chris Whatley. Photo courtesy of Bob Barton Photography.

Rumble Time returns for more MMA on March 6th.