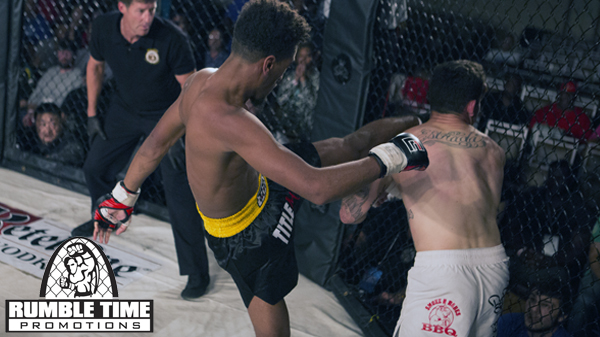 Rumble Time: Rage 2 - Recap
With heavy hearts, Rumble Time Promotions took its first step forwards since the passing of president and face of the company, Steve Smith.

Friday's Rumble Time: Rage was a 13-fight pro/am including two K1 bouts

Kendrick Latchman, a flyweight out of Modern Combat System, put together a performance in the main event that would have left Smith beaming one of his trademark smiles.

The smooth, yet explosive, Latchman faced a hard-nosed and determined Joe Estrada out of Kansas City. Estrada took the fight on days notice after Ken Porter (9-2) pulled out due to a cut above his eye sustained while training.

Latchman took his frustration over Porter's withdraw out on Estrada in the second round when he landed a head kick that sent Estrada to the floor and eventually earned Latchman the TKO win.

Latchman now stands at 4-1. Friday was his third win of the year.

"I have been fighting everybody who said they can beat me," Latchman said. "I've never had a hand-fed fight my whole career. I'll still fight whoever thinks they can beat me. I'm not scared of a challenge."

Estrada (1-5) came out with a mindset and game plan to play spoiler and it led to a successful first round.

Estrada picked up an early takedown and made his way to side control. Latchman did a good job of controlling posture and got the fight back to the feet. Estrada continued to grind forward and pressed Latchman to the fence, played the underhook battle, before getting a slam takedown.

Latchman again escaped harms way off his back and when the fight was back up, Latchman earned his first takedown of the night. Estrada was able to control pressure and shook free. Latchman cleverly climbed up Estrada's back and worked a submission late in the round.

"My plan was not to burn up energy," Latchman said. "He was a lot heavier and a little bit stronger so I wanted to burn his energy before I did so I picked his brain, controlled his posture on the ground. I wasn't really worried on my back. I was just trying to tire him out from the bottom."

Latchman was dialed in from the start in the second round.

Latchman landed a kick to midsection that sent Estrada down and Latchman went in for the kill Estrada defended well, got back up scored another brief takedown. Latchman defended the takedown and following a scramble off the fence Latchman cranked up the volume of strikes and landed a well-placed head kick to get the TKO win.

Afterward, Latchman talked about the importance of eventually fighting Porter, who coming off his RFA win in August, is considered one of - if not the - top un-signed flyweight in the region.

"Yes. I need to beat (Ken Porter). He's all hype, man. That's all he is, he's hype. He hasn't fought anybody. None of them ever have speed. They either have knockout power or good wrestling. He hasn't fought anybody with good footwork, speed, knockout power, and who is smarter than him and I have all of those. And I have better wrestling than he does. I'm longer than him too. He's 5-4 I'm 5-8. I can pick him apart, I can knock him out too. I'll be his toughest fight which is why I think he bitched out and got stitches. I would have got my eye glued, if it was a little scratch like that. I would have still fought."

The veterans of the card, Jimmy Donahue and Romon Barber, had nearly 30 pro fights between them entering the co-main event.

Donahue was crisp, working his jab early and landing a nice short hook. Barber closed the distance and landed a left before a scramble led to a clinch against the cage. In the clinch, Donahue set off rapid fire knees. On the break, Barber landed a closing combination that was punctuated with a right to the chin and eventual TKO victory. Donahue drops to 6-7 while Barber improved to 10-8

Ty Flores opted to trade shot-for-shot with Geoffrey Neal and the decision reached up and bit him.

In a fight that was ratcheted up from the start, Neal was getting the better on the boxing but Flores was doing a better job of mixing it up by sprinkling in kicks and takedown attempts. Neal pressed Flores against the cage and the pair traded knees to the body.

Once the fight returned to the center of the cage, Flores opted to engage in a heavy artillery exchange, with both landing multiple punches to the head. Neal dropped a big left hand that the led to a TKO at 3:25 in the first round improving the tall, Texan to 6-1. Flores moves to 2-1.

Nick Pohlmann and Jacob Zogg's super heavyweight bout lasted less than two minutes. Pohlamnn pressed Zogg against the far cage. A scramble to the floor led to Pohlmann to side control. Zogg let his right arm dangle out too far and Pohlmann snapped it up and got the tap with a straight armbar. The win was Pohlmann's first as a pro (1-2). Zogg dropped to 0-7.

Demetrious Wilson made a thunderous pro debut.

Wilson and Issac Badger felt each other out briefly in the start of the pro main card. Wilson picked up an early takedown and dropped heavy elbows from half guard. He soon spun to Badger's side and dropped even heavier punches to get the TKO at 1:38 in the first.

The crisp, tight boxing of Ben Gray led to a quick night's work in the featured bout of the undercard.

Gray and Glen Zogg threw caution into the wind, going for it on the feet after a quick scramble on the ground. Gray closed the distance, had Zogg against the fence and put him away with a handful of crisp, clean punches, getting the stop at 38 seconds.

Jace Burcham was in a destructive frame of mind.

Burcham went after a game Alex Cymer in an active start to their lightweight bout before dragging the fight to the ground and getting the TKO stop at 2:23 in first round.

Timothy Jackson steamrolled to a 45 second TKO win over Christopher Garner. Angelo Young put together an impressive outing, getting Johnathan Higgins to the floor and getting the tap-to-strikes victory at 1:45 in the first round.

Oscar Ahulzi, out of Seven Corner's Road, bullied and bloodied up JR Lonergran before getting the second round TKO at 2:32

Heavyweights Christopher Gideon and Matthew Matterson started off the MMA portion of the show. Gideon landed a kick to the body and scored an early takedown. From there he took his time before finishing with an americana for a first-round submission at 1:25.

Luis Pena and Montrel James traded a bevy of punches, kicks, and flying knees in a fun three-round K1 bout. The lanky lightweights showcased some of the best striking of the night and kept the volume up for three rounds. Pena, out of St. Charles MMA, ended up with a unanimous 30-27, 30-27, 29-28 victory.

Lucas Clay won a split decision over Yola Akak in a K1 bout to lead off the card.

Celebrate the life of Steve Smith will be held from noon to 4PM Saturday at HOME at the Ameristar Casino.



Photo courtesy of Jimmy Range photography.