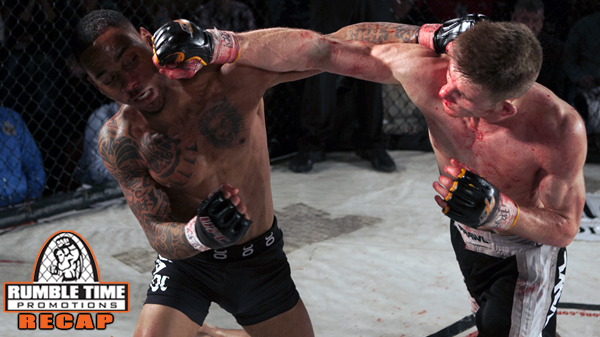 Rumble Time: Relentless - Recap
It was a rough night for the hometown boys, as the main and co-main event bouts went to the out of town fighters.

In the headlining bout Chuka Willis backed up his pre-fight talk with an impressive TKO of Travis Draper.

Willis was elusive early stuffing Draper's takedowns and peppering him with shots. A nasty counter right sent Draper to the canvas silencing the crowd.

With his opponent down, the "Lion King" pounced on Draper and immediately began raining down hammer fists looking to end the fight. Showing incredible heart, Draper survived, although dazed and badly bloodied in the process.

Rounds two and three were more of the same with Willis getting the better of the exchanges, and Draper unable to secure a takedown. Draper appeared to have vision issues, most likely the result of a broken nose, and couldn't get seem to get his offense going.

Late in the third Willis would again send Draper to the canvas. Not looking to miss another opportunity to end the fight, Willis turned up the pressure and forced a stop to the fight. The win improves Willis to 4-0.

Demario Cade spoiled the pre-St. Patrick's Day party for "Johnny Irish" Dan O'Connor.

O'Connor kicked things off with a kick to the gut, and after a brief exchange the two straw-weights tumbled to the ground. While it looked like O'Connor was going to get the better of Cade on the ground, Cade escaped from O'Connor's back mount landing in an advantageous position forcing O'Connor to scramble.

It was in this transition that Cade locked onto the arm of O'Connor and ended the fight via armbar stunning the large group of O'Connor fans in attendance.

The area's top featherweight, Nick LoBosco, returned to form after suffering his first loss as a professional last June at World Series of Fighting 10. This was LoBosco's first fight on home turf since August of 2012 when he defeated Dustin Hill at Fight Hard MMA..

LoBosco came out of the gate quickly landing a flurry of punches before snatching a takedown. From there it was all LoBosco who locked on a guillotine and finished the fight at one minute and 5 seconds into the first round.

LoBosco improves to 8-1 and after only two fights in two and a half years, said he was hungry to stay busy in 2015.

Popular lightweight Zach Freeman returned to action and had to survive some nasty leg submissions to get the victory. Zac Kelley

Freeman got the takedown early, and thats when Kelley would get to work. When switching from heel hook to kneebar, and then back to heel hook, Kelley reaped the knee of Freeman.

"He had a weird lock on me," Freeman said. "We both heard my knee pop, we looked at each other, he asked me if I was ok, and I just started punching him."

Freeman would fight out of bad positioning to eventually take the back of Kelley where he would eventually end the fight with the rear naked choke.

The "Altar Boy" improves to 8-1 in his first MMA match since June of 2013 and hinted at a big fight on the horizon in July.

Kyle Kurtz and Anthony Livingston, two of the best fighters to come out of Southeast Missouri recently, had unfinished business to settle on Friday. Kurtz came out on the losing end of their first two meetings, now pros with matching 1-0 records, it was Kurtz's chance to taste victory.

Both fighters came out slugging. The heavy-handed Livingston always comes packing dynamite and tonight was no different. Livingston connected with head jarring shots early. Although he appeared in trouble early, Kurtz remained cooled and launched a counter assault. It wasn't long before Kurtz figured out the timing of Livingston and landed a massive combination that sent Livingston to the canvas forcing referee John Deuver to intervene.

Kurtz wins KO victory at 1:02 in the first, and improves to 2-0 as a professional.

Josh Epps returned to the cage after a lengthy layoff and took home a submission win.

Epps looked to be in trouble early when Peo Panyathong slapped on a guillotine after an early takedown attempt, but Epps responded with heavy shoulder pressure and ended the fight in the first round via Von Flue choke.

In preliminary card action, Demetrious Wilson picked up a unanimous decision victory over Steve Barbee. Wilson was relentless with his pressure controlling the action when it was standing forcing Barbee into the cage, and when the fight hit the mat, Wilson worked a variety of submissions including a strong guillotine chance right before the bell in the third.

Wilson improves to 13-3 as an amateur, and is a fighter to keep an eye on.

Ammy fighter of the year nominee Ty Flores looked to tune up his stand-up with a K1 bout against Seven Corner Road's Mike Offer. It was all Flores in this one as he dominated the first round. Offer did find a home for his punches during the later rounds, including a wild exchange early in the third. A big knockdown in the final minute of the fight sealed the deal for Flores who took home a unanimous decision victory.

Montrell James and Montuelle Prater entertained the crowd in an exception display of heart and tenacity from both fighters as this fight went back and forth through out the three rounds of action. After the final bell, James got the nod from the judges 29-28.

Mike Garrett and Oscar Auzhui started things off in an exhibition grappling match. Garrett from St. Charles MMA gave up a lot of weight to his opponent, but never gave up fighting. Auzhui had Garrett in trouble midway through their 5 minute round with what looked to be a fight ending guillotine. Garrett stayed patient and waited for Auzhui's arms to get tired before escaping from the hold. When the match ended the fight was ruled a draw.

Rumble Time Returns with Boxing on March 28th.

Photo courtesy of Jimmy Range Photography. Cage-side notes by Chris Oth.