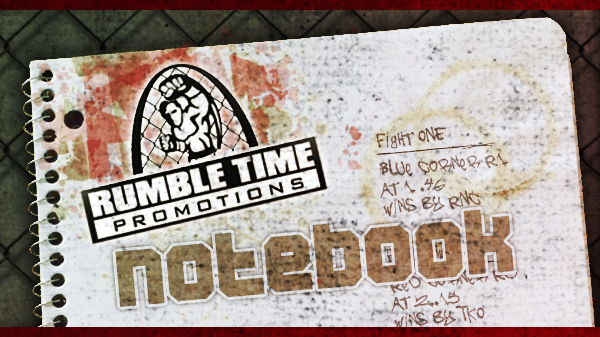 Rumble Time: Revenge - Notebook
Boxing.

Rumble Time Promotions has buttered its bread on the sport for a number of years. Steve Smith and company have established themselves all over the country as one of the upper echelons of boxing promotions. Case in point, ESPN 2 was just at the Ameristar Casino a few weeks ago for a Rumble Time boxing card that featured local rising star Stephon Young improving to 10-0-1.

This Friday, Rumble Time continues its successful foray into mixed martial arts with "Revenge" an event at the Ameristar Casino.

Trying to compare boxing and mixed martial arts is like trying to compare and elephant with a Volkswagen. Sure there are similarities but all-in-all its two completely different beasts.

But a quick glance at this Friday's main card will reveal several of the fighters have dipped their toe into the pro boxing pool.

Kirk Huff, Javon Wright, Ken Porter, and Justin Robbins have all fought professionally in both MMA and boxing.

For Rumble Time matchmaker and Modern Combat System's coach Jared Daniels Block said the coincidence coincides with more and more fighters looking for alternatives.

"A lot of these guys are combatant experienced," Daniels Block said. "They just wanted to try some boxing, work on their stand-up a little bit so why not get paid and try their hand at boxing."

Main event

Friday night will be headlined by Yohance Flager vs. Justin Robinson.

Though both fighters enter the week with .500 records, Daniels Block looked past that when making the pairing.

"They're both guys that might be considered journeymen, but I'm not one to say that. I'm not like that," he said. "Both of these guys are experienced and it's anyone's fight. They both have something to prove so why not throw them together and see what comes of it."

Robbins, out of Springfield, IL, is a life-long wrestler who finished second and third in the state during his high school years. He is a veteran of the WEC and has a 16-16 record. He has overcome two separate injuries that nearly derailed his fighting career, and is coming off a February loss on Titan FC to Kalvin Hackney. This isn't his first foray into St. Louis, Robbins won by unanimous decision victory over Shaine Moffitt earlier this year at a Rumble Time event at the Chase Park Plaza.

Flager (5-5), out of Berger's MMA, is coming off a controversial DQ loss to Ray Grindstaff in May when a series of accidental low blows caused a stoppage to the fight.

"I think (Flagger) has a little chip on his shoulder," Daniels Block said. "It's a shame he can't fight the guy that he wanted to."

It's always a dice roll when Flagger hits the cage. When he's dialed in, like he was against Jacob Ritchie and Adam Dunnavant, Flagger can be a tough out for anyone. But there are times, like against Shaine Moffitt and Greg Wilson, when a disinterested Flagger enters the arena and the end results usually reflects.

The thrill to compete

Pick your poison.

You name it and St. Charles MMA's Kirk Huff has done it; MMA, boxing, kickboxing, muay thai, jiu-jitsu and wrestling. Give the guy a lance and a stead and he'd probably joust your ass out in the parking lot.

Huff last fought in the cage in August, 2013 when he submitted Paul Schultz in the first round with a rear naked choke under the Rumble Time banner.

But it's not like he's just been kicking back, shades on, sipping drinks with umbrellas in them since then.

A tireless competitor, Huff has had, and won, three pro boxing bouts and a pro muay thai fight in his time away from MMA.

"I've always trained the same way it's just fighting in those three styles is something that I've always wanted to do so I did it," Huff said. "But as far as gaining a lot of knowledge, I did train with a lot of good kickboxers. But it's just competition. It's the same as doing a NAGA or wrestling, it's all just competing."

Huff was the 2012 St. Louis MMA Awards Amateur of the Year. Friday will be his seventh pro fight in all and this will be his fifth different weight when he faces Raul Rosas at a catchweight of 150-pounds.

Huff is 3-0 in boxing with a KO in his first fight and decision victories in the next two. Huff just recently landed in the top 100 rankings for his weight class in boxing.

In Rosas, Huff is facing an opponent who just lost to SCMMA teammate Jake Roberts at Rumble Time's last MMA outing this spring.

"I think I watched the fight on Facebook just to watch Jake," Huff said. "It was only like 50 seconds, he got caught. You can't really tell much from 50 seconds. If you watch 50 seconds of a movie, you don't really know what it's about."

The seasoned Huff feels no added pressure facing an opponent whom a training partner has just recently finished.

"I don't think that it really matters," Huff said. "He's just another opponent. I don't really think of it as someone else has beaten him or lost to him. It doesn't matter."

Rosas (0-1) is hoping to put on a better showing this time on Missouri soil.

"I like Raul," Daniels Block said. "He comes from a real good camp. They're all tough from that area in Texas. We're bringing him back because he's a real respectful guy and hopefully he will test Huff a little bit."

When it comes to MMA, Huff will call 145 his home for now and the future. With tons of potential and the work ethic to go with it, Huff has watched first-hand several of his SCMMA teammates and other area fighters reach elite levels in the sport. Most recently, a fellow featherweight, Alex White, out of Farmington, has been the latest local fighter to find success in the UFC.

"I can't think of a guy who deserves it more," Huff said. "It's awesome for (Alex), but it doesn't help me. I'm still trying to go out and get mine too. I've seen Sampo, Alp, Lance, Alex, even Tyron, I've seen them all in their first fights. I've been around fighting the same time as them. It's awesome to see that people are going places and hopefully before too long so will I."

Huff is currently working on his last 18 credit hours to finish out his college degree.

One to watch

Two of St. Louis' best will meet in an intriguing co-main event.

Modern Combat System's Javon Wright will face Hahn MMA's Malcolm Smith.

Smith (3-2) has won three straight and is coming off a submission win over Matt Dukes last month. Smith fought Wright's teammate Hugh Pulley in his professional debut.

"We're giving Malcolm a little bit of revenge against us a little bit," Daniels Block said. "Hugh fought and beat Malcolm and beat him real quick and sense then, I respect the hell out of Malcolm, I think he's a great fighter. He's come back and has done some real interesting things down there. I was wanting to test Javon out, test Malcolm out and see what they both have."

Wright is 4-3 and has never shied away from tough competition have faced Alex White, Chase Beebe and current RFA prospect Luke Sanders. He has victories over Ramon Barber, Jesse Thornton, Juan Parra, and David Callow.

Speed for days

Ken Porter faces Albert Tapia in another main card, pro bout.

Porter is 4-2 while Tapia stands 2-0. Both of Tapia's wins have come via TKO.

"Tapia has been spending time at flyweight," Daniels Block said. "He's expressed interest at the 115 class but Ken wanted 120. It's going to be one of the faster-paced matches. It's going to be like watching two bees fight."

Undercard

Fans should be eager to witness the return of Travis Draper.

Draper, out of SCMMA, hasn't fought in over year. He is considered one of the top amateurs in the region. A renewed interest in training has Draper (6-2) looking better than ever. Draper will have no walk in the park as Illinois' Patrick Kassing brings a 11-2 record to the fight. Kassing has won six of his last seven.

Another fight on the undercard of interest pits Tim Mantle against Jordan Dowdy. The two fighters represent two of the most-established gyms in the area with Mantle from SCMMA and Dowdy from Granite City's CMMMA.

Mantle has more experience than Dowdy, but Dowdy has had laser-like focus and dedication training for this showdown.

"That's one of the best match-ups on the card, I think," Daniels-Block said. "Style-wise, I love it. They're both real big dudes and strong. It's going to be a real physical battle I think."

For the striking enthusiast, there will be six amateur K-1 bouts to start the evening.

For tickets, call 314-662-2000 or go to metrotix.com.

To read even more about this great event, check out our event preview.