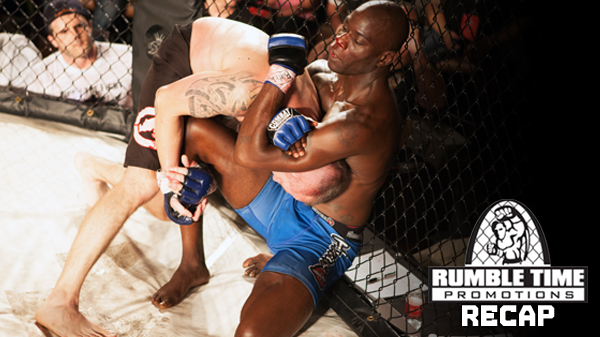 Rumble Time: Revenge - Recap
Yohance Flager's MMA path has always been a little bumpy and rugged, highs and lows.

Trading a win for a loss since 2012, Flager has had a run of Jeckyll and Hyde moments.

In the main event of Friday's Rumble Time Promotions: Revenge, the featherweight found a smooth stretch of road.

Flager, out of Berger's MMA, pushed through a bloody nose to muscle in first, a darce choke, and finally a power guillotine to submit Sprinfield's Justin Robbins.

The victory jumps Flager's record to 6-5.

Early in the fight Flager ducked a Robbins punch and earned a takedown. Flager started bleeding from a punch early in the fight and Robbins did a nice job of keeping Flager in his guard. After landing an elbow, the 39-year-old Flager transitioned to a front headlock before finally landing a power guillotine for the fifth submission of his pro career.

Ken Porter was on the receiving end of disqualifying-worthy low-blow early in his co-main event with Albert Tapia. Porter was tagged below the belt with a kick and was in obvious pain as Mike England made the call. Porter improved to 5-2.

The next three fights all featured prominent fighters who have been MMA AWOL.

Javon Wright, Kirk Huff, and Travis Draper had all been out of MMA action for over a year but all three managed to find a way to win.

In an anticipated bout with Malcom Smith, Wright put together a dominant third round to get the unanimous 30-27, 30-27, 29-28 win.

Wright got off on a nice exchange midway through the first round before Smith scored a takedown.

While Wright not only landed some sharp knees, he also defended the takedown effectively. Smith continued to press the action against the cage in the second round. Smith finally dumped Wright to the floor.

With the first two rounds caked in heavy clinch work, scoring points and landing blows were at a minimum.

Smith was persistent with the takedown attempts and even snagged another midway through the third. But Wright, out of MCS, showed off an improved ground game, landing the sweep and ending up in side control. Wright was working a rear naked choke late into the final round.

Wright improved to 5-3. The loss snapped a three fight win streak for Smith (3-2), who fights out of Hahn MMA.

Huff met up with a determined and dogged Raul Rosas out of Texas.

Huff, a 3-0 pro boxer jiu-jitsu purple belt, enforced his ground game for the bulk of the fight.

After getting a takedown and making it to mount to start the first round, Huff took Rosas' back and steadily landed punches. A scramble led to Huff ending up in guard and when Rosas got to his feet, the two played a cat and mouse game between the floor and the feet. Rosas landed some nice kicks to the leg while Huff jockeyed for position. Rosas secured a front headlock briefly before Huff ended the first like he started it, latched onto the back.

Rosas landed a bevy of leg kicks to begin the second has Huff again played off his back. Rosas nullified a Huff takedown attempt and ended up on top and eventually went back to a front headlock.

The 150-pounders returned to their fight and Rosas was again effective with leg kicks and pushed the aggression. Huff worked again off his back before he landed some of his better combinations of t he night.

After securing a nice single leg to start the third round, Huff slithered his way to Rosas' back and eventually worked in a rear naked choke. Huff held the submission for over two minutes. While Rosas defended nicely, Huff, who also had a body triangle locked in, never relinquished position.

The St. Charles MMA product remained undefeated at 3-0 with a 29-28 unanimous decision.

Draper, Huff's teammate SCMMA, made a quick, effective, and resounding return in the featured bout of the preliminary card.

After landed a straight shot to start his fight with Patrick Kassing, who brought a plethora of belts with him from Indiana, Draper went to work. Noticeably bigger and in better shape than the last time he competed (for Rumble Time in May of 2013) garnered the takedown and then Draper delivered multiple hammerfists and earn the TKO.

Sam Tamayo, out of Granite City's CMMA, scored a lightening quick knockout win over Chris Watkins.

Tamayo's teammate Jordan Dowdy took the fight to Tim Mantle in a middleweight contender's clash, and submitted him with a rear naked choke. Dowdy dodged Mantle's ace, the big right hand, and grounded him quickly, maneuvering in position for the choke.

In his last scheduled fight before moving west, Tyler Hubbs took on an athletic Yola Akak from Seven Corner Road. Both fighters looked to impose their respective gameplans with Hubbs looking to grapple, and Akak having no part of it. Midway through the second, Hubbs with his back to the cage locked on a guillotine and choked Akak completely unconscious.

The very popular Marissa Smith headlined the K1 portion of the card and took on late replacement Mimi Kutzin. Kutzin came well prepared and didn't back down from the larger Smith as the two traded shots for three rounds before Smith took home the judge's decision.

Evan Elder from Hahn MMA put on a clinic and outstruck SCMMA's newest young gun, 17 year-old Jackson Jarobe to pickup a 30-27 decision.

Also in K1 action, Thomas Nguyen defeated DJ Jones by decision, Celeste Doerwaldt used her height and reach to win over Alison Greenlee. Robbie Dunham defeated Chaivy Rith, and in the first fight of the night Dee Barron defeated Greg Schnider in an absolute barn burner of a fight.

Photo by Jimmy Range Photography.