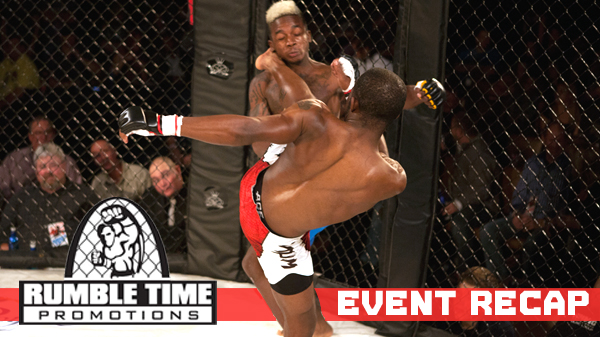 Rumble Time: Triumph - Recap
William Joplin did what every traveling fighter hopes to do. Get into town and take a win from the hometown favorite.

Joplin traveled across the state from his home in Kansas City to face Yohance Flager from Berger's MMA in a clash of two seasoned fighters with a combined 30 professional fights between the two.

Flager has become a staple for the promotion having competed in the last three Rumble Time MMA events, and has looked more impressive in each passing event.

In Friday's main event, Flager came out strong. Flager worked leg kicks and long punches capitalizing on his superior range and quickness before the fight eventually took to the ground.

The second round looked to be more of Flager's dominance as Flager controlled early from the guard of Joplin. It wasn't before Joplin was able to turn the tide and take the back of Flager working for the rear naked choke. Joplin easily dominated the second half of the round and almost the entirety of the third as Flager began to fade between the final two stanzas. In the end Joplin took home a 29-28 unanimous decision to even his record at 10-10.

The "North County Nightmare" Jake Roberts continues to impress.

His opponent Melvin Farris must have thought he was having a bad dream as he fell into Roberts' triangle after almost immediately landing the take down after the fight started. Once Roberts cinched on the choke, it was nithy night for Farris.

Roberts improved to 2-0 as professional, and now has finished all 10 of his MMA bouts (pro and amateur) by submission.

In post-fight interviews Roberts joked "I guess I'm a submission guy."

In a bout fueled with bad feelings, Ken Porter made short work of Matt Murphy.

Murphy originally petitioned for the fight with Porter looking to test his skills, but did not reach the agreed upon weight, only adding to Porter's determination to finish.

At one minute and three seconds into the first round, that's exactly what he did. Porter pressed the Murphy into the cage looking to neutralize the "KO Kid's" range. When the fight went to the ground, it was all Porter who locked on an arm-in guillotine to choke Murphy completely unconscious.

Porter improves to 6-2 and has said he looks to seek out bigger names, and bigger fights.

Porter's teammate Jesse Geringer navigated a troubled start before landing a huge overhanded punch that sent opponent Henry Lindsey spinning. Geringer saw the opening and pounced on the downed Lindsey setting up a rear naked choke finish. Geringer out of Berger's MMA improves to 2-0.

Making his professional debut, Travis Draper from St. Charles MMA got into the cage and took care of business quickly. Draper came out firing and only stopped when referee Mike England called and end to the fight.

Draper TKO'd Bernardo Diaz Quintana at 1 minute and 25 seconds into the first to start his pro career off with a bang.

On the amateur side, Justin Lankford couldn't seem to figure out the range of Eric Vasquez. Vasquez dropped Lankford with a punch and swooped in to get the TKo midway through the first.

Tinyard Boyd stopped Ray Metzger with a rear naked in the first.

Lithuanian-born Julius Anglickas absorbed some stiff shots before hitting a powerful takedown. From there the hulking Anglickas rained down punches on his opponent getting a quick stoppage in the first. This was Anglickas amateur MMA debut.

Trevyon Carwford stopped Michael Pulley in the first after it looked like Pulley had Crawford in trouble early.
>
Eloy Pluma and Richard Jones battled to a unanimous decision with Pluma getting the nod from the judges.
>
Brandon Beatty from Sauer MMA and Jabir Ziyad both won by unanimous decision in K1 bouts to kick start the night.
>
Rumble Time returns on December 20th for Boxing at Ameristar Casino before resuming MMA action in January with a headlining bout of Jake Roberts and Sal Woods.

Photo courtesy of Jimmy Range Photography. Cage-side notes provided by Kirk Huff.