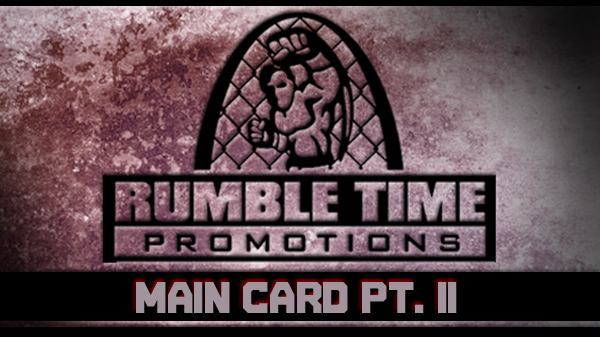 Rumble Time - Main Card Preview pt 2
By
Staff
| Knuckle Junkies
Over the last two days, the KJ editorial team has previewed parts of Friday's Rumble Time Promotions Rage on the River event at the Ameristar Casino.

First, the talent-filled, all-amateur undercard was featured.

Yesterday gave a glance at the main and co-main event, which showcases four talented and rough-and-ready flyweights.

Today is a peek at the rest of the main card that includes two pro debuts and four fighters who know a thing or two about throwing down.

Doors open at 5 p.m. with the first fight slated for 6:30 p.m. The main card is set to begin at 7:30 p.m. Tickets are available at the Ameristar gift shop, at tickets.com and also rumbletimepromotions.com.


A tale of two Jakes

Two welterweight Jakes are set to make a splash.

Jake Trtanj from Granite City, Il., wants to protect his 3-0 record and Jake Buehler out of Crystal City, is looking for a win in making his pro debut.

These two enter the fight at different points in their careers.

Trtanj, 29, started his pro career 2-0 before a four-year absence from the cage. He returned to the ring in October with a new training home and a new coach. Trtanj now trains fulltime at Watson's MMA in St Louis under the leadership of Kyle Watson, Jason Cillufo and Elmir Kulosman. He's coming off a hard fought decision victory over Jeff Escobar on the October Rumble Time card.

Buehler, 23, sets up camp at Hahn MMA in Festus. He is a young, confident fighter who is coached by Kevin Hahn, Charlie Kelly and Lance Declue. Buehler enters the fight after posting a 9-6 record in 15 amateur fights. Throughout his career, he has shown the ability to score victories with his striking combined with a very good ground game.

"I prefer to stand," Buehler said. "I believe I'm just as good if not better on the ground as I can be on my feet."

Buehler is well aware that Trtanj has very good takedown skills that comes paired with striking that pops.

"He has good hands and good power," Buehler said. "I believe if I fight like I know I'm capable of fighting and execute my game plan I can win this fight."

Trtanj has a well-rounded mixed martial arts skill set.

"Trtanj is every coach's dream," Watson said. "He is very coachable and he has a great work ethic."

He was able to execute his game plan to perfection during his fight against Escobar. Trtanj was aggressive in his striking but also selective with his takedowns and once on the ground, used his elbows successfully in earning a unanimous decision.

Trtanj is aware of the size and strength Buehler presents. He will have to use his athletic ability and pro experience to his advantage.

Both fighters have simple goals they want to reach.

Buehler is interested in fighting and staying busy in the cage. He was quick to note he wants to take things one fight at a time and focus on Friday's fight.

"Right now my dream fight is Jake Trtanj Friday night," he said. "I'm not looking past that fight."

Trtanj loves to win and is inspired by all professional athletes because they get paid to do something they love.

"I would like to be remembered as a fighter who wins and leaves it all in the cage," he said. "And I will honestly do whatever is necessary to win this fight."


--- Story provided by Debo

Huff has tough task in debut

Kirk Huff was considered one of the top amateurs in the state. In fact, Huff was named the 2012 St. Louis MMA Amateur of the Year.

All of that will be in the rear-view mirror after he makes his pro debut against Dave Callow.

"(Callow) is pretty good from everywhere," Huff said. "He has been around a long time. He kicks hard and is super tough."

The build-up around turning pro has been around Huff for some time.

"I'm tired of thinking about it and I just want it to happen," Huff said.

Huff said he could have easily chosen a less-demanding opponent than Callow but that doesn't fit the line of thinking for this St. Charles MMA product.

"I didn't want to jump in there with someone that I could clearly beat," Huff said. "I would never want that. Where is the motivation? Even if I lose, I want to fight good people."

Callow fights out of Fearless Combat and is 0-3. Two of those losses came via decision and all three of his opponents, Yohance Flager, Nick LoBosco, and Javon Wright have quality pedigrees.

For Huff, this is his second trip to 145, which is a good 20-pounds from his walking around weight.

"It's always tough," Huff said. "There is nothing fun about it."
--- Story provided by Brett Auten