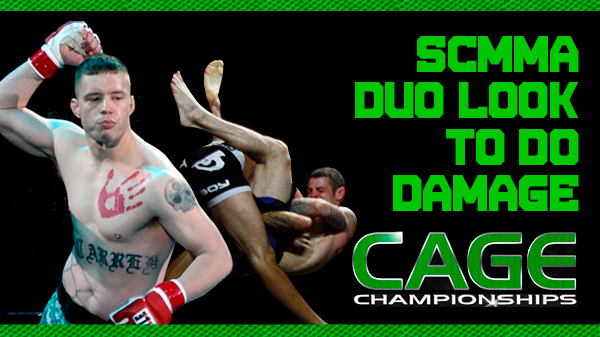 SCMMA Duo look to do damage at Cage Champs
The co-main event of Saturday's Cage Championships 42 in Rolla has all the makings for main event. For the Lightweight SW Regional Title Davi'd Heard will face Jason Slattery

Heard (8-1) is based out of Columbia, MO with his lone loss coming to undefeated prospect Chad Williams.

Slattery, 26, is a St. Louis native, sports a 8-3-2 record and fights out of St. Charles MMA/Team Vaghi.

"I've seen two videos (on Heard). He looks to be an athletic guy, a dominant wrestler, who likes to be on top," Slattery said. "He likes to hang on people. I've trained to be ready for anything."

Slattery is looking to rebound after a tough loss to Adam Osmoe in April.

"(Osmoe) knocked me out pretty good so I want to take some time off and work on other things besides striking and just heal up, which I've done," Osmoe said. "I feel pretty good going into this one. I've worked out a lot of kinks."

To round out his skills, Slattery realized that he had to embrace the grind of becoming a better grappler.

"I really had terrible wrestling because I just did jiu-jitsu and striking," Slattery said. "I needed that extra control and that really helped my game out. I have more of a stand up background and I always like to test that out. If I feel like I need to take it to the ground, I'll definitely do it and control what I need to control."

Slattery has paired his kickboxing with a solid jiu-jitsu game. If he can add effective wrestling, then the closer he will become to being complete

"Every fight, I'm fighting to better myself," Slattery said. "That's why I'm still an amateur. That is kind of the whole point. I'll do what I've got to do."

Camp vs. Powell

Another title match on Saturday will feature Christian Camp against SCMMA's Jason Powell for the Featherweight SW Regional strap.

This is a fight that Camp has wanted and Powell was glad to oblige.

"I have no issue with him calling me out, I call people out," Powell said.

"They only thing now is that he's running his mouth saying that he doesn't know if it's worth his time to come to Rolla to kick my ass. So, alright buddy. I'm not an easy fight for anyone. He's going to regret this."

Powell last fought at 155 and at 152 in a tournament in Branson.

"I fought a lot at '45 and I actually want to fight lower," Powell said. "But sometimes life gets in the way of things. I put on a lot of weight and I didn't know how to deal with it. But now my weights down, I'm on the Paleo diet and the guys here have been working me real good."

Powell has also picked up the pace when it comes to the strength part of strength and condition. He resumed a power lifting regime, similar to his days in the military, and has laid off the supplements in trade for more natural sources of protein.

"If he thinks he's coming down from '55 to '45 and he's going to out-power me he's out of his damn mind," Powell said. "There's no way that he's going to be stronger than me. And technically, jiu-jitsu-wise just from being here and rolling with these guys, I'll definitely have the advantage on the ground."

Powell has logged over 25 amateur fights, is a Rodrigo Vaghi blue belt with great kicks and improving hands.

He's ready to showcase his skills along with his Irish heritage in what should be an entertaining bout.

"I'm going to be rocking the kilt," Powell said. "I have some music I got from Ireland friends from when I fought for Team USA, they sent me some music over. I'll have the home field advantage. I'm glad they're all coming, especially my Army buddies. Not all of them had gotten to see me fight since they left for Afghanistan. I'm a different fighter than I was a year-and-a-half ago. It's going to be exciting. I'm ready. He's going to regret calling me out."

Camp (8-2) trains at Cozzens JiuJitsu and Boxing and has completed primarily for the Uncivil War promotion Springfield, MO.