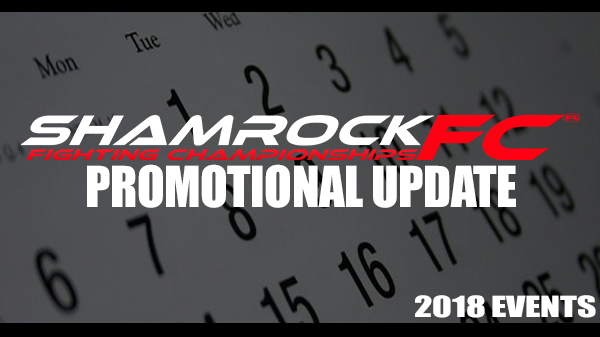 SFC Promotional Update - 2018 Events
Shamrock Fighting Championships has its 2018 calendar set in stone when it comes to pro/am mixed martial arts.

SFC recently announced it would be doing shows at the St. Charles Ameristar Casino for the first time in the promotions history.

"We are excited to add Ameristar Casino in St. Charles to the 2018 calendar," Jesse Finney, Shamrock FC President, said. "By adding this location we will be bringing two more big events to the Shamrock FC calendar in 2018. These events will have the same production for the weigh-ins and the fights that fighters and fans have come accustom to with Shamrock FC."

Finney said one of the goals for 2018 is to build the fan and fighter experience with Shamrock FC events and will be bringing some new things to weigh-ins and the fights in 2018.

Shamrock FC will be releasing the Lumiere portion of its schedule later this summer. Shamrock FC Xtreme events, which hosts pro/am boxing and kickboxing with a sprinkling of MMA in the ring, have built a steady fan base and will continue in 2018 at the Lumiere Casino. The first Lumiere event looks to be in April.

SFC will start the year on the run with three shows in just 48 days starting with January 20 at the Ameristar Casino in St. Charles. February 3 will mark the Kansas City Ameristar 2018 debut and River City Casino on March 9.

The full schedule as follows:
January 20 at Ameristar St. Charles
February 3 at Ameristar Kansas City
March 9 at River City Casino
March 31 at Ameristar Kansas City
May 11 at River City Casino
June 16 at Ameristar Kansas City
July 14 at Ameristar St. Charles
August 18, at Ameristar Kansas City
September 7 at River City Casino
October 13 at Ameristar Kansas City
November 9 at River City Casino
December 8, at Ameristar Kansas City.