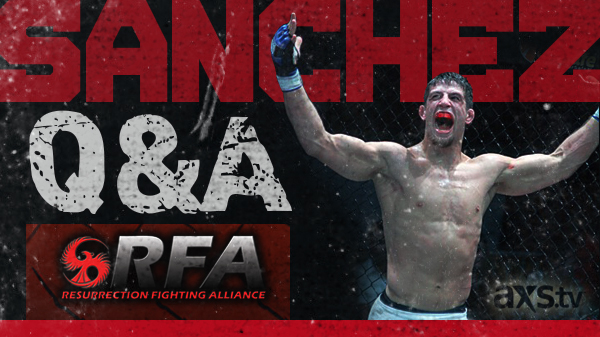 Sanchez Q&A - RFA 15
"Boy, that escalated quickly... I mean, that really got out of hand fast,"
Ron Burgundy, Anchorman

The volume has been cranked as Andrew Sanchez attempts to make history Friday night in Culver City, CA.

Sanchez, a St. Louis product, will fight Kevin Casey in the main event of Resurrection Fighting Alliance 15 . The winner walks out with the currently vacant middleweight title.

The brouhaha between Sanchez and Casey escalated to a fever pitch last week. Sanchez was a guest on MMAJunkie Radio (listen HERE) when Casey called into the show to chime in on the conversation and deliver a personally penned rap for Sanchez. The next day, Sanchez returned the favor, calling during Casey spot (listen HERE) and delivered a rap of his own, albeit a tad more acerbic.

The two gifted grapplers talked over, around, and through each other with the tone of the conversation pushing well past the usual fight hype.

Casey began to study Brazilian jiu-jitsu in 1999 when he befriended Rockson Gracie, son of Rickson Gracie. That relationship with Rickson has held steadfast throughout Casey's careeer The 7-3 product of California, Casey was a cast member of The Ultimate Fighter: Team Jones vs. Team Sonnen. He won his preliminary bout over Eldon Sproat via rear naked choke. Casey was selected by Sonnen as his sixth pick (eleventh overall). In the next round, Casey was pitted against Jones' fifth pick Collin Hart. He lost the bout via unanimous decision. Casey was then given a second chance when he was chosen as Team Sonnen's wildcard. He fought against Team Jones' Bubba McDaniel. Despite controlling the first round, Casey lost via TKO at the end of the second round when he was unable to answer the bell for the third round.

After a one-and-done stint in the UFC, Following his release from the UFC, Casey signed with Resurrection Fighting Alliance. He made his RFA debut on August 16, 2013 at RFA 9 against Casey Ryan. He won the fight by unanimous decision. He fought next on January 24th, 2014 against former UFC veteran Eddie Mendez. He won that fight via TKO (Elbows) in the first round.

Sanchez has been on a tear since losing to Dustin Jacoby (who now stars in GLORY kickboxing). At 5-1, Sanchez has TKO victories over both of his opponents, Todd Meredith and Myles Marshall, in his two RFA fights since November.

We caught up with Sanchez, out of Finney's MMA, to get the low down on the beef between him and Casey, his training regime, and much more.

KJ: It seems from the beginning, there has been a lot of talk back and forth between you and Kevin Casey. Do you draw a fine line between trying to hype and promote the fight and real animosity?

AS: "There is a fine line and I think that line has been crossed for Kevin Casey. I mean what I say but have no personal animosity against him. However, I've gotten under Kevin's skin. No matter how many times he says it doesn't bother him, I can sense feelings of animosity coming from Kevin Casey and this was my goal."

KJ: In one of his latest comments, he referenced that you were fighting for the nerds, the dorks and keyboard warriors. As a former band student and chess team member, is that actually something you can rally behind? And in fact, that's probably not a comment that would offend someone like you?

AS: "It's very hard to offend me and I don't consider myself a nerd. But I was never the star athlete growing up. I was always second string and had to work for every ounce of skill I have. I also didn't get the luxury of growing up and mentored by the Gracie family and other great martial artists. Casey has been given all the tools one could ask for growing up to be a great martial artist, not to mention being blessed with great natural ability. As for myself, I grew up in a small town in Illinois with no tools to be a martial artist. I had to work harder than most to become the fighter I am. So I think I represent the underdog and all the people who know how it feels to not be believed in. This is the opposite of what Kevin is."

KJ: You've been accused of deciding to go the shit-talk route because Casey has a "bigger name" than yours and in turn, it turns more eyes and ears onto you. Any thoughts on these accusations?

AS: "The shit talking makes for a great story and buildup for the fight. But like I said before, I mean what I say. I respect Kevin's skills in the cage but I have no respect for a fighter with no heart."

KJ: What is it about wrestlers and talking a good game? Chael and Askren come immediately to mind.

AS: "There is nothing more physically and mentally taxing than college wrestling. These guys are animals and some of most mentally strong athletes in the world. Being a great wrestler creates confidence and belief in one's ability to overcome. And I think this is why you see guys like Chael and Askren talking the way they do. My shit talking cannot compare with Chael. He is the godfather of trash talk."

KJ: The fight is scheduled for five rounds, and you are obviously training for five rounds, but you have touched on Casey's lack of cardio in his past fights. Do you really think this fight will go into the fifth round? Or even make championship rounds?

AS: "I don't see it going five rounds but you can never know for sure. So you always have to be prepared. There is no excuse for not being in proper condition. It's just laziness."

KJ: In El Dirte's perfect world, do you win by TKO or submission and why?

AS: "A submission would be nice because it would be beating him at his own game. But I want a knockout or a TKO. I want to hurt this guy. Tapping out is too easy."

KJ: We've talked before that while in St. Louis you have kind of constructed your own Camp Dirty. What do get out of each of the places you train at here in STL?

AS: "I train at Finney's MMA and Victory Training Center both about three times a week. And for obvious reasons I try and get in rounds with Tyron as much as possible. I usually go to McKendree when I want to practice getting off bottom. I go to McKendree every now and again. My roots are there and it's always fun to switch it up and get back in the wrestling room. I feel like every gym, coach, and training partner has something unique to offer and this is why I like to expose myself to as many styles as possible."

KJ: You've made two separate trips out East and even to Montreal leading up to this fight. You've done this a few times now, what do you learn about yourself from these experiences? What do you get from these trips that you can find here at home?

AS: "For this fight I prefer to keep who I've been working with and training with a secret. He doesn't have the film to dissect me as a fighter and I want him to have no idea what I'm going to do. The trips to the East coast help me learn new tricks, but more than anything it is great for my confidence prefight. Going to elite gyms such as Tristar and holding my own with some of the best puts me in a good mental state going into my fights."

KJ: "If you win on Friday you will bring back the first belt to St. Louis from a major organization (Michael Chandler won the Bellator belt but he was pretty much California-based by then). What would that mean to you? And do you have any thoughts on the STL MMA scene in general?

AS: "It would be a huge honor as well as a look at what is to come for St. Louis. There is so much talent in the area and so many fighters are right on the brink. Winning this belt would just be another step for St. Louis MMA as a whole and I believe there are several fighters that will be getting an opportunity like this very soon."

KJ: Is there added pressure due to the fact that RFA has a long line of champions segue from winning their title to right into the UFC? Would a win over Casey make you UFC ready?

AS: "In the past I would have been a nervous wreck with an opportunity like this. Over the years though I have learned to control my anxiety and not let the pressure get to me. I try to have fun, enjoy the journey, and try not to think so much about the outcome. A win over Casey, if it is impressive, will definitely put me on the UFC's lists of prospects. Whether I get the call or not, I do not know. All I know is that if I continue to win, whether it takes just beating Casey, or winning three more fights for RFA, it will only be a matter of time."

KJ: What bands and what albums/songs have you been listening to a lot during training camp?

AS: "Lately I've been stuck on System of a Down, Audio Slave, and of course, Metallica."

KJ: What three songs would you like to master on the guitar next?

AS: "More so than mastering another song I'd like to write my own song. I'm an excellent copycat but the hard part is creating your own song. This is a new challenge I would like to explore."

KJ: Would you like to give any shout-outs to sponsors?

AS: "My sponsors, Blue Grace Logisitcs and Fear The Fighter Energy Drink. Also Finney's MMA and Victory Training Center."

For more on Sanchez, including plenty on his background, how he got into wrestling, BJJ and MMA as well as some more guitar talk, take a listen to our podcast we did with him in November of 2013 right before his RFA debut: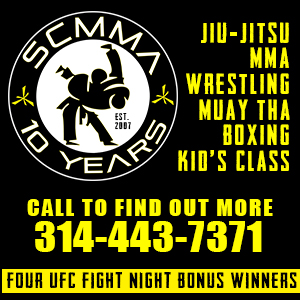 KCFA
| Sat, August 24th
Independence Event Center, Independence, MO
Shamrock FC: 322
| Fri, September 6th
River City Casino, St. Louis, MO
Sub 5
| Sat, September 21st
TBA
Nemesis Fighting Alliance
| Sat, October 5th
Casa Loma Ballroom, St. Louis, MO

Tweets about "KnuckleJunkies OR @knucklejunkies"