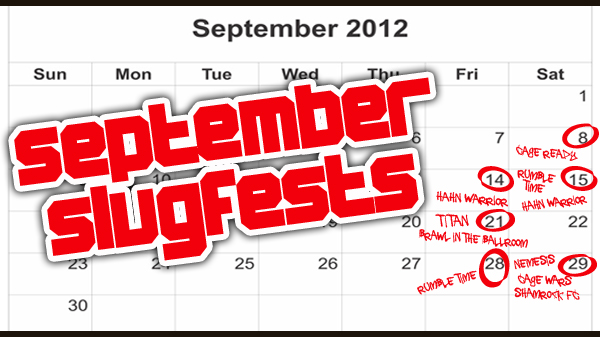 September Slugfests
While we've had some great fights and memorable moments in 2012, it seems the best is still yet to come. September is chalked full of great local fights, as well as a handful of local pros fighting on the national stage.

A month with so many great fights deserves its own preview, so here is a look at the incredible line-up of fights coming up in September.

Josh Sampo has provided some of the most exciting fights this area has ever seen, and on September 14th he will display his skills before a national audience on AXS TV. Sampo will be taking on Antonio Banuelos in the co-main event for Legacy Fighting Championships. If that name sounds familiar its because Banuelos was a fixture of the now defunct WEC, having fought there 14 times before moving to the UFC where he lost his one and only fight. Many feel Sampo is one to two wins away from a UFC contract, and beating a household name like Banuelos could be the fight that gets him a deal.

It was announced in July that the Kansas City-based Titan FC would be joining forces with Rumble Time promotions to co-promote shows in the St. Louis area. This created quite a buzz in the local community as it would mean the return of televised fights. Much like Legacy, Titan also has a deal with AXS TV to broadcast its live events. On Friday, September 21st, several local pros will get the opportunity to fight for a national audience for the first time in their career. While the card is still being finalized, several matches have been released including: Jake Collier taking on UFC-vet Dustin Jacoby from Fiore MMA, "The Altar Boy" Zach Freeman vs Thomas Gifford, and Ray "Gator" Grindstaff will face Freeman's temmate at St. Charles MMA, Alp Ozkilic.

The following night Lance Benoist will be returning to the Octagon at UFC 152 in Toronto. Benoist will take on Sean Pierson as part of the televised prelims on FX. Benoist is coming off the first loss of his MMA career, and looks eager to return to action. Pierson was last seen at UFC on FX 3 when he defeated another local St. Louisan, Jake Hecht.

Shamrock FC has raised the bar for other local MMA promotions in the terms of production value, which is second to none. This will be their 6th show at Lumiere Place Casino and this time they're bringing back a familiar name in the St. Louis community. Francisco "Kiko" France will return after a 14 month layoff to take on Dan McGlasson in an event headlined by the undefeated Adam Cella vs Justin Demoney. Also on the card are Cella's teammates Rickey Bolin, Lucas Lopes, Mike Brazzle, and Susie Wyatt.

*Updated - 9/4/2012* The Nemesis Fighting Alliance returns to action on September 29th with an even stronger card than their last visit to Farmington back in March where they filled the building. The main event will feature Berger MMA's Justin Lankford taking on "the Infamous Spyder" Shaine Moffitt out of Destruction MMA. In the co-main event, Jason Powerll will take on Jake Duff.

Check our event calendar for even more great September shows like the American Cage Wars - Battle 11, Brawl in the Ballroom, Cage Ready Championships and Hahn MMA's Warrior Weekend, and please get out and support local MMA!