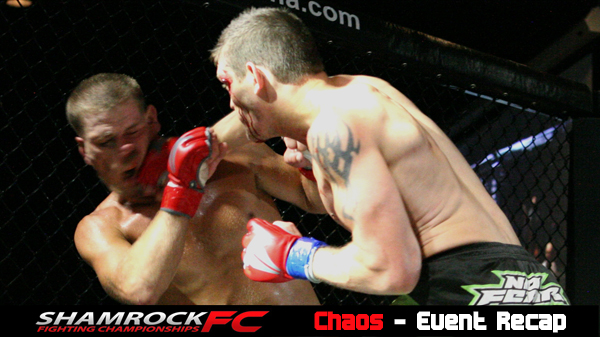 Shamrock FC - Chaos Event Recap
Shamrock Fighting Championship put on its finest card since setting up shop at Lumiere Place.

Chaos featured five professional fights along with seven amateurs, that included three amateur female fights, and made for an action-packed Saturday night at the downtown casino.

Heading up the card was Mike Brazzle who faced a former NAIA All-American wrestler in Alex McKinney in the main event.

Brazzle, looking sharper than ever before, and was able to win by a first round TKO. McKinney secured an early takedown in the fight but Brazzle was able to escape and land several big shots. Brazzle was a step or two ahead of McKinney at every turn in the fight. Late in the round, McKinney hung on to Brazzle's left ankle and worked hard for a takedown but that allowed Brazzle to land more hammer fists and strikes. McKinney actually took Brazzle's back at one point late in the round, but it was short lived and Brazzle, fighting out of Finney's H.I.T. Squad, eventually pounded him out for his third straight victory.

For video interviews with Brazzle and other winners from Saturday's main card, check back here on Monday.

In the co-main event, Lucas Lopes showcased his strong jiu-jitsu skills in earning a first round victory over Kalel Robinson. After a wild and somewhat erratic start, a sweet trip by Lopes eventually put him in side control. From there, the BJJ black belt worked on breaking Robinson's arm free and secured an arm bar for the win.

In what was the fight of the night, at least in this writer's eyes, Kevin Engel and Danny Andrews slug it out for nearly two rounds before Engel won by TKO in the second. Andrews proved to be a game opponent and wasn't shying away from Engel's known striking prowess. Andrews opted to take it to and stand toe-to-toe with the decorated boxer and kick boxer. Andrews landed some nice combinations, especially early in the fight and opened a nice cut out the outside of Engel's left eye. But a big shot from Engel that sounded like a lightening clap put Andrews in harm's way and Engel was able to pound his way to victory.

Iowa's Dan McGlasson grinded out a third-round TKO over Ryan Sutton in a light heavyweight showdown. McGlasson landed a big right hand and then followed with a heavy knee to help set up the end to earn the victory.

Vincent Eazelle opened the main card with an exciting fight against Mike Foster. A five-minute feel-out opening round, Eazelle, from Chicago, locked in a triangle and eventually worked it over to full mount and pounded out Foster at 3:07 in the first round.

On the amateur card, Anthony Livingston came away with a SFC belt when he shook off a big blow from Aaron Highfill to land a finishing punch of his own, both coming just seconds into the fight.

"He got off first but I have a strong chin," Livingston said. "It just knocked me down. He had a looping hook and I throw a short hook."

The victory was Livingston's fourth straight.

Kain Royer made quick work of Tim Tucker in a welterweight showdown. Royer gained early control on the ground and worked a head and arm before getting the submission win in just 58 seconds.

"Right away we went to work," Royer said. "I really stayed patient (with the submission).

Royer is now 7-1.

"I feel good but I have a lot of work to do and a lot to work on," Royer said. "This was my first cut all the way down to 170 and it was pretty rough. But I'm going to keep after it and help some friends train."

Poplar Bluff's Brittany Dugas looked tough against 21st Century MMA's Rebecca Gullet. Dugas had a powerful first round and was in complete control and made several submission attempts. In the second round, Gullet was able to pop Dugas' head back with a solid punch but Dugs eventually brought the fight back to the ground, got full mount and pounded out the victory.

Nikki Smith lost to Jody Reicher on Shamrock card earlier this year. This time around, Smith stayed in control the entire fight and earned a nice, unanimous decision win.

Brian Kirton, out of J. W. Wright's BJJ, earned a first-round TKO win over Kelly Hunter in a middleweight showdown.

Wendy Julian was able to nullify the slick jiu-jitsu of Susie Wyatt with accurate strikes to earn a second round TKO.

Nathan Gordon started the night with a 34 second TKO victory over Gabe Declerck.

Shamrock Fighting Championships will return to Lumiere Place on Sept. 29.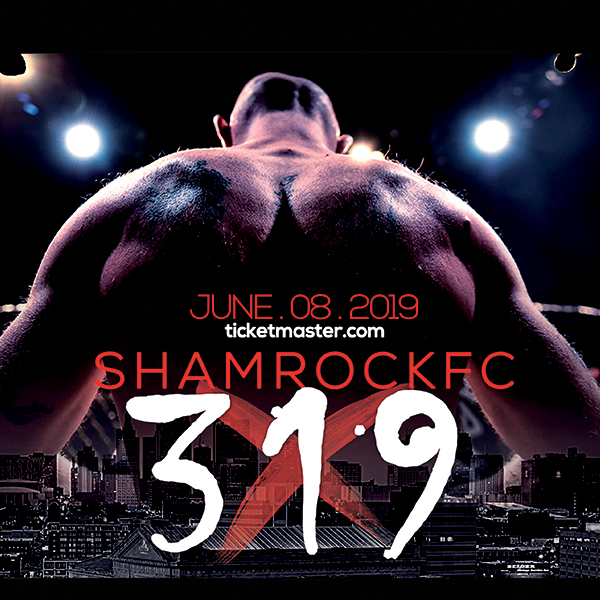 Shamrock FC: 317
| Sat, April 6th
Ameristar Casino, Kasnas City, MO
Nemesis Fighting Alliance
| Sat, April 13th
Casa Loma Ballroom, St. Louis, MO
Shamrock FC 318
| Fri, May 10th
River City Casino, St. Louis, MO
Shamrock FC 319
| Sat, June 8th
Ameristar Casino, Kansas City, MO

Tweets about "KnuckleJunkies OR @knucklejunkies"