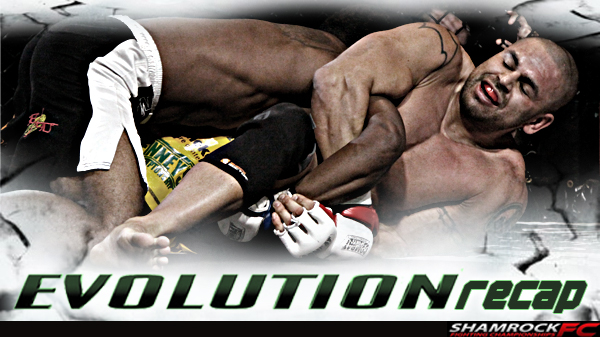 Shamrock FC - Evolution Recap
A captivating main event and a much ballyhooed amateur fight were among the highlights Friday night at Shamrock Fighting Championships Evolution at Lumiere Place.

In the top bout on the card, middleweight Adam Cella broke through late in the first round to win by knockout over Dominic Brown in the main event. Cella, out of Finney's MMA, started the fight with a swift head kick that wobbled Brown but as Cella went in for the kill, he slipped to the canvas, allowing Brown to gain control and recover. Both fighters eventually returned to the stand up and Cella, a decorated kickboxer, went for broke and struck gold. While a spinning backfist with his right was off the mark, Cella followed through a powerful straight left that sent Brown, a veteran of 35-plus pro fights, down and out. The win improved Cella to 4-0 as a pro.

For interviews with several of the night's winners, check back on Monday.
Lucas Lopes got back on the winning track with an impressive performance against Eddie Larrea. Lopes revisited his Brazilian Jiu-Jitsu roots as he submitted Larrea in the first round with an arm bar.

Kevin Engel, a renowned boxer who hadn't fought MMA since 2004, returned to the cage against a very game Nic Anderson. Engel caught Anderson with a strong punch that put Anderson down. But Anderson managed to hang on and take the fight to the ground where he worked diligently on a knee bar and heel hook that wouldn't take. After another scramble, Engle was able to get the dominant position where he eventually worked and pinned Anderson's left arm with his leg, leaving him practically defenseless. Engle proceeded to rain down several punches and elbows to win by TKO at 3:04 in the first round.

Rickey Bolin made it 4-for-4 on the main card for Finney's MMA fighters. Bolin, making his pro debut, worked LB McCraig to the ground and from there was methodical in breaking McCraig down, taking his back, and sinking in a rear naked choke to with at 2:07 in the first round.

On the amateur undercard, "Mean" Mike Green and the "Southern Illinois Bad Boy" James Mottershead put an end to their much maligned feud. The pair had fought previously with Mottershead earning a victory. With plenty of back and forth both in fight previews and on Facebook, the fight had a main event feel to it going into the night.

Much like the first time the two fought, Mottershead was able to take Green down at will. But this time around a much more active and aggressive Green, who landed punches at will while on his back, was able to sway the judges with a 30-27, 29-28, 30-27 unanimous victory for the South Side Fight Club monarch.

In the only other fight on the night to make it out of the first round, Jake Dowdy won with a slick rear naked choke in the opening seconds of the second round over Timmy Tucker. The two showcased some solid back-and-forth in the first round.

South Side Fight Club's Nate Dieckmann started his fight with Derek Dressel with a solid left hand, but Dressel secured a nice head and arm takedown and pounded Dieckmann out to win in 19 seconds.

Phil Thomas, out of Chicago, began his fight with Marc Godeker with some nice combinations but the more powerful Godeker smothered Thomas to the ground where he eventually one by submission in the first round.

Just 33 seconds into their fight, Daniel Skaggs couldn't continue against Colby Heathcock due to a knee injury, giving Heathcock the win.

Dustin Fischer and Tim Mantle traded kicks early in the night's opening fight before the fight eventually went to the ground. Fischer quickly gained mount and then secured a head-and-arm choke to win by tapout in the first round.

Shamrock Fighting Championships will be back in action at Lumeire on July 28 for Chaos.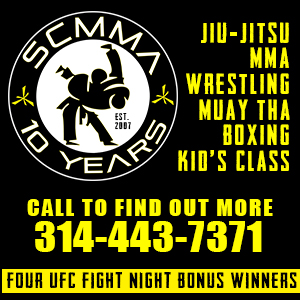 Shamrock FC: 317
| Sat, April 6th
Ameristar Casino, Kasnas City, MO
Nemesis Fighting Alliance
| Sat, April 13th
Casa Loma Ballroom, St. Louis, MO
Shamrock FC 318
| Fri, May 10th
River City Casino, St. Louis, MO
Shamrock FC 319
| Sat, June 8th
Ameristar Casino, Kansas City, MO

Tweets about "KnuckleJunkies OR @knucklejunkies"