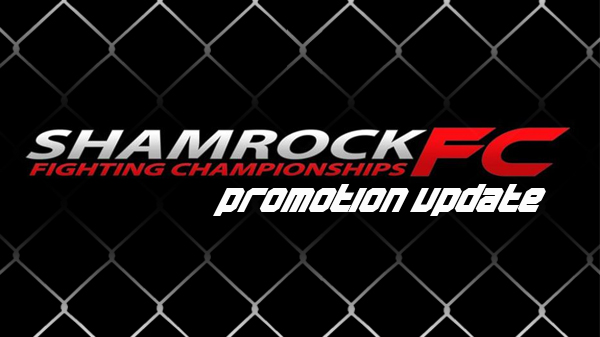 Shamrock FC - March Promotion Update
Shamrock FC is always a hub of news for St. Louis MMA.

And Jesse Finney and the Shamrock FC family are nearing the eve of another event at the Lumiere Casino; Shamrock FC: Fusion.

Late last month Shamrock FC released their 2013 schedule which included a total of five events at Lumiere, a return to Queeny Park in August, and two events at the River City Casino in South County. In June they will be celebrating their 15th anniversary of promoting professional MMA and Kickboxing as they christen the new 1,800 seat facility at River City.

"June 15th, it's going to be awesome. We're doing the Shamrock Fighting Championships at River City Casino," Finney said. "It's three times as nice as I thought it was going to be; stadium seating along with a stage and LED screen above the cage. It blew me away."

While an event calendar like this would be an ambitious program for most promotions, Shamrock FC has their sights set on something even bigger. In April they will be hosting their first Pro/Am in Kansas City. The dream of being a multi-city promotion hosting professional mixed martial arts will finally be realized.

"We're going on the road," Finney said. "We're going to Kansas City to Harrah's Casino on April 26th."

Fans of Shamrock FC know the level of production that the company likes to showcase. Working with their partners in KC, Shamrock has co-promoted Ultimate Blue Corner Battles for over a year now. Fighters and fans of MMA in Kansas City have to be excited that Shamrock will be putting on two to three professional MMA events in 2013 with even more to come in 2014.

"It's at the Voodoo Lounge, it's a 1000-seat venue, it's awesome." Finney said. "It will be a pro/am just like the Lumiere show. We're just taking the show on the road to Kansas City, and opening another market after this."

Finney hinted a third city will soon be on the calendar, but would only go so far as saying it's somewhere in the Midwest.

"We're working on some TV stuff," Finney said. " When that gets finalized here soon, we'll see. We'll be national and local."

Fighters interested in competing in either Kansas City or St. Louis can register on the Shamrock FC website.

Fans of Shamrock FC and its fighters can get a weekly dose every Saturday at 5pm on 101 ESPN Radio. Hosts Chad Range and Finney host a 2-hour weekly talk show covering local and national MMA, and everything in between.

"The radio show is going twice as good as we thought it would," Finney said. "A lot of people listen to it before fights. We may be expanding to more time here soon."

The local exposure from the radio broadcast is already paying dividends.

"We've had three record months at the Hit Squad, and three record months at the gym," Finney said. "It's been great."

This Friday will mark the 2nd anniversary of Finney owning The Hit Squad in Granite City the gym previously owned and built by UFC Hall-of-Famer Matt Hughes. Construction on a second Hit Squad in O'Fallon is winding down and the new gym is set to open its doors early April.

Kevin Engel will soon open a licensed Hit Squad location, taking the model perfected at the Granite City location and applying it to the new gym in O'Fallon.

"Full classes, full everything. Cage walls, we'll have everything," Finney said. "It will be super nice."

Engel will serve as the head coach at the O'Fallon Hit Squad with David Mirikitani helping to coach wrestling. The jiu-jitsu instructor will be announced shortly.

The stand-up specialist, Engel, was beginning to pickup speed with his MMA career going three-for-three in fights all within a seven-month span. An unfortunate elbow injury and a scheduled surgery will put him on the shelf for the rest of the year.

"Everything happens for a reason in this world," Finney said. "He can focus on his family and building this gym while he has surgery."

Finney is well aware of the crowded St. Charles county market, with very competitive with gyms like St. Charles MMA, Gracie Humaita, and Academy of Courage serving as neighbors.

"This only makes everyone step up their game more," Finney said. "There's enough food out there for everyone to eat one."

Elite Management, the sister company to Shamrock FC, currently has two fighters fighting in the UFC: current Ultimate Fighter cast member Adam Cella and "Vicious" Bobby Voelker. Voelker recently headlined the prelim portion of UFC 158 losing a controversial decision to Patrick Cote. Cella will be fighting in Sweden on April 6th against Tor Toreng, a fellow cast mate on this season's Ultimate Fighter.

For more information on Shamrock FC please visit their website.