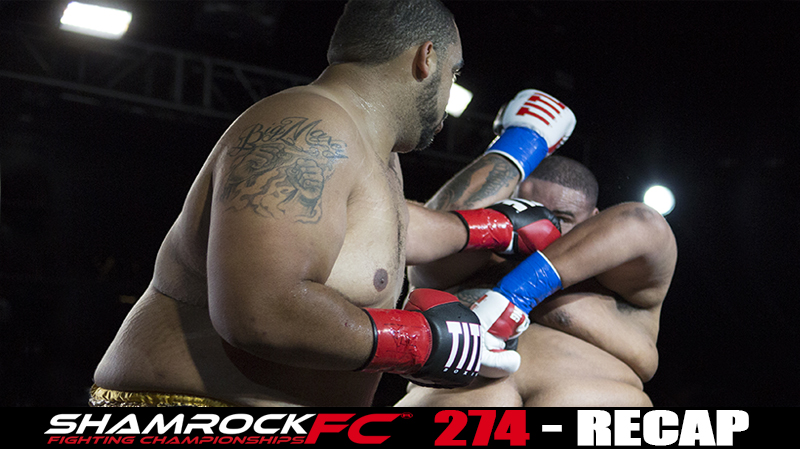 Shamrock FC: 274 - Recap
Shamrock FC returned to the Lumiere Casino last night for Shamrock 274 Xtreme.

The Xtreme Fight Night brand has now been folded into the new numerical format that the promotion has adopted recently. The Shamrock FC Xtreme shows feature something for everyone as they have multiple formats of competition on display in one evening with a mix of kickboxing, boxing, and MMA.

The top portion of the card was full of professional boxing on this evening. Jesse Finney said at the weigh-ins the day prior that he envisions providing a platform and brand that can build up and represent St. Louis boxing once more. The main goal is to allow St. Louis boxing to produce more products like that of hometown talents Cory Spinks, Deandre Latimore, and Devon Alexander by way of providing competitive fights. On this night, his brand delivered just that as the card was so evenly matched, only one ended before a decision.

The special attraction of the evening was a super heavyweight bout between Jordan Maxey and Charles Rodgers.

A patient Rodgers slowly stalked Maxey around the ropes, reading his opponent. There were small moments of action, and a shot that was thrown right at the bell, landing slightly afterward seemed to knock Rodgers off balance and to the mat, but technically did not counting for any scoring. Rodgers kept his composure to start the second and kept Maxey's back on the ropes as he pressed. As the bout wore on Maxey was able to find moments of success, landing more shots in numbers, but Rodgers also kept his defense tight. When the judge's scorecards were turned in, Jordan Maxey was declared the winner by unanimous decision

The co-main event featured Raymond Handson looking to stay unbeaten against Marlon Smith. In the first round Handson circled on the outside as Smith pursued, working the body before finishing with heavy hooks to the head. Both were trying to feel each other out. In the second, Smith landed a heavy shot that put Handson on wobbly legs, however he was unable to capitalize and Handson was able to recover. Afterward, Handson was able to turn it back on Smith and bring up the intensity, landing successful combinations multiple times to close out the round. From here Handson found his range and was able to work effectively throughout the duration of the bout, Smith seemed to have slowed and Handson was able to more comfortably work. Raymond Handson was declared the victor by unanimous decision.

Juzzton Hill took it to Dustin Johns in the first round of their bout. Hill swarmed and landed heavy crosses to the head of Johns, and multiple hooks to the body. Hill then turned over on a cross that hit right on the button, sending Johns to the canvas and out cold for a first round KO.

Sharon Carter and Demetrius Wilson showcased the kind speed and athleticism that got the crowd very excited and tuned in. The distance could be closed quick by both, and they each had their moments of success, landing quick combinations and either clinching or breaking away. In the third Carter landed a body shot that seemed to slow Wilson slightly. After that, Carter had the more effective striking to close it out. His boxing experience definitely came into play as he found his comfort zone, kept his speed, and looked to be having a lot of fun in the third and fourth rounds. When it was all over, Sharon Carter was announced the winner by decision over a very game Wilson.

Joel Blair, coming off of a gutsy performance on short notice, returned to action with a full training camp in preparation for Troy White. White kept a smooth technical pace early, as Blair looked to land straight punches and clinch in the short range. The second saw Blair trying to use more dirty boxing against the ropes and in close, trying to make White carry his weight and change up his pace. This strategy was effective in slowing down White. Blair's conditioning was on point and after he got ahead, he stayed there. Employing the same strategy and cruising through the rest of the bout, Joel Blair was declared the victor by unanimous decision.

The amateur undercard was headlined by two MMA bouts.

Right off the start of the fight Staton O'Dell earned a quick takedown against Ian Havener. O'Dell looked to throw strikes in guard, but Havener showed good defense off of his back. Havener returned to his feet and threatened a standing guillotine, but ended up back on bottom on the ground. O'Dell this time was able to find success with landing his ground and pound, but the bell rang before he could really inflict much damage. O'Dell came out in the second firing a body kick, then secured underhooks and earned another takedown. Havener then shrimped himself back to guard, but O'Dell stayed top heavy and smothering, and eventually took the back and got hooks in to flatten Havener out. From there, he threw strikes until referee stoppage, earning himself the TKO victory.

Wolves Den's Sam Paneitz made his MMA debut against Eddie Mayo. The first round was a lot of moving on the feet as both competitors looked to get comfortable. Paneitz looked to press for a takedown, but the ropes seemed to complicate the press he needed to finish initially. In the second Paneitz adjust his approach and was able to show strikes to set up a smooth takedown early, landing in guard. Mayo tried to threaten an arm triangle from bottom, but could never quite find it. Paneitz stayed in guard and rained down strikes on the body of Mayo. Mayo initially endured to threaten a guillotine that Paneitz defended. Paneitz then postured up and landed heavy strikes on Mayo until the TKO finish.

The rest of the undercard that was featured were all kickboxing matches.

Tyler Roussin was able to pin Oscar Ahuatzi in the corner early and land effective knees to set the tone. Roussin used his height and length advantage with push kicks to keep the distance and force Ahuatzi into the corners, then looked to land heavy strikes when there. This strategy was successful in the first round, however Ahuatzi landed a barrage of hooks in the second that visibly slowed Roussin. Roussin was able to endure and find his rhythm again to finish out the round, but he did not appear to have the same spring behind him as before. In the third, Ahuatzi came out swinging, throwing in numbers and overwhelming Roussin. After the last bell had sounded, Ahuatzi ended up gutting himself out of an early hole and won the unamious decision over Roussin.

Gaston Marabotto looked calm and calculated in his return taking on Adrian Ortiz. The first round was smooth and effective for Marabotto, as he set up and picked his shots at a comfortable pace. In the second, Ortiz was able to bring more pressure and offense to disrupt the pace that Marabotto had set in the first. The third was back and forth as Marabotto circled along the ropes and Ortiz pursued. After the final bell Ortiz wins by unanimous decision having won the second and third rounds.

Jake Duff came out throwing powerful leg kicks against Cristian Santana. Santana responded by pressing the action forward and looking to land hooks and close to negate the heavy round kicks of Duff, creating some clinch work opportunities for both fighters. Duff was able grab his Thai plum on multiple occasions and landed knees to Santana's body. While Duff appeared to land the most effective strikes, Santana just would not break. The bout went the distance, and Jake Duff was declared the victor by unanimous decision.

Nikk Willyard seemed to empty his tank early as he came out and starting throwing with reckless abandon against Eric Schmidt. Schmidt stayed more technical and showed off good clean footwork, bouncing and moving the entire time. Schmidt landed a solid head kick while also selectively placing several kicks to the body of Willyard in the second round. In the third Schmidt overwhelmed Willyard with strikes trying to get a finish, however the end of the bout came before any potential stoppage, and Schmidt earned himself the decision victory.

Brandon Beatty and Dee Barron are both very rangy strikers, and they put on a very scrappy and entertaining fight that seemed to go all over the ring. Beatty looked to circle and move, firing hard round kicks at Barron, but a few well timed cut kicks by Barron helped to defend some of the stinging kicks coming from Beatty and trip him to the mat. Barron absorbed a hard kick to the head from Beatty and kept coming forward in the third round. After the last bell, Dee Barron was announced the winner by unanimous decision.

The women started the night off in good fashion as Hit Squad O'Fallon's Adrienne Brusca faced off against Lillie Seggelke. Brusca looked to pressure her opponent around the ring with straight punches as Seggelke clinched multiple times looking to land knees, hooks and kicks to the body. Brusca kept pressing, showing grit and toughness after shaking off a very effective shot to the body from Seggelke. After the duration of the bout Seggelke was declared winner by unanimous decision.