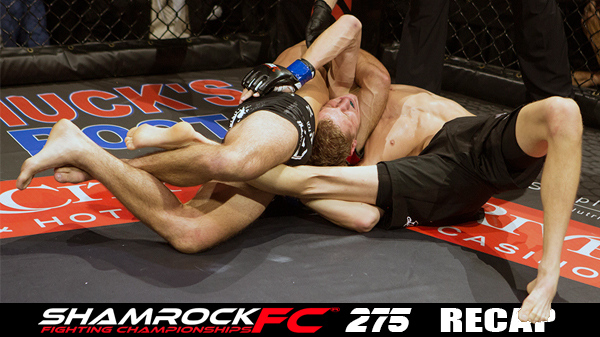 Shamrock FC: 275 - Recap
Aaron Highfill won his third straight and Erion Zekthi did what he does at Friday's Shamrock FC: 275 at the River City Casino.

Highfill took this main event fight against Mike Brazzle three weeks and many, many pounds ago. This was Brazzle's first fight in four years.

Brazzle came out strong and snagged a quick takedown, Highfill got back up, scored a takedown of his own and ended up in side control.

The pair muddied through some grappling transitions and at one point Brazzle got to mount. Highfill got out of harm's way and eventually took Brazzle's back. Highfill peppered in some punches to free up an opening and sank in the rear naked choke finish with 37 seconds left in the round to improve his record to 3-1.

Stay tuned for video interviews with Highfill and other SFC: 275 main card winners exclusively at knucklejunkies.com.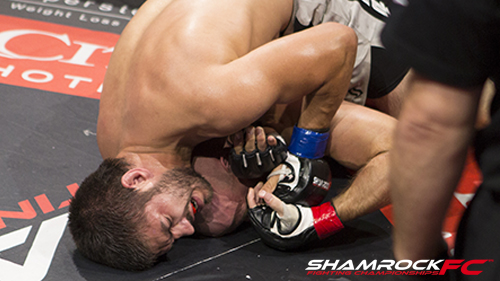 Zekthi was the SFC featherweight amateur belt holder. On Friday, he made his pro debut against seven-fight veteran Trevor Ward, at bantamweight.

A tight first round saw Zekthi and Ward work in and out before Zekthi darted in for a takedown. The long-limbed Ward worked his guard until Zekthi's knee-slice pass from half guard put him in side control. The fight got back to the feet and Ward shot across the cage and eventually put in a guillotine attempt. Zekthi squirted free and ended up in Ward's half-guard. Ward got the fight back on its feet and landed a nice teep kick. Zekthi shot in for another single leg takedown to end the round.

Ward started the second by landing a head kick followed by a two-punch combination. Zekthi wisely shot in and got another single leg. Zekthi's strength and ground prowess really started to wear on Ward as Zekthi was content to hang out in half-guard, mixing in punches and elbows. Zekthi worked on isolating and arm before he went in for a variation of a darce and got the submission at the 4:51 mark in the second round.

A confrontation between Zekthi and bantamweight challenger Demetrius Wilson highlighted the post-fight festivities in the co-main event, setting up a possible December clash between the two.

Seth Basler left Cort Wahle dazed and confused. Basler came out aggressive from the onset. The Illinois product landed several heavy exchanges on the feet and got the KO at the 32-second mark.

A trimmed up Lee Burns earned another first round win.

Despite being under the weather, Burns bullied around Justin Grant. When the fight hit the ground Burns managed to slip out of Grant's guard into side control while working a choke. Using more strength than technique, Burns got the submission victory at the 2:37 mark of the first rebounding from his epic encounter with Byron Stevens this past June at Bellator. Burns improves to 3-1.

Shaun Scott was the organization's middleweight amateur title holder, and on Friday he turned that belt in when he made his professional debut at 170-pounds against Kevin Brown.

Scott showcased his trademark power and tenacity from the jump, but Brown showed both skill and technique underneath Scott, squirming free on two different occasions. But Scott was relentless with the pressure. Scott got the action to the floor once again, made his way to mount and got the choke at 2:28 in the first round.

The victorious Scott will take on another challenger on Monday with a scheduled meeting with the famed Pointersaurus!, a 28", 10 pound pizza from Pointer's Pizza in Richmond Heights.

Sam Tamayo was doing what Sam Tamayo does in the final fight of the amateur undercard. Tamayo's strong wrestling base was on display, taking down Jones at will, keeping the pressure on. It looked as though Tamayo was going to cruise to a decision victory before Jones clamped onto a guillotine. Jones squeezed away until the final horn sounded and when Jones let go, Tamayo was shown to have been choked out. The contest was ruled a submission victory for Jones at the 2:59 mark of the third round.

In the closest bout of the night, Issac Purnell won a split decision over Derik Scott. Purnell fighting out of 21st Century Martial Arts, looked solid early, using his length and fluidity to hold Scott at bay. Purnell scored a nice trip after landing some nice strikes. Scott got the fight back to its feet and pressed Purnell into the cage with some deliberate clinch work to end the round. Purnell showed more excellent takedown defense early in the second round. Scott stuck to his gameplan and turned the fight into a messy grinder, likely taking the second round. In the third, Purnell worked a triangle early. Following a scramble near the midway point, Scott ended up on top. Purnell reversed positions and landed some clean shots before the round's end.

Joe Kelso dug deeper than most amateur fighters ever go in his light heavyweight bout with Merril Williams. Williams came out the aggressor and landed heavy shots on the feet and almost finished the fight on the floor as Kelso was saved by the bell. In the second, Kelso clawed his way back. Kelso got Williams to the ground and made his way to mount. If Kelso had been a little more accurate with his ground and pound, he could have finished the fight there. In the third, Kelso got back to mount after dragging Williams down. Once there, Kelso sprinkled in some shots before Williams' corner through in the towel.

Linsey Williams' strong wrestling and heavy top game suffocated Marye Dalton. Williams was able to snuff out TKO victory with 51 seconds left in the third round.

Jeff Glover needed just 34 seconds to get a guillotine submission on Patrick Sparks.

Sprinfield, IL's Carl Jefferson (aka Prez Dent) made quick work of Tyler Madding in a welterweight contest. Jefferson earned the first-round stoppage at the 1:40 mark via rear naked choke.

SFC sprinkled in a K1 match and Nick Pipitone's power got the best of Vince Hutchison's quickness and volume. Pipitone fighting out of Watson Martial Arts landed a sharp, inside leg kick to finish the fight at 1:06 in the second round. Both fighters seemed to sustain damage through out the round and a half with Pipitone able to endure and take home the victory.

Jace Burcham put together a devastating performance against Edrick Dillard. Burcham was the quicker in the exchanges and fired off some nice looking leg kicks before getting the TKO finish at 2:59 in the third round.

Sam Panietz earned a second-round victory over Jason Stevenson and Chuckie Brooks won by unanimous decision over David Jackstadt to kick off the show.

Shamrock FC returns to River City Casino on December 2nd.

Photo courtesy of Jimmy Range Photography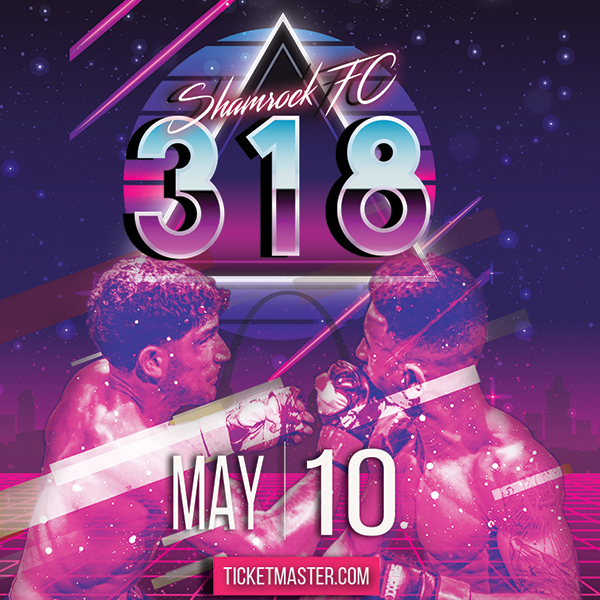 Nemesis Fighting Alliance
| Sat, October 5th
Casa Loma Ballroom, St. Louis, MO
Shamrock FC: 323
| Sat, October 12th
Ameristar Casino, Kansas City, MO
Shamrock FC: 324
| Fri, November 1st
River City Casino, St. Louis, MO

Tweets about "KnuckleJunkies OR @knucklejunkies"