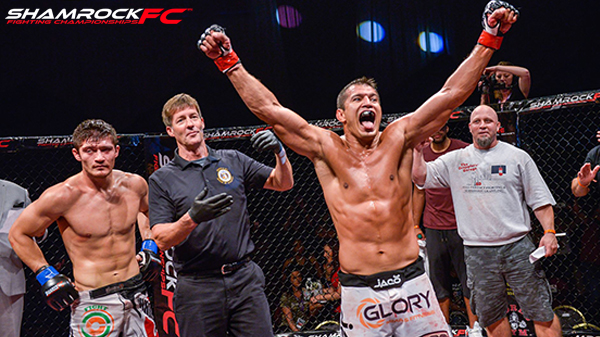 Shamrock FC: 276 - Recap
Last night a storm rolled in before the rain arrived in KC. It was a storm of elbows and combinations exciting a thunderous crowd.

Shamrock FC: 276 was a high pressure front of area fighters colliding in the Ameristar Casino. Bobby Voelker drew the main event honors, facing South East Missouri's Kyle Kurtz.

Before the battle in the cage, Shamrock FC had a battle in the courtroom with another local fight promotion who had signed Kurtz to a fight the week before his scheduled encounter with Voelker.

In the end the ruling awarded Shamrock FC President Jesse Finney and his team a temporary restraining order for Kurtz against the other promotion, freeing him of his obligation and allowing him to focus on the previously agreed upon fight with Voelker.

"It was a really tough go, for us, a roller coaster of month for us," Finney said. "I hope the Triple A organizations out there in the sport of MMA can learn from this. I felt like we had to make a stand, and that this was an investment into the sport as a whole. It was an unfortunate situation, but hopefully we can all learn from it. If you're going to sign something, this is what it's for."

At one point Kurtz was looking to make both scheduled bouts, something Voelker saw as a bit of a slight.

"Bobby was very frustrated with the whole situation, felt he was disrespected." Finney said. "He's an old school guy, first professional ever to fight in Missouri, and he thought he was getting disrespected."

Vicious is his nickname and vicious describes Voelker's performance in his second round TKO victory over Kyle Kurtz. Voelker put an exclamation point on his bid to climb back to the national stage.

Kurtz was successful with takedowns in both rounds but was not able to capitalize on the position.

"He gassed," Voelker said. "I think the experience level is what really changed it. I expected him more to exchange with the stand up more, but he quickly wanted to go the ground. Unfortunately, I shouldn't have let him take me down, we ended up staying there for a while. He held on tight, didn't really throw much of anything and gassed himself."

After the reset, Kurtz again would get a takedown, and from there Voelker's elbow opened a cut from bottom position. Voelker reversed and continued to rain elbows down on Kurtz before the round ended..

"I just sat there breathing fine, waiting for my moment to get up." Voelker said. "When we got back down again he got side control, didn't do anything with that. I got the guard, cut hit from the bottom, turned him over and worked on that, split him some more.

In the second, an overly eager Voelker was tripped and Kurtz gained full mount. Kurtz was again unable to capitalize on the dominate position.

"Second round was same story," Voelker said. "I landed a few more shots standing, I went for a garbage takedown, my bad, and he ended up on top in the mount and didn't do anything with it. I was like fine, I'll just sit here and breathe, I turned him over, got on top He tried getting back up a couple times, but I yanked him down."

With the hometown crowd thoroughly in his corner and chants of "Bobby" filling the venue, Voelker exploded out of bottom position tossing Kurtz off. Voelker proceeded to pound out the TKO victory at 1:55 in the second.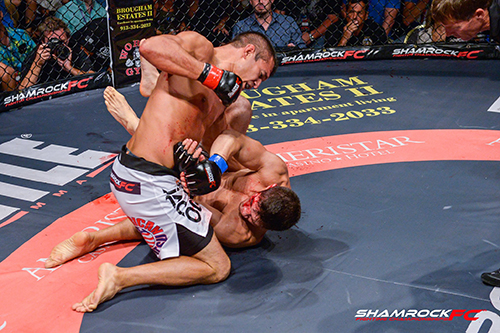 The win over Kurtz was Voelker's fifth straight, all under the Shamrock FC banner since leaving the UFC in 2014. With a rumored KC Bellator event on the horizon, Voelker has to be one of the first names on the list.

"I'm ready to go somewhere whether it's Bellator or the UFC," Voelker said. "I love Shamrock, I'll always be close to those guys from Shamrock, but I'm getting older and I have five straight wins, it's time to beat the shit out of these bigger name dudes."

The co-main event saw Scott Heston out of Topeka win in quick fashion over "All Day MJ" Marques Jackson. There was no rust on Heston who hasn't fought since December 2013. The fight started with a takedown by Jackson but was quickly reversed. Heston transitioned into a guillotine earning the victory at 53 seconds in the first round.

"I was looking for the head kick, we've been practicing that. That's one of my favorite things to do," Heston said. "I think he knew it, a lot of people train together, it's a small world. As soon as I threw a kick he closed the distance. We train for anything, so wherever the fight goes we're ready."

With the win in the books, Heston eyes a big opportunity on the horizon.

"I got a pretty big offer, so I think I'm going to go for it," Heston said. "I'm getting pretty old, so I might as well go out on my shield."

The bout with Travis Sumler and Eric Ellington was a grinding battle. Sumler was always moving forward trying to push the pace on the feet.

In the first, Ellington slipped when both men threw a kick. Sumler tried to capitalize on the slip but the scramble ended with Ellington in top position. The second and third rounds played out in similar fashion. As Sumler would push the pace on the feet with the fighters exchanging blows. Ellington would secure a takedown. The guard of Sumler prevented any real damage by Ellington but Sumler wasn't able to generate any offense from his back. This lead to the decision victory by Ellington.

The one women's bout of the night was a show stopper. Rebecca Revelle was "revved" up fighting with a chip on her shoulder and didn't disappoint.

Melissa Stringer was a gamer and came out swinging for the fences. On the feet, Stringer was scoring points with kicks but it was the combination of strikes to the head by Revelle that did the most damage.

Throughout the first and second Stringer was able to secure takedowns but sweeps by Revelle meant the takedowns didn't amount to much. The back and forth ground battle along with the tough striking had the crowd in a frenzy.

"I disagree with the split decision." Revelle said. "I think I definitely won the second and third round. The first she may have had the upper hand, but even that was close. I thought I won the fight most of the judges's agreed with that."

The third round was a slugfest as both stood in the center of the ring trading blows. Though both were tired by the third, Revelle continued with disciplined striking earning her the split-decision victory.

"When you punch somebody, and you hit them hard and in the face you can see something leaving them," Revelle said. "When you hurt them like you can see the hope in their eyes dwindle away, and I saw that. She can kick my legs all day, but it's not going to take the soul out of me like my hits to her head were doing."

Revelle out of Midwest Fighting Academy in Topkea picked up her fourth win as an amateur and is looking to stay active.

"This was my first fight back after a long break," Revelle said. "I'm back in my zone now and I'm going to be a lot more dangerous. "

Devin Webber out of Griffey Muay Thai earned the Shamrock FC amateur welterweight title with his first round victory over Anthony Goldfield. After the initial stand-up exchange Webber secured a takedown. As Goldfield tried to use the fence to stand up, Webber used a slick shoulder lock to transition to Goldfield's back.

"I knew my wrestling was better, my wrestling is better than a lot of people's." Webber said. "I knew he couldn't stop it and he was going to throw power. I was waiting on that big hook. It came, takedown came, beatdown came."

After softening him up with strikes from his opponent's back Webber sunk in the rear naked choke to end the match at 2:17 of the first round. This was Webber's 8th win and potentially his last at 170 as he looks to make a move to lightweight.

Shamrock FC returns to Kansas City on December 3rd for an incredibly busy weekend for the promotion that features fights in both St. Louis and Kansas City on back to bakc days.

"December 2nd we have our biggest show of the year in St. Louis at the River City Casino," Finney said. "We'll pull an all-nighter and drive throughout the night to get over here to KC and have one of our bigger shows of the year here. While we have weigh-ins going on over here, we'll have fights going on in St. Louis. That's how we're closing out the year."

Full Results:
Bobby Voelker def Kyle Kurtz - TKO 1:55 2nd
Scott Heston def Marquez Jackson - Guillotine 0:53 1st
Eric Ellington def Travis Sumler - Unanimous Decision
Rebecca Revelle def Melissa Stringer - Split-decision
Devin Webber def Anthony Goldfield - Rear Naked Choke 2:17 1st

Darian Weeks def Drew Elrod - TKO 1:36 1st
Jeff Molina def Steven Coleman - Head Kick KO 0:42 1st
Brad Hagan def Dustin Cox Verbal - Tap Out 1:30 1st
Trevor Johnson def Chris Sorrett - Guillotine Choke 0:34 1st
Jacob Herbert def Curtis Bissell - Standing Guillotine 0:36 1st
Brandon Conttrell def Troy DePriest - Tap Out 0:43 1st

Photo courtesy of Jerry Chavez Photography