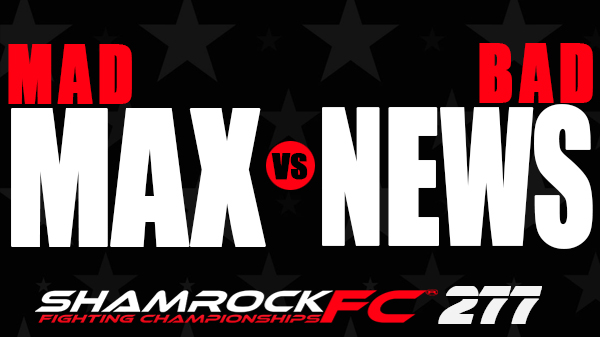 Shamrock FC: 277: McNeely vs Kunz
Saturday night's Shamrock FC main event features a 26 year-old pro making his debut and a vet taking his curtain call.

When Bo Kunz enters the cage at the Lumiere Casino it could be the final edition for "Bad News." Kunz has stated publicly that he's hanging it up after Saturday.

A fixture in the St. Louis MMA community since before Knuckle Junkies started covering fights, local fight fans have watched Kunz grow from a stocky cruiser-weight who liked to brawl, slim down and get serious for his pro debut at middleweight, before making a final lap around the circuit at heavyweight.

With 6 pro fights in the books and over 30-something amateur fights, Kunz has been there and done that in his six year journey in MMA. In the proces he's outlasted several MMA promotions in the process. Memorable moments include: clashes with Tony Souders and Steve Rustemeyer at the Gateway Fight League, gritty battles at the South Broad Athletic Club for Proving Grounds, a controversial loss at Cage Ready Championships to Scott Futrell, an impressive submission win for Jim Jenkins at the Heart of St. Charles, and even a win over a young Jordan Dowdy at Rumble Time Promotions.

"If you asked me what I remember the most," Kunz said. "It's the Brian Schell trilogy, probably the biggest mark of my career. That's where they gave me the nickname Bad News. I grew a lot of fans by always showing up and putting on a fight. I always had the ability to fight, they didn't call to give me to give some guy chump change. They knew if they put me in the ring and gave me a game opponent, we were going to stand and bang and put on a show."

A life-long friend of Kunz, Mike Green was blazing the trails for amateur fighters in St. Louis, and when it was time to fight, Kunz knew exactly where to go. Kunz became one of the mainstays at Green's SouthSide Fight Club that fought out of basement of an old brewery in South City.

"Mike lived two doors down from me when I was a youngster," Kunz said. "I grew up next to him and when it came time to fight I went to him. He got me a fight, and 42 fights later here we are. I've fought some of the best around, got beaten by some of the best, but always came to fight."

A rag tag group of fighters lead into battle by Green himself, the fight team included the Newman brothers, Nathan Dieckmann, Tim Mantle, Mark McLean, and Danny Wright.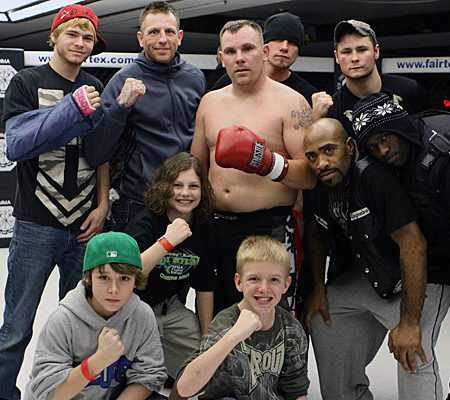 Earlier this week, Kunz lost a long-time friend with the shocking death of Nathan Dieckmann.

"We've gone back as far as grade school," Kunz said. "We grew up together from different sides of the world. I've known him so long, this whole thing has been unreal. He was always a fighter that was ready to throw down. He was always there for his friends and family, just an awesome guy to a lot of people. To myself he was a brother. I'm a fighter and i'll fight through it. I've got a task at hand on Saturday night, and that's what I'm focused on."

A teammate of Kunz's on the SouthSide Fight Club, Dieckmann was also a local amateur fighter who competed on most of the same events, and when not on the card, was always cheering on his friend from the front row. With a wicked overhand right, Dieckmann won just as many fights as he lost.

"He would have been 33 on Saturday night," Kunz said. "I talked to him a couple days ago, he wanted tickets to the fight and would've been there. I know he's going to be there in spirit. I know if I get that overhand KO on McNeely, that it come from the skies."

As close as he was with his brothers at the SouthSide Fight Club, it was shortly after the Dowdy fight, Kunz made the emotionally draining decision to go all-in on his MMA dreams.

"There was a point where I thought possibly could make it to the next level," Kunz said. "I started putting the time in and went down to middleweight, but bad timing prevented that from happening."

Around this time Kunz left his comfortable surroundings at SouthSide to seek out new training partners, along the way he officially joined up with St. Charles MMA.

"I was out there training with Andrew Sanchez, Jake Collier, and Stump (Chris Heatherly). "I was among the guys who made it, but I couldn't get to where I thought I could be. I had a company to run. A lot of coaches put effort into getting me to where I wanted to be, but time prevented that from happening. They've all been behind me, stood behind the decisions I made."

Lack of time for training has been the catalyst for Kunz to call it a career.

"I got business and family that matters, Kunz said. "I'm going to enjoy not having my name in the hat as a guy who can come out and fight. I feel like I have to get out now so these young guys who think they can make a name off me by getting me when I'm not my best. I know the preparation it takes, and I can't make the time to prepare properly for a fight."

Well traveled around St. Louis, Kunz finally found his home as a professional with Shamrock FC where he fought all but his debut.

"The first guy to ever hold mitts for me was Rob Donaker." Kunz said. "I went to Finney's to train for my first fight, and Jesse and Rob saw me and they knew then I was a fighter and knew I always came to fight. I ended up having to fight a lot of Finney's guys, and Shamrock always took care of me and gave me a good platform, good production. If you wanted to fight they're the show to fight on. They're still around, and outlived all these other promotions. They helped me set the stage for my career, to have the career I had. and have fun with it."

With his history with Shamrock FC running deep, Kunz plans to continue to help the promotion anyway he can while staying connected to the MMA community.

"I'll be helping Shamrock, working in the backstage with Mike Green," Kunz said. "So I'll be around watching the young guys and still supporting the shows here in St. Louis and all the guys in the MMA scene. I'm happy with what i have to do."

Standing in the way of Kunz's storybook finale is Max McNeely, a country boy from southeast Missouri who feels like the veteran Kunz is taking him lightly.

Although not nearly as many fights, McNeely's career is nearly as long as Kunz's and spans back to June of 2011. Along the way he wracked up 10 wins as an amateur including a pair of memorable fight trilogies with Dusty Chandler, and Josh Faries.

McNeely has spent the better part of the year preparing for his professional debut, which was slated for September, but due to a contractual issue, was pushed back to this Saturday.

"I've prepared for this fight the same way I always have." McNeely said. "I'm always working on everything from stand up to grappling. Just sharpening my tools ready to slice and dice this weekend."

Having competed in some of the same circles, McNeely is familiar with Kunz's resume and is simply not impressed. McNeely is ready, willing and able to piss on Kunz's parade.

"Nothing about Bo makes this fight exciting for me." McNeely said. "The fact that it's my pro debut is why I'm excited for this, that and being the main event. Bo's just another guy I'm gonna beat nothing special. The dude is a joke. If he's not too sad I'll even buy him a beer after the fight."

After a spicy Shamrock FC promotional released a few weeks ago has only added fuel to McNeely's fire who feels the elder Kunz isn't taking him serious.

"He wants to call me disrespectful but he can't even get his fat ass to the gym?" McNeely said. "Especially being his retirement fight and all you'd think he'd give a shit. I don't think he'll be done fighting after this one. He's gonna be so butt hurt that he got whooped up on by a pro rookie that he's gonna come back looking for an easy fight to go out on. He wants to win and retire but it's not gonna happen with me."

McNeely should have a noticeable height advantage over Kunz, and unlike his opponent who at one point competed at middleweight, won't be carrying too much extra weight.

"I plan to use the reach and pick him apart." McNeely said. "He said so himself he's not even training and been drinking. He'll shoot his wad in the first 30 seconds, if not sooner. Then it's only a matter of time before I catch him. The ONLY chance he has is if he gets me to brawl with him and give him that punchers chance, but that's not gonna happen."

Eager to get his professional career on track, McNeely looks to stay active with plenty of opponents on the horizon.

"I just wanna fight the best." McNeely said. "So after 'Bo Bo' that's what I'm looking towards. I'd like to fight in December or January next just depends. There's plenty of guys I'd like to fight next. Byron Stevens comes to mind I think that'd be a good fight. Someone threw Bubba Grant'ss name in there. Rustmeyer would be another good one."

Fans should expect an exciting main event on Saturday. Both fighters are tough, and won't shy away from a fight.

Despite the relatively care-free attitude, Kunz is mentally dialed in for Saturday.

"I don't take anyone light and I know he's been training." Kunz said. "With him making his way to the pros, I don't look at him or anyone as an easy fight. I know he has a lot of tools, but I don't think he has any that are up to par to be at the pro level. I don't think, he has what it takes. This is the fight he begged for, on Saturday night he wish he didn't"