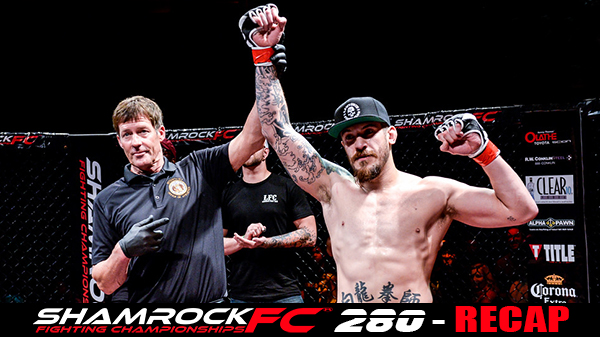 Shamrock FC: 280 - Recap
As the first cold blast of the season chills the air in KC Jesse Finney and SFC blazed into town for the second half of its MMA doubleheader in front of a packed house at the Ameristar in Kansas City, Missouri.

In the main event Zak Bucia took on St. Louis' top regional pro, Adam Meredith. The fight was a display of jiu-jitsu prowess and quickly went to the ground with Meredith taking Bucia's back.

"He's a purple belt, and I know he's got decent jiu-jitsu, but I'm a purple belt too," Bucia said." He was able to get that initial position (on my back), but I never felt he had it strong. I wanted to maintain my composure and be as composed as I could. Just be patient, I knew I was going to worm my way out of it, and get a good position, and it went exactly how I thought it would go."

Bucia showed great patience waiting until a misstep by Meredith allowed him to reverse the position and get the finish on Meredith late in the first round.

"Honestly I wanted to stay on my feet more, and touch him up with my hands and my kicks," Bucia said. "It doesn't always work out that way. I knew going out there I could trust my jiu-jitsu if it went that way. The main difference between us is I'm a lot meaner."

Bucia improves to 16-8 and snaps a two-fight skid that saw him drop a fight to Manhattan's Jake Lindsey, a 3-time UFC vet. The win over Meredith sets Bucia up for the Shamrock FC welterweight belt and guaranteed Bellator contract, something that alluded the first time around against Rudy Bears.

"I came here in the first place to get after that belt, the quicker the better," Bucia said. "That's what I'm gunning for."

The co-main event was billed as the swansong for Aaron Poston. The charitable career of Poston was to come to an end with his retirement bout against Garrett Mueller. Mueller was ready to play spoiler and send Poston packing with a loss. Mueller showed good striking and raw strength leading to his rear naked choke victory.

In a high energy bantamweight bout, the "machine gun" lived up to his nickname coming out firing and connecting. Grahams legs buckled twice but continued to fight trying to weather the storm but the flurry was too fast and too furious earning Romero the 0:40 first round victory.

"I have been training hard for this fight," Romero said. "I do my best work in the cage. I felt a little bit of worry for a couple of seconds, he was very strong. I throw my best punches and I win."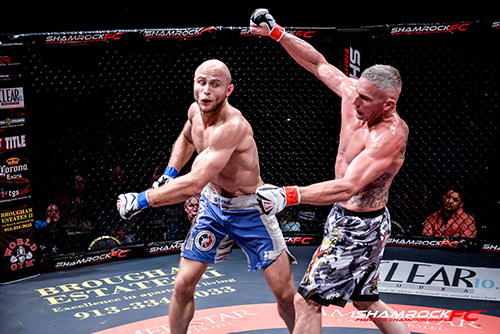 Mike Doss came into the fight intense and feeding on the home crowd's energy, but St. Louisan Julius Anglickas had the better footwork and striking.

Doss threw many head kicks without connecting and pushed the pace throughout the first. Doss had the edge in aggression but it came at a cost of energy. Anglickas, fighting out of St. Charles MMA in St. Louis was patient jumping in striking and backing out before Doss could counter.

"I knew he was going to be wild." Anglickas said. "Last week that was all we talked about. I knew he was going to come at me and it was going to be 2-3 minutes of just hell. I knew I shouldn't engage and just let him get tired. I saw him being unable to catch me. Just picking shots and waiting for him to get tired. I knew he was a tough guy, and that was my plan to pick up the page and see where it would go in the second and third round. "

The match seemed to be even with a round a piece until midway in the third, when Anglickas shot in for the first time securing a takedown then pounded out the TKO.

Anglickas look calm cool and collected throughout the match and looks to continue to rise, the win over Doss improves his record to 2-1 as a professional.

The heavyweights division fights throughout the night were first round TKOs of different varieties. Woltkamp won a short one when Hammons dislocated his knee.

"The only thing that really stunned me, he landed an elbow off the clench," Woltkamp said. "Other than that nothing really hurt me. We got into the clench and somehow he turned and messed his knee up. Soon as it hit the ground I just ground and pounded until Mike came and called the fight off."

This was Woltkamp's first win as a professional, and potentially his last fight at heavyweight as he eyes a move to 205.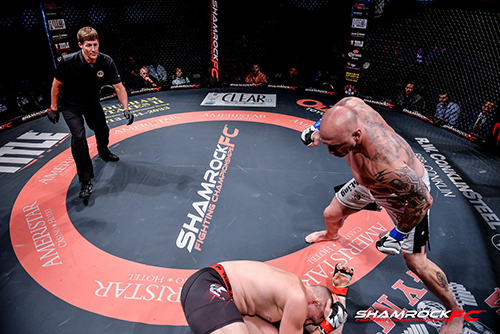 The other set of pro heavyweight's featured Caveman Crew's Matt Uhde. Uhde only needed 19 seconds to drop Anthony Garrett with a big uppercut.

"I saw one film where he got dropped with an uppercut," Uhde said. "So I knew it was there. I knew he was susceptible to the uppercut and I was going to be throwing a lot of them, and closing the distance with the jab.

The win improves the sometimes light heavyweight Uhde to 4-6.

"I'm staying in the heavyweight division," Uhde said. "So look out heavyweights. I'm taking it."

And amateur Tommy Thurber defeated Troy DePriest.

Thomas Thatcher enter the venue to the Motown favorite "Do you love me" and removed his gi in time with the music. His demeanor was relaxed and loose until he entered the ring when he became laser focused with a calm confidence.

"I was a scout sniper in the Marine Corps, and I can be real mean and focused when I need to be," Thatcher said. "My coaches said my worst enemy was that I was coming out too tense, and I'm very good when I can loosen up. I figured, let's come out to a little Motown, dance a little bit and when it's time to go, I can get serious. I felt it helped."

He continued this as he fought a tough opponent in Darling. It was setting up to be a good match as they traded blows as each attacked and countered. Thatcher was well prepared for his match with conditioning and scouting of his opponent. As Darling went for a takedown Thatcher picked him up and as they dropped to the mat Thatcher was able to twist, putting him in top position. Darling landed in an awkward position and landed on his neck resulting in a stinger. With pain in his neck and as his arm went numb Darling tapped.

The final show of the year for Shamrock was really two shows in two days in two cities. It delivered on all fronts. If 2017 is anything like 2016 the MMA fans have a lot to look forward to in both St. Louis and Kansas City.

Shamrock FC President Jesse Finney took note of the venue filling up almost immediately after the doors opened.

"People weren't coming for individual fighters, they were coming for the entire event," Finney said. "This thing started at 7:35 and it was packed. Sold out show, what a great way to end the year. The last two shows have been sold out here."

This continues the hot streak for Shamrock who've seen their success in Kansas City only continue to grow.

"Truth be told, we almost pulled out of the market two years ago," Finney said. "We decided to keep investing back into the market, and it's been good. In 2017 we have a lot of big things planned, we're going to bring a lot of big fights to KC, and not just our six shows. We're going to be here a long time, the fans have show us that is what they want, and we couldn't be happier."

Shamrock FC returns to Kansas City on January 14th to kick off their 2017 season.

Rundown
---Main card---
Zak Bucia DEF Adam Meredith - TKO 4:37 1st
Garrett Mueller Def Aaron Poston - RNC 3:20 1st
Julius Angilikas DEF Mike Doss - TKO 2:30 3rd
Raul Romero DEF Steven Graham - TKO 0:40 1st
Kevin Woltkamp DEF David Hammons - TKO 1:38 1st

---Preliminary Fights---
Matt Uhde DEF Anthony Garrett - TKO 0:19 1st
Thomas Thatcher DEF Derik Darling - TKO 2:45 1st
Juston Scott DEF Albert Cochrane - 30-27 Decision
Zack Scroggin DEF Stephen Kirby - TKO 1:03 1st
Tommy Thurber DEF Troy Depriest - TKO 1:46 1st
Terrence Carter DEF Dustin Cox RNC - 2:17 1st

Photos courtesy of Jerry Chavez Photography