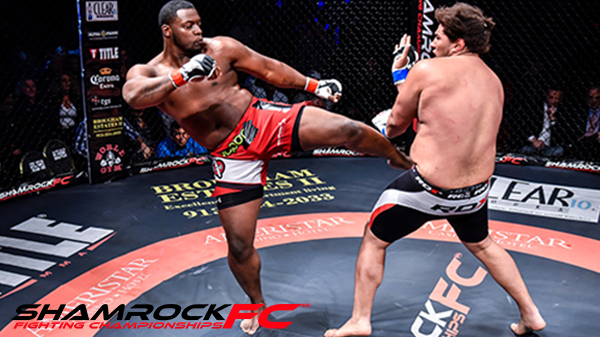 Shamrock FC: 282 - Recap
This week Missouri was hit by winter storm Jupiter. Much like science fiction flick Jupiter Ascending, winter storm Jupiter was a lot of hype and very little fun. At least the storm didn't suffer from meandering story and muddled direction.

The inclement weather couldn't keep everyone away and with a solid number of walk-ups, it was a good atmosphere inside the Ameristar Kansas City. The setting for Shamrock FC kick things into high gear for 2017 in KC.

"This week just crushed us because of the weather, attendance wise, but we had the biggest walk-up we've ever had," Shamrock FC President Jesse Finney said. "I think people were just tired of being in the house. The people that were here got their money's worth. The fights were back and forth, exciting fights."

With a major ice storm looming days before the event, questions were raised whether or not the show would go on as planned.

"I had the athletic commission, and the casino asking if I was going to cancel the show." Finney said. "I'm a big boy. I didn't even consider canceling the show. There are so many people depending on this paycheck: the fighters, the staff, and the production crew. That wasn't even an option in my point of view."

The "Mama's Boy" Kelvin Tiller made Mama proud by putting his striking on showcase in the main event. Tiller defended takedown attempts by Sears and let go his heavy hands to put a quick end to evening's finale.

"I picked my shots, I waited," Tiller said. "I knew I was better before I even got in there. I'm just good, I'm good at what I do. There was no game plan, I got the best coaches in the world. We just work everything, we didn't have no game plan. My coach said 'go out there and hit him, and look good doing it,' and that's exactly what I did."

The colorful and confident Tiller talked after the fight saying he was comfortable at heavyweight. Settling in a heavyweight means focusing on strength.

"I got Thomas Tatcher, he's my strength and conditioning coach," Tiller said. "He had me doing some crazy shit. We only had about a month together, three solid weeks together. Back to work on Monday, Tuesday we're right back to it. Strength and conditioning, something I've never, ever done for a fight before. We're going to be ready."

Tiller fighting out of the Lawrence Fight Club in Lawrence, KS improves to 8-1 in his first trip to the cage since March of 2015.

"I've been in the fight game, thirty, thirty-five years, and I don't know if I've ever seen someone crack like Kelvin Tiller," Finney said. "When he cracks someone with body shots, kicks, there's a difference. He's probably the most talented un-signed guy out there. I hope he can put on some muscle and make a run at this."

The co-main event ended almost as quick as the main event. A lightweight match-up between Deron Carlis and Garret Gross match started with Carlis landing a takedown. Gross spent the next three minutes on the mat before he worked his way back to the feet.

"Obviously I didn't want to be on my back," Gross said. "That's something you just work on through the camp, working to get back to your feet. I was relaxed, my muscles felt good and it made it easy to transition back to my feet."

Once the fight reset, Gross connected with a head kick, leading to a TKO quickly after.

"I could tell when he got up he was tired," Gross said. "His lead hand was low and I threw the kick and it was right there."

Gross recently moved back to Southern Illinois after an extended stay in Coconut Creek, Florida with the American Top Team. The win improves Gross to 9-5, his third win in last four bouts.

Johnnie Roades came out swinging for the fences with pure aggression including a flying kick off the cage. The pace slowed as Oscar Valdez secured a takedown. Valdez worked various submissions but Roades remained calm and fought through them.

"I fought a lot of fighters that come out strong." Valdez said. "If you're seen any of my fights you know I come out slow. My coaches said I had to change that for this fight, try to be a little bit more aggressive. He kept coming in too aggressive and it was easy take him down, and easy to control him. I worked from there, and he turtled up, I got the back and the submission."

The second round began the same with Roades pressuring on the feet until Valdez secures a takedown. This time Valdez was able to work his position into a rear mount and finish with a rear naked choke.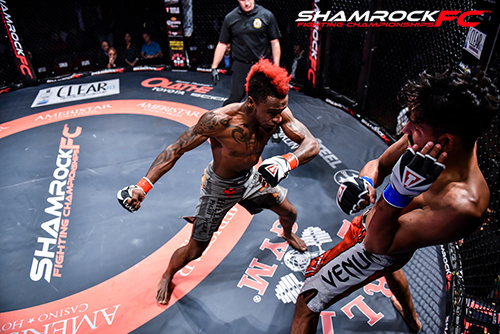 To see the Jerry Chavez's entire Shamrock FC 282 gallery, click here.

The match-up between Chance "Half-Ass" Thackston and Jason Powell was a mismatch from the start. The much taller Thackston had a clear reach advantage on the feet. Powell worked his way in close minimizing the advantage.

"I knew he was smaller fighter," Thackston said. "I didn't think he would want to stand with me, with me being as long as I am. It was a good fight even though it was as short as it was. I wanted to throw a lot of leg kicks to tear him down."

Powell secured a takedown with little resistance from Thackston. Thackston was relaxed with Powell in his guard. Perhaps a little too relaxed. As Thackston worked to improve position Powell postured up popping Thackston in the left eye. Damage done Thackston needed to finish the fight. Thackston worked his legs up high on Powell's back clamping on a triangle choking out a victory 1:20 of the 1st.

"He was really tight when he was in my guard," Thackston said. "I love triangles, and I have long legs so they're easy for me to setup. He was tight so I threw an elbow to try and get him to loosen up and missed. He popped his head up and I was able to push his arm right through for a triangle."

Highlighting the undercard, Anthony Goldfield got a little wild, but was able to land a big punch on Drew Elrod, to put him away in just under 2 minutes of action. Goldfield who spends most of his time at Crawford's MMA eyes a jump to the pros later this year.

Shamrock FC returns to Kansas City on March 11th for SFC: 285. Looking ahead, Shamrock FC just signed a title match-up between hometown hero Bobby Voelker and Zak Bucia for May 20th, also at Ameristar KC.

Full results:

Kelvin Tiller DEF Kevin Sears - 2:17 1st TKO
Garrett Gross DEF Deron Carlis - 3:25 1st TKO
Oscar Valdez DEF Johnnie Roades - 3:38 2nd RNC
Chance Thackston DEF Jason Powell - 1:20 1st Triangle
Anthony Goldfield DEF Drew Elrod - 1:46 1st TKO
Derik Scott DEF Trevor Johnson - Unan. Decision
Mike Hoff DEF Gaige Reynolds - 1:43 1st TKO
Armando Matech DEF Landes - 1:40 1st referee stoppage
Cesar Morales DEF Asas Collier - Unan. Decision

Photos courtesy of Jerry Chavez Photography