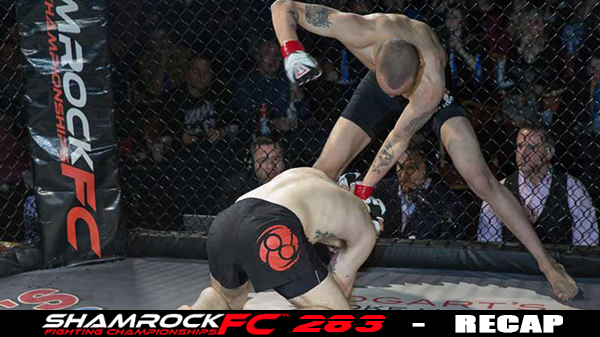 Shamrock FC: 283 - Recap
Quick finishes were on the menu as Shamrock FC opened the doors for its first St. Louis event in 2017 at the Lumiere Place Casino in downtown St. Louis.

A historic first punch KO set the tables for fast-paced night of action, with only two of the twelve fights going to the scorecards.

In the main event, it was Sean Woodson picking up his second win as a pro. Woodson earned a stoppage victory early in the first round over Coltin Cole, a former training partner at the Hit Squad. When the dust had settled, Cole - with a depleted gas tank after a massive weight cut - didn't have much to offer for Woodson.

When the bell rang, the two welterweights exchanged punches before Cole looked to take Woodson to the mat. Multiple attempts to get Woodson grounded were stalled before Woodson seem to catch Cole behind the ear with an elbow forcing him into a low single. Pressed up against the cage, Woodson began picking his shots and let go on unanswered punches, signaling the end of the fight.

Woodson, out of the Wolves Den in O'Fallon, MO, improved to 2-0 in his second first round stoppage since turning pro last September.

Stay tuned for post-fight interviews from Woodson and all of the main card victors.

The evening's co-main event was anticipated by local fight fans as a lot of build up was put into it in the proceeding weeks with Nick McClean building interest through a series of social media interactions with opponent Eric Ellington. The outspoken McClean came in ready to welcome opponent Ellington to the pro ranks, but Ellington's wrestling ended up being the difference maker.

McClean looked for a submission early in the round, but it was Ellington's much-improved grappling that fought off the danger and allowed the fight to continue. The second and third round saw Ellington with a seemingly endless gas tank push the pace on McClean. Ellington was relentless with his takedowns, and while he never seemed to have McClean in serious trouble, his positioning was able to score points with the judges who awarded him with a 29-28 unanimous victory. The win was Ellington's first as a pro and the first loss in three pro bouts for McClean.

Amateurs Greg Freund and Dylan Fuda went back and forth for a close round and a half. After getting taken down in the second, Freund was able to reverse position, ending up on top. After absorbing a few punches from the top, Fuda gave up his back forcing a TKO stoppage. Freund remains unbeaten at 4-0.

Luis Felipe out of Watson Martial Arts continues to prove the hype is real racking up his 5th straight victory. Felipe survived early pressure in the clinch to get the fight to the ground, eventually taking the back of Jeff Glover. After fighting for position for nearly a minute, Felipe was able to secure a rear naked choke to get the tap and remain unbeaten.

Capping off the prelims was a women's strawweight bout between Marye Dalton and Shannon Goughary out of Nashville, TN. Goughary rocked Dalton early with a step back superman punch, and from there it was a downhill sprint. Early and often Goughary connected with punches to a bloodied up Dalton. Dalton's best offense came from kicks to the body, but it didn't slow Goughary down. Desperate to slow the pace, Dalton worked a clnch, but after two grinding rounds, she was in full survival mode in the third, and once the points were tallied it was a clean sweep for the out-of-towner.

Highly touted prospect Dustin Ventimiglia took on late replacement Leon Kerby, and it was once again Ventimiglia's strength and wrestling earning him the win. The former Belleville East wrestler, bulldozed his opponent before smashing into mount and stopping the fight with punches. This is the third win for Ventimiglia fighting out of the War Room and Watson Martial Arts.

Jordan Meister's text-book perfect armbar over Tim Eischenfelder earned a win for Meister keeping together his perfect record. Wins by Meister and Teammate Greg Freund highlight some of the quality coaching by "Jedi Master" Luigi Fioravanti over at the Hit Squad.

Dave Jackstadt, fighting through strep throat earlier in the week, landed a wicked punch early in the round, dropping Thomas Coghill to the canvas. Sensing a finish, Jackstadt pounced on his opponent and secured a mount, from there it was academic.

Kevin Mueller put his opponent to sleep with a nasty triangle from bottom. After getting put on his back near the cage, Mueller transitioned from an armbar into a triangle where he turned out the lights of Staton O'Dell just a minute into round one. This is the third win in a row for Mueller who has turned things around starting his career with back to back losses.

Judo black belt Amber Jones was simply too much for Shortie Allen after Jones hit a hip sweep, and punched out Jones from mount at 1:14 in the first. Also with a first round TKO was Aidan Woods who scored a takedown, transitioned to mount and turned up the heat forcing a stoppage.

Kicking off the fights was AJ Graham with a one-punch, nin-second KO of Steve Becker. SFC President Jesse Finney confirmed on the live PPV broadcast that this was the fastest KO in company history.

Shamrock FC returns to Lumiere on February 25th for a mixed combat event.

Photo courtesy of Chris Stapleton. Additional cage-side notes provided by Steve Slotten.