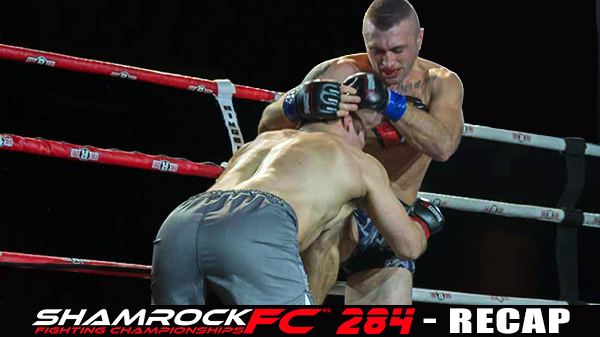 Shamrock FC: 284 - Recap
Shamrock FC made its second trip of the year to Lumiere Casino on Saturday night to usher in the first mixed bout card of 2017. If you are not familiar with the 'Xtreme' format, there is something for everyone on these events as they contain MMA, boxing, and kickboxing talent from across the region on display.

The main event on this evening was a catch-weight bout that many thought would never come to fruition between Shaun Scott and Wes Powers. Toward the end of their amateur careers both held middleweight titles in the St. Louis region, with Scott as the champion of Shamrock FC, and Powers as the champion for Fight Hard MMA. Both fighters moved onto the pro ranks before the opportunity arose to compete at that level.

Scott looked to close early but Powers was able to stuff an early takedown attempt and get his distance back. Powers stayed patient and long, landing some strikes as he moved. Scott at one point closed the gap and secured a clinch that saw Powers initiate the takedown and stay on top. Powers passed guard and secured a very tight armbar that Scott was able to pull out of, then in a scramble Scott ended up on top, eventually moving to mount. Powers shrimped out, but Scott remained heavy and landing strikes for the duration of the opening round.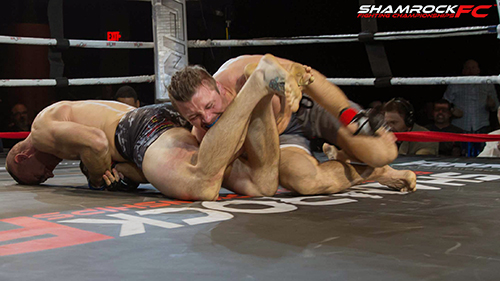 Most of the duration of the second round was spent on the feet with Scott pressing forward and Powers looking to counter. With 15 seconds left in the round, Powers secured a nice double leg takedown to finish the round on top.

To begin the third, Scott secured a body lock and with a back bending twist got the takedown and landed on top. Powers grueled his way back to his feet, and after some further exchanges, Scott turned the corner on a shot and landed back on top in half guard. Eventually Scott secured another mount position and as Powers shrimped and turned Scott transitioned to the back of Powers and tried to secure a choke. Powers defended the attempt and Scott transitioned smoothly right back into mount. Powers then shrimped out, secured a sweep and both returned to their feet as the match ended.

When the decision was read, Wes Powers was declared the winner by split decision. The win improves Powers to 2-1 as a pro.

Raymond Handson has had a very promising start to his boxing career under Shamrock FC, and on this night he took on the always-tough Garrett Gross, who was making his pro boxing debut. Gross is known for his aggressive combinations that he brings in numbers, as well as his sheer toughness. The first round Gross showed he was capable of bringing pressure and landing in moments.

Early in the second round Handson opened a cut under the left eye (and on the cheekbone) of Gross and seemed to gain even more composure after the fact. Handson threw and landed some stiff jabs to keep the distance and score. Gross seemed to rally a bit in the third round with some effective moments and even closed out the round with a blitz that saw a right hand land soundly on Handson right before the bell. The fourth and final round was full of even action and proved to be the biggest test of Handson's early career. When the time expired, the bout was scored a draw by the judges.

Super heavyweight Jordan Maxey returned to action with a roaring audience behind his back in support as he entered the ring. On this evening, Maxey squared off against a much smaller Joseph Creer.

Creer circled around the outside avoiding the power of Maxey, looking to outpoint and move. Creer found some success as a southpaw landing his cross to the body and circling out to his right, or clinching Maxey to earn a break and reset, avoiding any returning offense from Maxey. Maxey seemed to be stalking Creer to pin him into a position to unload, waiting for his moment. In the end the strategy paid off for Creer, as that moment never came to be for Maxey in the four round duration. Creer was declared the winner by unanimous decision.

In the first professional boxing match of the evening, Jeremy Ramsey met Jeremy Sherwood, and it appeared early on that Ramsey was going to be able to land effective strikes on Sherwood almost at his choosing. To his credit, Sherwood toughed out the initial beating in the first round and kept pushing to mount some type of offense. In the second, Ramsey was able to counter when Sherwood was caught reaching. After countering and pouring on the damage in an exchange, the referee stopped the bout and Ramsey was declared the winner by second round TKO.

Coming off of a very impressive win in November, Brandon Beatty fighting out of O'Fallon, MO's Wolves Den took on Jon Roarke to kick off the main portion of the card. Both fighters are tall and lanky for their weight classes and in the first round showed they showcased their skills in a close round that had quite a bit of volume, but still carried the notion of an aggressive feeling-out process. The second round saw much more fluidity as both fighters picked up the pace and closed out smooth combinations that tied both hands and kicks together. As Beatty looked to bring the pressure to start the third, Roarke would not relent as he kept busy, pushing back on Beatty and finding his moments to respond. The bout went to decision, and after the scoring was read, Jon Roarke was declared the winner by razor-thin decision in a very close bout.

A fight that looked very promising initially, ended quickly when Brendan Raymer landed a kick that broke the forearm of Steven Summers. After feeling each other out, Raymer unloaded a kick that echoed off of the walls of the Lumiere Theater. Summers then moved his arm, looked at the ref, shook his head, and before either fighter broke a sweat, it was all over. Raymer earned the TKO victory early in the first round.

Patrick Keao and Floyd Shahan came out of the gate throwing combinations and keeping a good pace in the first round of their amateur kickboxing match. Shahan was able to figure out Keo's timing time and landed a solid cross during an incoming kick by Keao that sent Keao backwards and seated on the mat, earning Shahan an 8-count and giving him the first round.

A second 8-count was earned by Shahan after a flurry in round two, but Keao was able to rebound and make it to the end of the round to recover despite Shahan swarming for the finish.

A hook by Shahan in the third signaled the end as Keao had to recover from another 8-count, however this time when the fight resumed Shahan was able to get the finish as he pounced on Keao and forced the referee stoppage, giving Shahan the win by TKO in round 3.

Emerging talent Drew Gigax has been on a tear lately as he starts to round out the remaining portion of his amateur career. Standing across from him on the evening was Dominic Lichti. Gigax fighting out of Andrea's Academy dealt the punishment harshly, yet casually, in the first round landing multiple straight crosses on the button and a couple flush head kicks. Litchi proved to be very tough as he endured and kept trying to strike back and land something effective. The second saw Gigax put a bow on the victory as he repeated more of the same from the first round, this time sending Lichti to the floor and causing referee John Duever to stop the fight, earning Gigax the second round TKO.

Tina Brown looked to bring the pressure to Tiffany Axton in the first round of their match-up by constantly walking forward and looking to close. Axton answered this by repeatedly finding straight right hands to land on Brown. The second and third rounds were nothing but grit on the part of the bloodied-up Brown, as she just kept moving forward, however when she was able to get the clinch she was unable to deal any damage to Axton. Axton was able to endure the pressure and outscore her opponent, giving her the decision victory.

In a match-up between Juan Drullet and Jon Graves, both fighters put together a captivating round that started to show glimpses of a possible earlier-then-expected ending when Drullet landed with a knee to the body Graves that sent him to the mat and take a knee. Graves was able to get back to his feet, but was not fully recovered, Drullet then swarmed and landed another knee that sent Graves back down to the canvas. This time his body would not recover enough in the ten count to get back to his feet, making Drullet the winner by TKO in round 1.

Ruben Sola and Rodney Cotton kept busy in the first round with a scrappy and fast paced tempo that saw Cotton looking to push forward while Sola moved on the perimeter landing his own offense in return. There was volume in this one all the way to the decision as both fighters left all that they had to give in the allotted rounds. In the end, the judges gave the unanimous decision win to Rodney Cotton.

In a close battle that consisted of absolutely punishing each others legs with heavy kicks for the entire duration of three rounds, Jason Brown pulled off the victory over Terrell Boyle with a unanimous decision.

Adrienne Brusca looked to stay busy as she took on Jenni Lee, out of Little Rock, Arkansas in the event's first kickboxing bout. Brusca landed kicks and knees to the body of Lee early on. Lee stayed tough and looked to punish the lead leg of Brusca as the fight played out, and also found some success with a few round kick to right hand combinations. The third round saw the opportunity for Brusca to potentially get a finish as she looked to have worn Lee down by attrition of landing shots to the body, namely knees. As Brusca looked poised to push for the finish, the last round expired. The third round scoring was enough to give Adrienne Brusca the split decision victory in a thoroughly entertaining fight.

In an amateur mixed martial arts bout to kick off the night, Avoran Graham was able to stuff the takedown attempts of Toshi Miyatsu and land some good shots in the process. Towards the end of the first Graham grounded Miyatsu and swarmed in with punches earning the TKO stoppage victory.

Shamrock FC returns to the Lumiere theater April 14th.

Photo courtsey of Chris Stapleton Photography