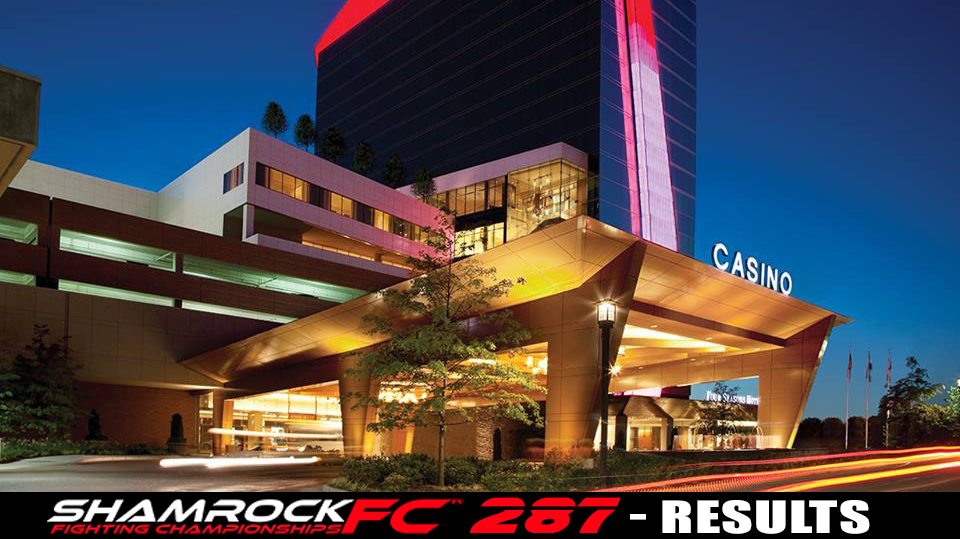 Shamrock FC: 287 - Recap
On Good Friday, Shamrock FC filled Lumiere Casino's theater to near capacity for Shamrock FC 287. Three pro bouts on the line-up and some entertaining amateur bouts filled up the card.

Aaron Highfill returned on just three weeks off his last fight, moving up in weight to take on undefeated Dewayne Diggs.

The bout started eerily similar to Diggs' previous two outings with Diggs quickly taking the back of his opponent and working for a rear naked choke. Highfill fought off Diggs' submissions for nearly three minutes before Highfill was able to reverse the position and put Diggs on the defense.

"He was never really close at all, not to talk shit or anything." Highfill said. "That's a hard position to hold, and you burn a lot of energy if you don't have it. As soon as I fought off one or two I knew I could have it. My buddy Crotty has one of the strongest grips there is, and I knew if I could fight off his chokes I could fight off Diggs."

Just 19 seconds way from the end of the round, Highfill was able to get the tap handing Diggs his first loss in MMA. The win improved Highfill to 4-2 in his first time competing at middleweight as a pro.

"It feels good, it was nice not having to cut weight." Highfill said. "I had a lot more energy, I was relaxed. Last time I fought my kidneys were still hurting from the weight cut. Big Difference this time. I got a new sponsor and they've been helping me with my diet. I think I'm going to fight at 170 and keep fighting at 185 too."

Highfill's training partner Jordan Dowdy was badly in need of a win. Sitting at 3-3 and a chance for an Ultimate Fighter Tryout looming in the horizon, a winning record was a must. Standing in Dowdy's way was Joel Blair, no easy out by any means.

After a brief exchange where Dowdy landed one of his signature kicks to the gut, it was Dowdy who would seek the takedown. A scramble on the ground would see Dowdy land on the back of Blair, forcing Blair to go belly down. Blair fought hard to turn into Dowdy, but each time Dowdy would flatten him out and drop punches from the top. After more than two minutes on bottom, fighting off punches and trying to escape, Blair eventually gave up his chin and Dowdy was able to secure a rear naked choke.

The win puts Dowdy at 4-3 snapping a 2-fight skid.

In the first pro fight of the night it was the "Afro Samurai" Marco Hutch traveling in from Branson, MO to take on Taylorville, IL's Curtis Eller making his professional debut.

From the start Eller's strength was apparent, he shrugged off Hutch's grappling and slammed him to the mat. Once free, Hutch looked to mix it up on the feet, but Eller had other ideas looking to take the fight back to the mat.

Looking for a single leg against the cage, Eller left his chin up allowing Hutch to lock on an inverted guillotine, getting the tap almost immediately.

Hutch improves to 3-0 as a pro, and looks to be a force at middleweight. In post-fight interviews Hutch revealed his plans to move to Kansas City to begin training at James Krauss' Glory MMA and Fitness.

Stay tuned for Post-fight interviews with all of the pro fight victors.

In amateur action, Nico Jefferson tested the chin of Watson Martial Arts' Luis Felipe. Jefferson seemed to be getting the better of Felipe on the feet forcing Felipe to absorb some heavy shots. When the fight went to the ground Jefferson wasn't able to muster much of any offense, with Felipe staying very active looking to sweep and submit.

In the third it was all Felipe who went on the attack putting Jefferson in dire straights shortly before the end of the bell. Jefferson barely survived the round and when the judges decision came back it was Jefferson taking home a unanimous decision.

Sam Paneitz took full of advantage of his main card status and worked a perfect game plan against KO specialist Avoran Graham. Paneitz a college wrestler, training out of the Wolves Den in O'Fallon, MO was able to stay out of Graham's range while keeping him mindful of the takedown for the early part of the round. When the two finally got close enough to slug it out, it was Paneitz who connected first with a big hooking right that sent Graham facedown to the mat, and handing Paneitz his fourth straight win as an amateur,

Jordan Meister made quick work of Brandon Garven in a lightweight match-up. Meister worked side control landing some hellacious knees to the ribs before getting Garven to turtle. Meister out of the Hit Squad wins via TKO in round 1.

Springfield, IL's Vince Hutchens was able to get the better of Kyle Ondo, Hutchens' grappling was the difference maker, and Hutchens never let up his pressure, taking home a unanimous decision.

Staton O'Dell put Delante Blanks through the ringer, but Blanks wouldn't quit. O'Dell threw everything but the kitchen sink at Blanks who wouldn't quit, despite being in some bad spots throughout the 9 minutes of their fight. Once it went to the judges it was O'Dell taking home a unanimous 30-27 decision.

Shaun Briggs landed a nasty first round KO over James McAffie just 7 seconds into their bout. In a special attraction kickboxing bout, Mike Babiak wins via TKO in round 1.

Kevin Roper was thankful to have a fight on Friday after he went through 4 different possible opponents before Kelly Frazier took the fight. It all Roper in this one as he improves to 5-3 winning two straight since his title bout with Shaun Scott a year ago.

Time Eschenfelder wins via TKO in round one. After enduring a flurry from opponent Devin Roach, Eschenfelder was able to reverse his fortune and put Roach onto his back where he finished with punches.

Paneit'z teammate at the Wolves' Den, Ryan Daschenzo showed some good sumbmission grappling in his bout with Bryan Barkau before scoring a TKO just seconds into the second round.

Kicking off the night Arvin Mills blasted Anthony Kerby with punches winning via TKO in the first, this one was all Mills.

Shamrock FC returns to Lumiere on May 6th for Shamrock FC 288 - Extreme.