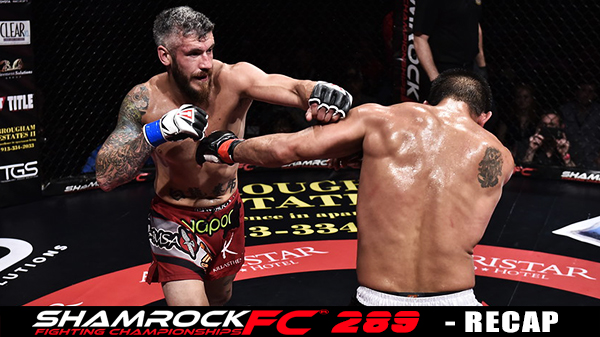 Shamrock FC: 289 - Recap
Pencils down and turn in your tests because school is out and it is time to party. Rob Donaker, the matchmaker for Shamrock FC, brought the party favors Saturday night for SFC 289 at the Ameristar Casino in Kansas City.

"Rob Donaker outdid himself on this fight card tonight," Shamrock FC President Jesse Finney said. "He did a great job matching these fights tonight. Everyone is going to talk about Voelker and Bucia, but the star of the show tonight was Rob Donaker."

Up for grabs in the evening's main event was the SFC welterweight championship and it was Kansas' Zak Bucia who came away with a five-round, unanimous decision victory over Bobby Voelker.

The much-anticipated bout between two of the top regional pros, Voelker and Bucia was a fight for the ages and the rabid crowd set the stage. As the clash began Bucia's rhythm seemed out of sync with starts and stops but it was all part of the plan and once he found the range, Bucia set about the task of chopping down the solid oak tree that is Voelker. Bucia did it with kicks early and often, hitting the head, midsection, and legs. The natural bounce and backstep of Voelker kept putting him at the optimal range for Bucia. Voelker's corner screamed for him to move forward and attack when Voelker advanced as he was successful closing the distance striking and limiting the damage of the kicks.

"I'm a precision guy," Bucia said. "I don't just throw and chunk it. I made sure I didn't just stand in front of him because he has power and I didn't want to run into something big."

In the second and third rounds, Bucia would use his precision striking to close and get a takedown. But on the ground, the strength and power of Voelker took over as he reversed to dominate positions but was never able to fully capitalize. The grit of Voelker was shown when Bucia applied a tight armbar and Voelker refused to tap and scrambled to escape.

"I kept getting good positions but he is so powerful he would push out of it," Bucia said. "He has nasty ground and pound so I just made sure I was keeping him tied up so I could get a sweep or something."

During a scramble at the end of the third round Bucia connected with an upkick that swelled the left eye of Voelker.

For the final two rounds, Bucia kept the bout standing and the strategy worked as he picked his shots, connecting with combinations and kicks before escaping to prevent damage from Voelker.

"I'm drilling him so hard and it's chipping away at a brick wall," Bucia said. "That guy is such an animal. He's just a big fucking rock and it starts to take a toll on everything. So I just had to stay mentally strong and think, fuck your hand, fuck your foot, keep hitting him with it and win this fucking fight."

In addition to a shiny new belt, Bucia receives a 3-fight Bellator contract, improving his record to 17-8.

"We witnessed one of the best fights in Kansas City history tonight, hands down." Finney said. "I've been putting on shows here for 13 years, and that was probably one of the best fights ever, and the loudest I've heard the crowd going back and forth, the place was electric."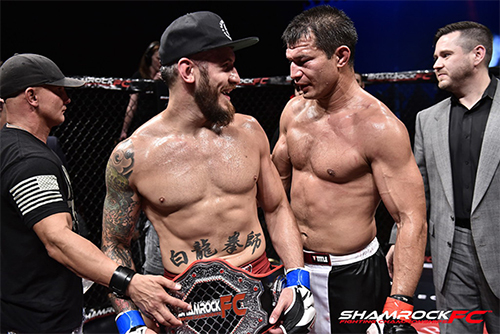 Click Here to see Jerry Chavez's entire gallery from Shamrock FC 289.

In the co-main event, Jaquis Williams scored a rear naked choke win over Kirk Grinlinton at the three-minute mark in the first round.

Anthony Garrett needed to rebound after a quick loss in his last fight, but he would have to do it against a dangerous opponent in Bo Kunz.

Neither wasted any time before letting loose with heavy strikes. Kunz had Garrett rocked early with uppercuts but was able to regain composure. Garrett landed his own shot and then finished with a flurry of blows to earn the TKO victory at 3:22 of the first.

"I have so much more than that than taking someone down and beating them up," Garrett said. "I just have to get it to translate somehow. I've been practicing spinning heel kicks and head kicks and a bunch of different stuff but I can't get it to translate. Maybe some more experience and I'll be there."

In an interesting tactical battle, Travis Sumler took on Steven Coleman. Though Sumler was able to demonstrate some slick jiu-jitsu he wasn't able to submit Coleman. Coleman was stymied by Sumler's jiu-jitsu defense but was able to score significantly by slamming Sumler to the mat multiple times. The bout ended with Sumler latched on with an armbar but Coleman came away with the unanimous decision win.

"At the end of the fight he had a really tight armbar," Coleman said. "The only thing I could keep on thinking was this is the last amateur fight, I'm about to go pro, let's go out with a bang. I had that mama-ain't-raised-no-bitch mentality and hung in there."

The preliminary card featured several competitive match-ups

The brawling, aggressive style of Trevor Johnson met the patient counter-striking of Brandon Santana and it was Santana who prevailed with a decision victory.

Clay Shaft was able to earn a decision win over Spensor Cox. Marissa Chavez defeated Tiffany Woods with a KO at 23 seconds of the first for a quick end. And adding a little kickboxing spice to the start of the night Mike Hughes defeated Terrence Carter by split decision.

Shamrock FC 289 kicked off the summer in style and more fireworks are likely when it returns to Kansas City on July 7.

----Main Card----
Bucia def Voelker - unanimous decision
Williams def Grinlinton - 2:58 1st submission rear naked choke
Garrett def Kunz - 3:22 1st TKO
Coleman def Sumler - unanimous decision

----Preliminary Fight----
Santana def Johnson - unanimous decision
Shaft def Cox - unanimous decision
Chavez def Woods - 0:23 1st KO
Folken def Easterly - 2:09 1st submission rear naked choke
Noori def Collier - unanimous decision
Hughes def Cart - (kickboxing) split decision
Vallero def Sickels - 1:58 2nd submission rear naked choke

Photos courtesy of Jerry Chavez Photography