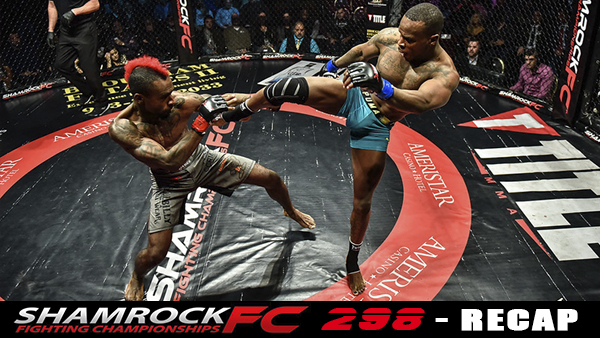 Shamrock FC: 298 - Recap
Shamrock FC 298 closed out the 2017 Ameristar schedule in KC. Recent weeks have been a flurry of shows from Shamrock building to SFC 300 in Saint Louis.

SFC 298 was a great card with a main event featuring up-and-comer Eric Ellington facing veteran Johnnie Roades. The main event as well as many others cross state match-ups only added to the atmosphere in the beautiful Ameristar Casino Kansas City.

The main event was a classic striker versus wrestler bout with Roades looking to strike, and Ellingotn wanting the takedown. Both were explosive in the first round, but it was Ellington who scored points with takedowns and dominate position on the ground for the majority of the round. Roades was winning the stand-up battle but Ellington was relentless with his pressure

Ellington began the second with a reaching takedown that transitioned into an arm bar attempt. Roades escaped and ended up in a sitting position with Ellingtons head in a triangle. The odd position allowed Roades to score strikes with Ellington unable to defend effectively. Ellington eventually escaped and the round ended with Ellington on Roades in full guard.

"It was a little bit difficult to keep him down on the ground, but I just kept going after it," Ellington said. "That was the main thing that surprised me about him. It was hard for me to defend myself when he had me in the triangle, I wasn't worried about the choke, my main concern was the elbows."

Rhoades tried to rally in the third with more striking, with Ellington showing signs of fatigue, but the wrestler from East St. Louis gutted out the final round. Ellington scored with a couple of takedowns riding out the rest of the round to the bell. The takedowns and control throughout the fight earned Ellington the unanimous decision.

After the fight, Ellington wasnt pleased with his cardio, and islooking to improve for the future.

"I'm not really satisfied with my performance but I was satisfied with the win." Ellington said. "I know there's some thing I need to work up on the stand-up and also on the ground, but I will come back stronger for the next fight, and was happy with the win."

Shamrock FC President Jesse Finney saw this as a learning opportunity for Ellington as he improves and advances his career. Ellington is now 3-0 as a professional.

"He will learn so much from that fight, that fight will help him in his career, long term," Finney said. "There's not quit in him, and he should be proud of that, and I'm proud of him."

Wrestling standout Johnny Eblen sparkled in his fight with late replacement Raymond Gray. Gray looked to end it quickly nearly connecting with a spinning head kick to start the match. The former Mizzou Tiger, Eblen took advantage of the miss with a takedown ending up on the back of Gray. From thereEblen rained down strikes from behind getting the first round TKO due to strikes victory at 2:21 of the first.

"Johnny Eblen is the real deal, that kid is the real deal for sure," Finney said. "For Raymond Gray, who just went three rounds with Bobby Voelker, that should tell you about Raymond Gray. He took this fight on short notice. Eblem is a beast on the ground, he has a very bright future."

Did you blinked during the Woltkamp versus Carpenter fight? Let me recap it for you. Woltkamp began with a leg kick before charging Carpenter and taking him to the ground. Woltkamp pounded out the TKO in the first 30 seconds.

"My initial instinct is just to throw fists, and elbows were just secondary until I heard my corner say it," Woltkamp said. "I feel really good at light heavyweight, we're just going to take it one day at a time. We'll see what the light heavyweight division has to offer."

Previously a heavyweight, Woltkamp has returned stronger and looking comfortable in his new weight class.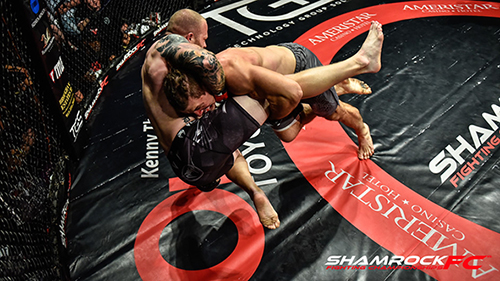 In battle of strength vs strength, Anthony Goldfield drew first blood in his battle with Shaun Scott, but it was Scott who won the war.

"Those guys looked like they were cut out of rock." Finney said. "One thing with Shaun Scott, his gas tank will not quit. Goldfield, got in a bad position, and Shaun took advantage. Shaun has been more active in the past few years, and experience paid off in that one."

Goldfield bloodied Scotts nose early with a job, making for a blood bath of a match.

"He was trying to come out and swing for the fences, so, I gave him a target," Scott said. "If I had saw it coming that well, I would have dodged it better, probably."

Strong striking and wrestling from both but Scott had the better of the ground game, getting the fight to the mat and working to take the back of Goldfield, from there he rained down blows opening up the neck of Goldfield, setting up the choke.

"He didn't have anything for me off his back offensively, so his corner just told him to get up and the best way up was for him to turn into me." Scott said. "He was on top early, but its hard to stay on top of me so he didn't for long."

Scott finished the fight with a rear naked choke at 4:10 of the first improving his record to 2-1 as a pro.

"That was the last of my three fight contract here with Shamrock FC," Scott said. "I personally love Rob and Jesse, and I appreciate 100% of all they've done for me. I'm going to buy them both a drink if they'll let me. I feel they both have my best interest at heart and I will take their advice frankly. As an amateur I was their champion for a while. Outside of that, I'm going to smash at least one turkey, then I'm going to fucking Hawaii, man."

Rounding out the main card was light heavyweights Will Johnson and Erick Murray. Murray started out with kicks while Johnson seemed to prefer the boxing, which he used to work in close and get a takedown. Both seemed more comfortable on the feet but Johnson continually used takedowns to keep pressure on Murray.

Johnson threw everything into each punch, and despite winning the first round, he tired himself out with the extra effort.

In the second, Murray pushed Johnson to the fence, and Johnson responded with a takedown. With Johnson visibly tiring Murray eventually secured a full mount. A few punches from the top forced Johnson to turtle, allowing Murray to pounds out a TKO victory at 4:30 of the 2nd round.

The highlight of the all-amateur undercard was a bout featuring Travis Sumler taking on the always tough Cesar Morales. The normally methodical and slow starter Sumler came out with legs flying.

"In this one, I wasn't too worried about being taken down as much so I kinda let me legs go a little bit," Sumler said. "He grabbed me, and I had a hook in, he sorta dragged me down and I had a good position on him.

Morales went to a clinch and as he dragged Sumler to ground with the dangerous grappler locking in an arm-in guillotine choke, securing the submission victory at 1:13 of the 1st. The win was a second straight submission victory for Sumler who's won 5 out of his last seven amateur bouts.

Despite taking on someone with loads more experience in mixed martial arts, Kary Allen made a successful transition from kickboxing in his debut fight. A winner of four titles in three separate weight classes in kickboxing, Allen took on Trevor Johnson, and only needed one round to take home his first win.

"I'm a kickboxing veteran, and one of the best amateurs in the Midwest." Allen said. "For mixed martial arts it was a little bit of a new experience. I kind of hesitated when my guy fell down, my kickboxing instincts kicked in. I have a pro debut on Lion Fights coming in February or March, until then it's as many MMA fights as I can take."

Shamrock FC is back in action on December 1st in St. Louis, and will return to the Kansas City market in February of 2018.

Photos courtesy of Jerry Chavez Photography. See the full gallery here.

Full results:

Eric Ellington DEF Johnnie Roades Unan. Decision
Johnny Eblen DEF Raymond Grey TKO 2:21 1st
Kevin Woltkamp DEF Jeff Carpenter TKO 1st
Shaun Scott DEF Anthony Goldfield RNC 4:10 1st
Erick Murray DEF Will Johnson TKO 4:30 2nd

Travis Sumler DEF Cesar Morales Guillotine choke
Kary Allen DEF Trevor Johnson TKO 2:35 1st
Alan Vasquez DEF Axel Cazares TKO 1:05 1st
Florina Moeller DEF Williams TKO 1:06 1st
Steve Henderson DEF Jason Simbro RNC 0:17 1st
Daryoosh Noori DEF McMillan TKO 2:46 1st
Jegah DEF Tim Rumsower Unan. decision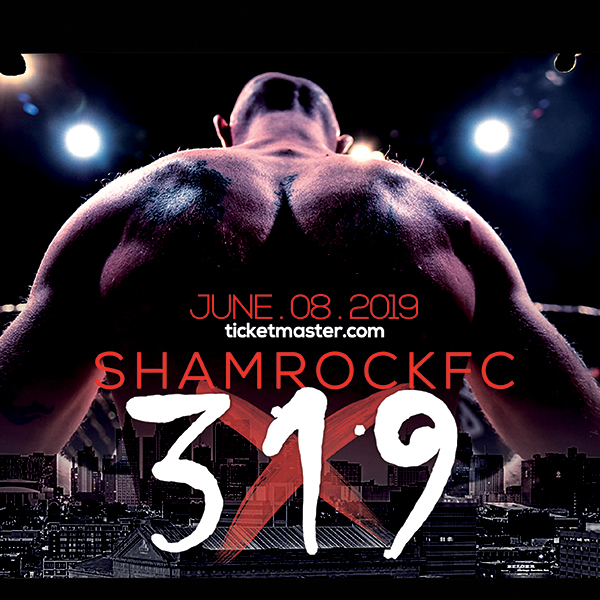 Nemesis Fighting Alliance
| Sat, October 5th
Casa Loma Ballroom, St. Louis, MO
Shamrock FC: 323
| Sat, October 12th
Ameristar Casino, Kansas City, MO
Shamrock FC: 324
| Fri, November 1st
River City Casino, St. Louis, MO

Tweets about "KnuckleJunkies OR @knucklejunkies"