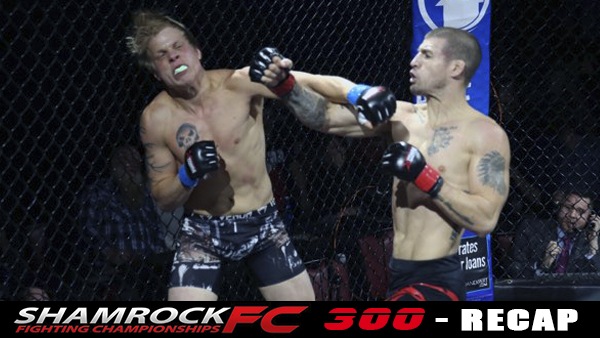 Shamrock FC: 300 - Recap
Garrett Gross solidified his chances of earning some end-of-the-year hardware.

Gross won for the third time in 2017, putting away a tough Garrett Mueller with a ballet of violence to win via TKO in the first round of Shamrock FC: 300 at the River City Casino.

The two lightweights went at each other with kicks to start the fight before Gross opened up. When Mueller went in for a takedown, Gross landed a big knee that set things off. From there, his hand speed and accuracy was tallying up the damage. Gross mixed in both punches and kicks as Mueller (4-4) bounced off the fence and was scrambling to keep his legs underneath him. Gross swarmed in for the finish and got it at 2:12 in the first round.

"I went out and did what I wanted to do," Gross said. "I wanted to stay away because I knew he was going to try and take me down. That's been what we been working, keep my distance and land the punches, and that's what happened."

Gross, who recently returned to Du Quoin, IL after a brief run at American Top Team in Florida, improved to 11-6. All three of his victories in 2017 came via TKO, and none of his fights left the second round.

"I moved back from Florida to Illinois and I've been undefeated since," Gross said. "The plan is to keep going. I think I'm in title contention, I'll be ready at all times.

For exclusive interviews with Gross and other main card winners, check out the Knuckle Junkies YouTube page.

Scott Ettling got back in the win column, and 42-year-old Yohance Flager hung up his gloves in the evening's co-main event.

The two mixed it up early, and Ettling tried to bait Flager in with some taunting before Flager score a takedown. While Ettling pushed for some space, Flager posted, and Ettling quickly snatched an arm. Ettling went for an inverted arm bar and got the tap at 1:34 in the first round.

Ettling improved to 5-2 rebounding from a loss at bantamweight, while Flager ends his career at 9-8.

"This is the most amp'd I've been and the best I've felt in a long time," Ettling said. "I'm done with 135 until I can train full time. I'm staying here at '45 until I can move onto something bigger. I just felt awesome tonight, man I was just ready to roll."

After going 1-1, both by split decisions, in his last two fights, Erion Zekthi got a second-round finish of Jordan Collins to improve to 3-1.

Collins surprised everyone with a blitz attack to start the fight. But once the fight got to the ground, Zekthi had a distinct advantage. During a grueling, grapple-heavy first five minutes, Zekthi landed multiple shots while in Collins' half-guard. With 90 seconds left in the round, Collins gave up his back and nearly escapes. To close the round, Zekthi took Collins' back while on the feet, Collins rolled forward but Zekthi held on until the horn sounded.

In the second round, the pair mixed it up on the feet a little before Zekthi landed a stiff jab. After the fight went back to the floor, Zekthi took top position and was landing shots. Collins gave up his back, and Zekthi flattened his out.

A deep rear naked choke forced Collins (1-1) to tap with 2:56 left in the round.

"I know I have this bulls-eye on my back," Zekthi said. "Because of the way I talk and the way I present myself you all want to beat me. Well, good fucking luck. I'm here and I'm not going anywhere. Until I get that Shamrock FC belt and move on to Bellator, I'm whooping all your asses."

Adam Cella and Matt Murphy both returned to the victor's circle after experiencing some rough times of late.

First, Murphy kicked off the main card with a second-round TKO of Joe Mueller. Mueller, a much-decorated Muay Thai and K-1 fighter, was making his MMA debut against Murphy, a 14-fight vet who had lost three of his last four.

Murphy quickly closed the distance in the first round and forced Mueller to fight the bulk of his first five minutes of cage time from off his back. For the most part, Mueller was able to keep the damage to a minimum by keeping Murphy from posturing and landing bombs. But Murphy was heavy on top and was mixing in enough ground and pound, and he had Mueller pinned solid against the fence.

Ten seconds into the second round, Murphy and Mueller on his back again and peppered him with strikes. Once again, Mueller tangled up Murphy, and the crowd drew any. After the referee stood the fighters up, Murphy landed a wicked hook that sent Mueller to the canvas, and he rained down punches from mount. Mueller couldn't create the space he needed and at 3:38, Murphy was awarded to the win to up his record to 7-8.

Cella followed and snapped a six-fight skid with a first-round finish of Eddie Larrea at middleweight.

Cella scored an early takedown, and from side control dropped several elbows to Larrea's face. Cella briefly went for a submission attempt that Larrea fended off. At the 1:40 mark, Larrea turned to give up his back, and Cella made him pay with elbows aplenty, leading to a stoppage at 1:29 left in the first round.

Larrea dropped his seventh straight and fell to 20-46 while Cella improved to 7-8, his first win since moving back to the 185 pound division.

"This was returning to an old weight class," Cella said. "I moved down to 170 for a little bit, and that's not for me. You end up fighting the scale more than anything else. I got these abs going and I want to keep them. I may do some crunches and maybe some Tae-bo, P90X, I don't know. I'm going to focus on celebrating tonight."

In the featured bout of the all-amateur undercard, Justin Angel pulled out a split decision win over Mark Kirkland.

A decisive moment in the fight came takedown midway through the third. Transitioned to mount. Once there, was patient, mixed in a couple of strikes and maintained a dominant position. Angel eventually took the back and rode out the third round.

Despite giving up a lot of weight to the much bigger Kirkland, Angel had two submission attempts in the first round, and was in dominant position for the bulk of the second where he seemed content to drop punches while in half guard.

This is the 8th straight win for the undefeated Angel out of Illinois, keep your eye on this kid.

Chuckie Brooks continues to show an improved game. Brooks weathered an early exchange against Jeff Glover to end the first round in dominant position on the floor. In the second, he smothered his way to mount and eventually got the tap at 1:36 in the second round due to armbar.

Consistent takedowns and a solid top game gave Edrick Dillard a unanimous decision win over Ace Anderson, snapping Anderson's recent hot streak.

Jason Gavril was bettering Kirk Vessel on the feet for the entire fight before finally getting the TKO win via injury in the third round.

Tim Jackson earned a quick TKO victory in the first round over Vince Hutchens.

Shaun Briggs stepped on the gas from the jump and finished Robbie Oren via TKO at 2:16 in the first round, and kicking things off on the night, Dylan Hatley won via unanimous decision over Elijah Brockman.

Shamrock FC returns to action on January 20th when it makes its debut at the Ameristar Casino.