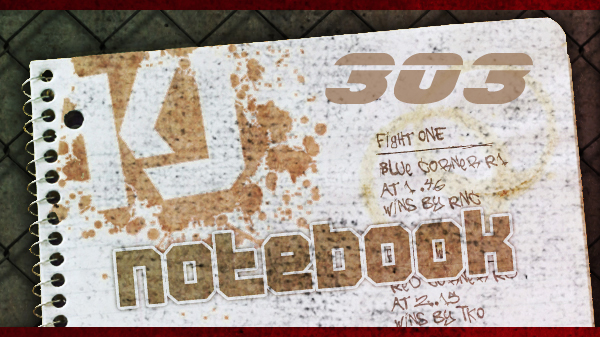 Shamrock FC: 303 - Notebook
Shamrock FC 303 was all set to be headlined by a No. 1 contender elimination bout in the lightweight division.

But, as they say, stuff happens.

Sean Woodson, the 2017 STL MMA Regional Pro of the Year, was to tussle with the dangerous Garrett Gross. But an injury forced Gross to withdraw, but no fear, Rashard Lovelace was quick to raise his hand and fill in. But a car accident sidelined Lovelace and an agreed upon replacement could not be found.

So with the contenders for the SFC lightweight title still up in the air, Friday's main card fights at River City Casino just moved up a spot.

The last time Brandon Lowe was in the Shamrock cage, his victory over Malcolm Smith was the top vote-getter for 2017 Pro Fight of the Year. Lowe (3-1) will meet fellow featherweight Trevon Crawford (1-0) in the main event. Lowe, who trains out of the War Room and the Head Nod Squad, has won three straight and will step into the main event slot for the first time as a pro.

"I always knew I was a gritty, tough fighter but that fight with Malcolm showed that I refused to go down," Lowe said. "And for me to get a knockout off my back, that is something you don't see every day. For us to get (the award) shows that we put on one hell of a show."

Look for Lowe to push the pace and get after things a little quicker against Crawford, who he calls, "a scrappy kid," but feels there is a vast skills gap between them.

"He's not on my level," Lowe said. "I feel that I'm stronger and more technical. Once we get into the clinch, it will be a world of hell for him. If I want, I can take him down and beat the piss out of him."

Lowe, who turns 28 in April, isn't looking past Crawford but would like to cross paths with Scott Ettling at some point in 2018. And if it is for the 145-pound Shamrock title, all the better.

"It's not personal, he's just a good name and a game opponent," Lowe said. "He's tricky on the ground and off his back. It's a fight I have really wanted for a long time."

'I don't know why he signed the contract'

It has been over two years since Dan O'Connor has stepped into the competitive circle. From 2013 thru 2015, O'Connor was one of the busiest fighters in the area, tallying 10 of his 12 pro fights during that time. Greeting O'Connor (6-6) for his return to action in Friday's co-main event will be 25-year-old Dillon Tolbert.

Tolbert (3-4) has bounced between flyweight and bantamweight and will face O'Connor at 125-pounds. Tolbert grew up and still lives in Jefferson City where he played football before nature took over.

"I was the big kid then I quit growing, and everyone else shot past me," he said.

So he made his way over to the wrestling room, instantly fell in love with it and hasn't been off the mat since. He was a state qualifier as a junior, but his senior year, upon the arrival of his newborn son, competition was on the back burner. That is until he found Howard's ATA. A month or so after training there, Tolbert took his first MMA fight, won that, and has been there ever since.
The Howards have made a name for themselves in Shamrock FC with Jordan Howard winning its bantamweight title and moving on to Bellator and Jordan Howard winning its flyweight amateur title and is now a pro for the organization. The Howards have left Jeff City for the St. Louis area, and Tolbert has been holding down the fort in their absence.

"Jordan was our leader, and since he's left I have taken over a little bit," Tolbert said. "I know I don't know everything, but coaching has given me a little more confidence. I take pride in not being a hypocrite, so I practice what I preach and keep everything crisp and clean and drill the basics."

Five of O'Connor's six wins have been via submission, and the two were set to meet in January, but the bout got pushed back. Tolbert saw an opportunity in early February and jumped on it, getting a quick submission victory over Raul Romero at SFC 302. Tolbert feels he has all the attributes in his favor against O'Connor to win his second straight.

"I'm bigger, longer, stronger, and more technical," he said. "I don't know why he signed the contract. I feel like I have everything dialed down and have found my groove and I know what works best for me."

A Scott of all trades

An attorney, a personal trainer, and a cage fighter.

No, this isn't the lead to a 'walk into a bar,' joke, it's one of the many facets of the life of Derik Scott.

The 30-year-old Scott will be making his pro debut at SFC 303 against Corey Barreiro (0-4). Scott, an St. Louis native, embraces his multi-faceted lifestyle and wouldn't have it any other way.

"I have great people around me who support all that I do," Scott said. "I like very full days. When it begins with some fitness, then legal, some MMA, and then back to fitness, I'm thoroughly exhausted and have earned the right to go to bed. I'm also very Type A and ambitious, and that gives me the drive. I'm also a little ADD, which can make it difficult to focus on just one. But all of these feed my soul and lets me know I'm living a full life."

Scott has recently shifted his training to Finney's MMA, though you will still find him from time to time at JD's Gym and his own Scott Health and Fitness. Scott went 6-2 as an amateur.

"I tried to keep it in perspective and get as many fights as I could in an intelligent fashion," he said. "In the MMA world, I have been chasing my brother and following along."

Scott's brother, Shaun, is a pro fighter with four fights under his belt. Derik, Shaun, and another brother, Zeke, are all a year apart, with Derik being the oldest, and each share a zest and a zeal for adventure and competition.

"That mostly comes from our parents," Derik said. "They fostered an environment where you compete to find out who you are. We did lots of karate, gymnastics, football, wrestling diving, you name it, we did it."

A win Friday would be a great start to his third career, but unsurprisingly, the 2018 calendar for Scott is already getting marked up with forays into American Ninja Warrior and/or the Titan Games a possibility.

"Hopefully, if all goes well, I will have to kick the can down the road a little bit when it comes to the second fight," Scott said.

A rare breed

Issac Purnell is the type of athlete that is few and far between when it comes to St. Louis MMA.

While the area has had an occasional Division I wrestler come through it, rarely, if ever, has there been a species quite like the former Union High School gridiron standout. Purnell was an All-State wide receiver and was talented enough to reach Iowa State University and play skill positions in the Big 12 Conference. But his time as a Cyclone wide out and kick returner didn't last as long as planned. His vision of scoring touchdowns on Sundays was cut short.

"I ran into young people troubles," the 27-year-old said. "I had my boy, and I decided to leave school, come home, and focus on that."

With a suggestion for his friend, and former gridiron foe Justin Lawrence, a 19-year-old Purnell got into kickboxing to stay in shape. Lawrence, now a Bellator featherweight after a run in the UFC and a stint as an RFA champ, introduced Purnell to Lawrence's dad, Benny Voyles, who heads up Pacific's 21st Century MMA.

Purnell got into karate and point fighting and fell in love with the movements and the competition. The physicality he had relished in football was found again. From those tournaments, he moved on to kickboxing as he flourished in both. Next was entry-level wrestling and NAGA tournaments, and before he knew it, he was in a cage for this first MMA fight. After an amateur run that saw him go 7-0 in MMA with all but one via finish and the bulk of them coming in the first round, combined with close to 100 karate and kickboxing competitions, Purnell will make his pro debut at SFC 303 against Brandon Schehl.

"(Schehl) is an experienced brawler and wrestler who will be looking to grind and get on top of me," Purnell said. "He's one dimensional. I should be able to win with mechanics and basic fundamentals. He has one move, and that's to bull rush, and either presses me against the cage or drag me to the ground. I don't see him holding me down. He's going to have problems with my hands and legs."

Purnell currently works for MoDot and had plans on turning pro in 2017 before a training incident hampered his plans.

"I got my jaw broke with a kick during sparing when I wasn't looking," he said. "It is what it is. This not ballet."

Also helping ease, his mind is Voyles there in his corner. Not only has Voyles trained Lawrence but also Becky Ruth, another Bellator fighter. Voyles' influence has been unmeasurable.

"He is like my dad, and I'm not just saying that," Purnell said. "He has been a father figure and a great mentor. When it's time to work, he doesn't joke around, and he won't sugar coat things. But he tells me all of the time that I'm going to be a superstar in this sport. I love that man and his family. That's how our whole gym is."