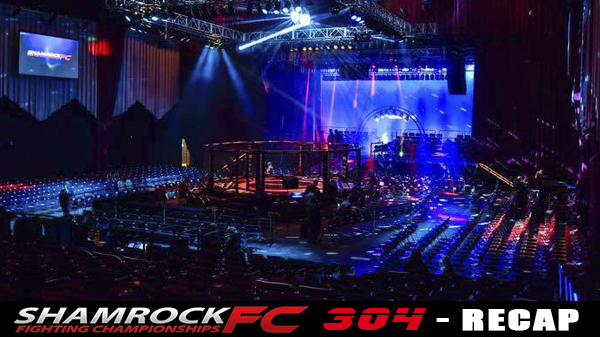 Shamrock FC: 304 - Recap
It's a busy spring for Shamrock FC, with three cards in 6 weeks. Saturday night SFC hit the halfway point in the run as it returned to Kansas City and its home-away-from-home, the Ameristar Casino KC.

In the main event, Dustin Kramer took on Jacob Thrall in an action-packed flyweight bout.

Thrall looked to establish his offense early, setting up his overhand right. Thrall seemed to hurt Kramer with a combination which triggered a takedown from Kramer. Thrall sprawled effectively and worked ground and pound from half guard. After a quick scramble Thrall nearly had the arm triangle secured, but was too close to the cage and couldn't' get position. Kramer regained guard and stayed active from his back attempting multiple armbars from the bottom. Scoring pionts with the judges, Thrall began throwing elbows from top and keeping Kramer pinned to his back for most of the round. Near the end of round one, the fight returned to the feet, and Kramer put an exclamation point on the round landing a big uppercut, which Thrall simply smiled at.

To start the second, it was Thrall who shot the takedown, and once he had Kramer on his back began landing offense from top. Thrall dominated the second round with heavy pressure, eventually securing mount which forced Kramer to give up his back. After fighting for position, Thrall eventually got the elbow under the chin of Kramer and secured the submission, winning via rear naked choke at 2:20 in round one.

Thrall came into the bout 5 pounds over the contractual weight.

"The weight cut was tough, but I came in feeling great," Thrall said. "I ate right, did everything I was supposed to and got the fucking W. I was being patient, and waiting to get underneath the throat, got my hands right and got the choke."

Thrall improved to 3-1 winning two straight.

Heavyweight's Max Mcneely and Matt Uhde had the crowd buzzing when they entered the cage.

At 26-year-old Max McNeely had a serious age advantage on 44-year-old Matt Uhde, but Uhde proved the old dog had plenty of bite left, McNeely came out quick, throwing a high volume of punches. Uhde got the clinch and forced the action against the cage, after a bit of separation, both fighters were throwing hockey-style punches, McNeely looked like he picked up a shoulder injury during the exchange, but Uhde kept the action going and grounded the fight, landing punches from the half guard. Eventually, the fight settled to McNeely's guard where Uhde landed punches from the top.

With his head pushed against the cage and defending from the guard, McNeely complained of his injured shoulder, and the fight was stopped as Uhde wins via TKO after referee Mike England waved off the fight fearing for the safety of McNeely. .

A scheduled bout between Chris Beal and Anthony Garrett, which was a rescheduled bout from a previous canceled bout, was scrapped before weigh-ins. Garrett picking up an injury in training forcing the bout off the card leaving only three pro bouts on the main card.

In a pro 175-pound catch-weight bout, Jason Russell took on Anthony Goldfield, and it was a quick night of work for Goldfield who connected with a left hook that sent Russell into la-la land. Knowing that Russell was coming off a long layoff, Goldfield put the pressure on quick and finished it before Russell could get comfortable. Goldfield picks up the win via KO at 23 seconds in Round 1 and improves to 2-1 rebounding from a loss last November. This was the first fight for Goldfield since switching camps to Glory MMA & Fitness.

In what was supposed to be SFC amateur bantamweight title fight between Daryoosh Noori and Caveman Crew's Cesar Morales, Noori did not make the agreed upon weight of 136 pounds and was not eligible to win the title.

Noori controlled the cage and stayed calm throughout the round despite Morales throwing several leg kicks and punches. There was almost no offense from Noori until the very end when a short right hook caught Morales on the chin and put him out. Noori won via first-round TKO at 2:41 with quite possibly the lowest punch count on the entire card. Noori improved to 4-0 as an amateur.

Hometown kid Travis Emerson out of Glory MMA and Fitness took on former Marine Chris Laperle in a middleweight MMA bout. After a wild scramble where both fighters were throwing punches in high volumes, Laperle was able to slam Emerson to the ground but wasn't able to secure the position. Emerson slipped out and reset the fight on the feet, this time Emerson got a takedown and landed in the half guard of Laperle, eventually getting the mount where he dropped heavy punches from the top getting a first-round TKO at 35 seconds in the first round in his amateur debut.

In a exhibition kickboxing match-up Jimmie Hendrixx landed a brutal head kick KO on Matt Fueston with just 40 seconds to go in the first round.

Demetrius Heath and Darron Jones looked like they both had a previous engagement as the fight started quick and kept a fast pace through the first round. Jones landed a huge slam from the clinch and took the back, but was unable to secure his hooks and Heath shook him off. Heath eventually took his turn on top and landed punches from there which forced Jones to turtle. After a scramble that saw both fighters get to their feet, Heath looked for a standing guillotine and ate several body punches in the process. With 15 seconds to go, Jones hurt Heath with a hammer first to the back of his head. Between rounds, Heath barely was able to get back to the stool and England waved off the bout.

Andro Mossad took on William Perkins, representing Lawrence Fight Club in Topeka, Kansas, at featherweight. Mossad, fighting out of St. Joseph's BJJ, was eager to get the fight to the ground quickly, and was able to slam his opponent over his hip, took the back and sunk in the rear naked choke. After the match Mossad receives his blue belt from his coach Deryck Ripley.

In a welterweight kickboxing match-up, David Ford took on Chad Dotson. There was lots of action early with both fighters looking to engage. After a clinch, Ford threw a wild punch which narrowly missed Dotson, but in the process dislocated his shoulder. Ford went to the ground in considerable pain, and the fight was waived off. Dotson wins via doctor stoppage in round 1.

Junior Michiosy, making his MMA debut out of St. Joseph's BJJ, faced Fernando Andrade from the Cavemen Crew. Michiosy looked for a takedown from the start and eventually got mount before he was reversed. Both fighters seem very comfortable on the ground and this bout was a jiu-jitsu battle from the get-go. The second round was more of the same, with Andrade threatening with a heel hook after missing with a head kick and landing on his back. With a minute left into the round Michiosy took the back and worked for a rear naked choke against the cage but time ran out.

In the third, seemingly down two rounds, Andrade went deep into the playbook, landing a slick roll to take Michiosy's back. Andrande kept heavy pressure from the top forcing Michiosy to turtle. Andrande threatened with a rear naked choke, before transitioning to an armbar, but wasn't able to land the finish. Fight went to the judges who saw Fernando Andrande winning by split decision.

In the evening's opening contest Asa Collier took on Edmund Coley in a scrappy featherweight match-up. Collier looked for the takedown early and pressured Coley against the cage but wasn't able to get the takedown. Midway through the round Coley connected with a wild right hand that dropped Collier to his back. Collier recovered, and the fight continued to the second round.

Coley was in survival mode in the second as Collier put heavy pressured, mixing up his offense with punches, kicks, and knees to the body. With the rounds possibly tied 1-1, Collier continued his pressure in the third, with only seconds to go Coley launched a flurry of offense at the very end of the round, dropping Collier as the bell rang.

When the judges delivered the decision, Collier won by unanimous decision fight 29-28 on all three cards.

Shamrock FC returns home to St. Louis on May 11th for Shamrock FC 305 at the River City Casino and back in Kansas City on June 16th at Ameristar KC.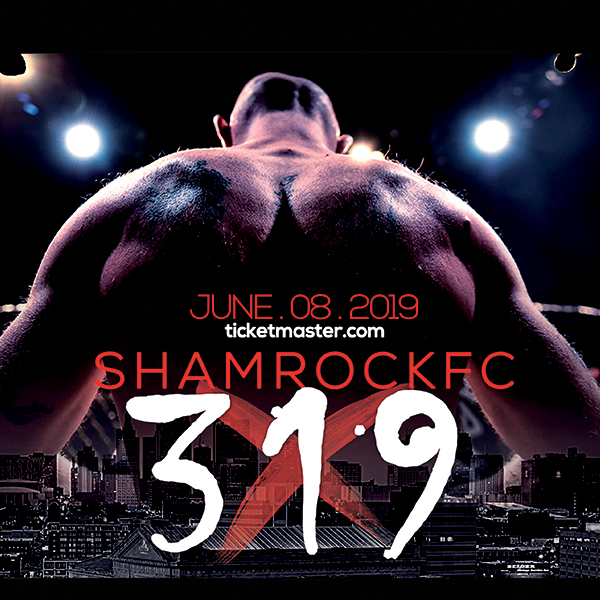 Nemesis Fighting Alliance
| Sat, October 5th
Casa Loma Ballroom, St. Louis, MO
Shamrock FC: 323
| Sat, October 12th
Ameristar Casino, Kansas City, MO
Shamrock FC: 324
| Fri, November 1st
River City Casino, St. Louis, MO

Tweets about "KnuckleJunkies OR @knucklejunkies"