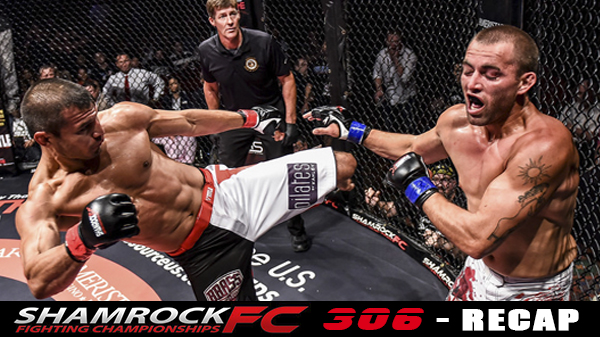 Shamrock FC: 306 - Recap
Summer heat has arrived in KC and Shamrock FC 306 kept the heat wave going with a stacked card and greats frights at the Ameristar in KC.

Shamrock FC President Jesse Finney was all smiles after the event with, according to him, one of the best fight cards in the company's history in the books.

"If you look at the whole fight card, the main card is what everyone was talking about," Finney said. "But the undercard just straight up delivered. I know I'm 100% confident, with certainty that I'm the most critical person when it comes to our fights, and our brand, and this without a doubt was one of the top fight cards we've ever had. It was unbelievable. We do what we can do, and the chips just fell into place tonight."

The main event was a clash between UFC veteran "Vicious" Bobby Voelker and Strikeforce veteran Justin DeMoney, and featured two fighters who were ready to stand and bang.

Voelker switched up his normal headlong rush in to trade hands and threw four kicks before launching his first jab. The tempo was quick with Voelker in constant motion. DeMoney was flat-footed the whole fight looking to counter punch.

"That was just something we went over in training camp," Voelker said. "I figured I'd throw something out there a little different to see how he reacted. He stayed back and didn't fall for anything so it was time to get in there and get busy with him."

After many trades it was a kick to the knee of Voelker that scored for DeMoney. Voelker stumbled and was without sure footing for the rest of the first round. Even without a stable base Voelker was able to mount a flurry to end the first round.

"He hit the right spot on me," Voelker said. "He threw a few, and I checked some, but he was hitting the right spot on my left leg. I knew he could tell, I cringed a bit there."

Heading into the second DeMoney looked tired and Voelker seized to opportunity to close the gap and sit in the pocket trading strikes. Voelker continued the assault and dropping DeMoney with a big punch.

"I caught him right there flush on the chin," Voelker said. "I saw him fade away, and I went in. He dropped and covered up nicely and I knew I had him hurt, just had to keep the punches flowing. If he got up he was going to take a kicker in the face so it was better for him to stay down there."

DeMoney submitted to strikes at 1:45 in the second round. Early reports from the back claim DeMoney suffered a broken jaw with the punch that dropped him late in the second.

The win improves Voelker to a gargantuan 31-13 record including a streak of winning six of his last seven fights.

"Typical Bobby, makes it interesting no matter what," Finney said. "He was bleeding from behind the ear, could barely walk at the end of the round and then brings it on at the end of the fight. The guy is the most exciting fighter I've ever had, he always leaves it all out there no matter what, and what else could you ask for."

In the co-main event, Deron Carlis looked to break his losing streak against guys named Garrett. When the two faced off, it was apparent Garrett Wells was a big challenge with a 8-inch height advantage over Carlis despite Carlis coming in a pound over weight.

In the first Carlis worked in and was able to slam Wells to the mat. Carlis roughed Wells up and controlled him on the ground for the first round.

"The original game plan was to stick a lot jabs, move, move angles and throw jabs." Wells said. "I don't know what I was thinking in the first round, I don't know if I just wanted him to shoot. I finally kind of woke up there in the second round, was moving around and he got a lot more tired."

Wells switched it up in the next round using his reach, keeping Carlis back. A late take down by Wells lead to ground and pound setting up the rear naked choke submission late in the second.

"I went to go cage wrestle him and had his back a bit." Well said. "I wanted to threaten him with the knees, I wanted to take him out that way, but he ended up giving me his back. We've been working a lot of wrestling in training camp. I went to shoot to take him down with a double leg and I was going to start tearing him away with elbows, but he gave me his back. When an opportunity like that comes you can't really pass it up."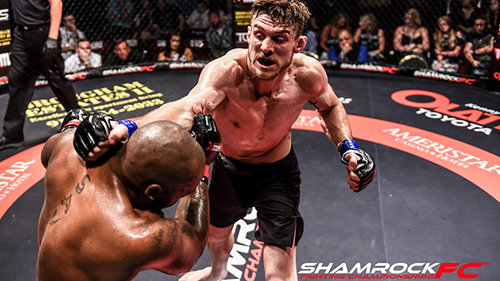 Chris Mitchell brought a crew of cheering fans but Timehin Babalola proved too big, and too strong. Babalola controlled the fight through out with dominant positions on the mat. Mitchell tried to rally in the third with a good start but came up short.

"I realized he was a tough guy," Babalola said. "I knew I was going to win off position so there was no point wearing myself out in the second and giving him a shot in the third round so that was the change in game plan, flowing a bit like water. "

Babalola training at American Jiu-jitsu along with the Cavemen Crew earned the unanimous decision victory and improves to 3-2 as a pro.

Travis Sumler took on Steve Barbee in an amateur bantamweight title match. Steve Barbee would move into strike and go for takedowns. Sumler would fall back pulling guard.

"My job is to make it as decisive as possible," Sumler said. "With three minutes, that early bit of control is really important. A first takedown is pretty big. After a while you get pretty observant of where you can be and it's more of them just falling into the position you want them to be."

Sumler's controlling jiu-jitsu style allowed him to attack from his back. The reserved, patient pace of Sumler meant that by the time he would get into a position to attack with a submission attempt the round was nearly over. This happened in the first and second rounds.

The constant submission attacks and body control scored enough to earn Sumler the Shamrock FC amateur 135 title in a split decision. As Sumler turns pro he is someone to watch as his style will be well suited with more time in the rounds to work.

Highlighting the main card, Wichita's Devin Weber only need one minute to put away Spencer Cox with a modified rear naked choke.

"It started out as a rear naked choke," Weber said. "He sorta turned to his side and I kinda turned it into a bulldog. It was a weird thing but it was tight and I could feel him going out."

With the win Weber caps off a great run as an amateur taking home the SFC Amateur 170 title in the process.

"He was unbelievable, I think he has a huge future with us," Finney said. "He's one of those guys where the sky is the limit. He delivers every time and I think in due time he's a future star with us."

Weber, representing GMT, has amateur wins over the likes of Anthony Goldfield, Mike Breeden and main card competitor Garret Wells and should be an excellent edition to the pro welterweight ranks.

Also on the preliminary card, Marisha Chavez scored a blister 9-second KO that is already circulating over social media.

"She has a dynamite right hand, she's unbelievable." Finney said. "She's on two of our highlights now."

Shamrock FC will be back August 19th at the Ameristar Kansas City.

Full results:

Bobby Voelker DEF Justin DeMoney - Submission due to strikes 1:45 R2
Garret Wells DEF Deron Carlis - RNC 4:41 R2
Timehin Babalola DEF Chris Mitchell - Unanimous Decision
Travis Sumler DEF Steve Barbee - Split Decision

Devin Webber DEF Spencer Cox - RNC 1:00 R1
Marisha Chavez DEF Amber Jones KO 0:09 R1
Connor Shepard DEF Travis Emerson - Verbal submission end R1
Cesar Morales DEF Edmund Coley Unanimous Decision
Trevor Johnson DEF Terrance Carter RNC 1:22 R2
Fernando Andrade DEF Chris Mills TKO 0:31 R1
Chad Dodson vs Jimmie Hendrix - DRAW
Zeb Vincent DEF Jeff Rabideaux TKO 2:31 R1
Junior Hernandos DEF Michael Hughes Unanimous Decision

Photos courtesy of Jerry Chavez Photography